By Patrick Sojka - Rewards Canada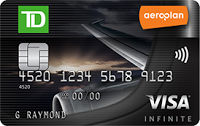 If you have paid any attention to loyalty programs in the news since June of 2013 then you most definitely have heard of the whole Aeroplan (Aimia) - TD - CIBC debacle or as some have called it Love Triangle. We won't go into the details of that story here, you can read about it on our blog but ultimately in the end we have TD Canada Trust issuing four new Aeroplan co-brand Visa cards. Of which, the most popular or common one is the TD Aeroplan Visa Infinite hence the review of that card. The others are the Platinum (lower fee version with less rewards and benefits), the Visa infinite Privilege (higher annual fee, more rewards, more benefits) and a small business/corporate card.

Overview
The TD Aeroplan Visa Infinite Card hit the market on January 1st, 2014 although details were leaked a few weeks prior to date. Prior to that there was lots of hype surrounding the card and how it would be a much stronger Aeroplan card offering than the CIBC Aerogold Visa Infinite it was essentially replacing. Unfortunately there is not much difference between the two with the TD only adding a few select benefits that Aeroplan members may not even make use of on a yearly basis. That being said, the card will do well and is probably the best airline co-brand credit card on the market, not because of the strength of the card but rather because of the strength of the Aeroplan program as a whole.

Sign up Features
Until May 4, 2017 The TD Aeroplan Visa Infinite Card comes with up to a 25,000 Aeroplan Miles sign up bonus and first year free! The sign up bonus is awarded as follow: 15,000 Bonus miles awarded on first purchase, 10,000 more miles when you keep your Account open, active and in good standing for 90 days after Account approva. 5,000 more Aeroplan Miles when you add an Authorized User to your Account by June 14, 2017 (Authorized User must call and activate their Card by July 31, 2017)

Costs
The TD Aeroplan Visa Infinite Card comes with a $120 Annual fee (but the current card offer includes a 50% rebate in the first year) which is the same as most cards that offer a similar level of rewards and benefits. Supplementary cards run $50 which is the same for the majority of the Infinite/Platinum/Gold travel credit card offerings from other banks. Remember if you have a TD All Inclusive Bank account you can have the annual fees waived on the cards. The interest rate on the card is 19.99% which is also in line with most of the cards at this level. Income requirements for the card are $60,000 Personal or $100,000 Household.

Earning
The TD Aeroplan Visa Infinite Card earns 1 Aeroplan Mile for every dollar spent on the card for purchases with an increased earning of 1.5 miles at gas stations, grocery stores and drug stores (On your first $80,000 in total annual account spending). You can take advantage of more Aeroplan mile earning by Double Dipping which is done by using the TD Aeroplan Visa Infinite Card in conjunction with your Aeroplan membership card when purchasing products or services from Aeroplan partners. This is the first point where the strength of the Aeroplan coalition program helps this card out in becoming one of the better airline cards on the market. The miles earn on the card also count towards Aeroplan Distinction status. For comparison the TD Aeroplan Visa Infinite Privilege Card ups your base earning to 1.25 miles per dollar and keeps the 1.5 miles at gas stations, grocery stores and drug stores.

Related: Which credit card earns the most Aeroplan Miles?

Redeeming
Being a co-brand card redemption is actually done via Aeroplan not TD Travel Rewards. This is where the strength of the Aeroplan program comes through again and makes the TD Aeroplan Visa Infinite Card shine. Aeroplan offers numerous redemption options but of course having routes from being a frequent flyer program, the primary redemption option which most people look at are award flights on Air Canada and Aeroplan partner airlines In total there are 25 major partner airlines outside of Air Canada ranging from Adria Airways to United Airlines, most of whom comprise the Star Alliance of which Air Canada was founding member. Air Creebec, Bearskin Airlines,Calm Air, Canadian North and First Air make up the minor Canadian airline partners that you can also redeem Aeroplan miles with. Overall you can redeem Aeroplan miles to over 1,000 destinations Worldwide which is one of the reasons Aeroplan is so popular.

For redemptions on Air Canada and most of the other partners there are numerous options depending on availability. Much like many other frequent flyer programs, award seats are limited at the lower redemption level (Aeroplan calls this level ClassicFlight) but you can use more miles to get an 'any seat any time' award ticket (Aeroplan calls this Market Fare Awards) as long as the flight still has seats available. Flight redemptions start as low as 7,500 miles for a short haul one way economy class ClassicFlight Award and go as high as 290,000 Miles for a round trip flight in First Class to Asia on a Aeroplan partner airline. With the new half price awards in place you can see that redemptions can come quite easily. Even for round trip flights you are only looking at 15,000 to 25,000 miles for travel in North America. These levels are easily achieved with credit card spend alone. For a complete listing of ClassicFlight award levels see Aeroplan's latest Reward Flight Chart


In some rare cases when flights are relatively empty or are available as a seat sale you may see the Market Fare Price be lower than the ClassicFlight amount. This is especially holds true for those Aeroplan member who hold Distinction status and get a discount on Market Fare awards. One recent search for a dBlack member showed the ClassicFlight level at 60,000 miles for a flight between Toronto and Paris while the Market Fare price was only 55,000 miles.

Related: To learn more about Aeroplan flight awards see this helpful page on Aeroplan.com.

Other flight reward options with Aeroplan include Around the World rewards which run 200,000 miles in Economy, 300,000 for Business or 400,000 for First Class. You can also use Aeroplan miles to upgrade flights on Air Canada and its Star Alliance partners to Business or First Class when you travel on an eligible fare.

Overall Aeroplan has been well known for their flight awards as the mileage requirements on ClassicFlights tend to be competitive despite recent devaluations in certain categories and the fuel surcharge issue on some carriers like Air Canada themselves. The "Mini Round The World" award (AKA Mini-RTW) is an example of a well-known and good value flight award by maximizing the two stopover or one stopover and open jaw feature.

Finally Aeroplan miles can also be used for many non-flight award options as the Aeroplan reward catalog has expanded greatly over the years. Most of these other redemption options tend to represent a poor value when compared to redeeming for flights however they are a good option for those who may not have enough miles for the flights they want or for those people who more miles than what they know what to do with them! These other options include using miles for hotel stays, car rentals, gift cards and merchandise. You can also transfer miles to another Aeroplan member (at a cost), donate them to charity, even use them for exclusive 'Money Can't Buy' awards like autographed photos, activities and events.

Features and Benefits
The TD Aeroplan Visa Infinite Card comes with the usual slate of Visa Infinite insurance and benefits plus some benefits only afforded to the TD Aeroplan cards. On the insurance side the card comes with wide range of coverage as seen with most Infinite cards including travel accident insurance, flight delay, trip interruption and cancellation insurance, travel medical insurance, lost/damaged baggage insurance, car rental CDW coverage, hotel burglary insurance, purchase protection and extended warranty.

Non-insurance benefits include an Annual Maple Leaf Lounge One Time Guest Pass when travelling on an Aeroplan flight reward operated by Air Canada, priority check-in and boarding when travelling on an Aeroplan flight reward, concierge service and enhanced hotel/dining privileges.



What is good about this card
Being the primary co-brand credit card for the Aeroplan program is what makes this card good. Essentially Aeroplan is what is the best about the card. The ability to redeem for Aeroplan one way awards, a great return when you redeem for flights in business or first class when compared to redeeming a comparable travel points card's points, a great variety of short haul awards that don't take long to achieve with credit card spend and a great selection of airline partners to redeem on are all good benefits of the card. The ability to Double Dip with Aeroplan partners to further accelerate your balance is also a key determining factor for many. Tie this in with the category bonuses on earning Aeroplan miles at gas stations, grocery stores and drug stores and you can see why it is now one of the top airline co-brand cards in Canada.

The insurance package that comes with the card is also very strong although it is pretty much standard these days for a premium card like this. The Aeroplan reward flight benefits are nice perk if and when they can be utilized by the cardholder.


What is not so good about this card
What makes this card good (Aeroplan) is also what can make this card not so good. As with any credit card tied into a frequent flyer program comes the dreaded availability issues and any extra taxes and fees on award tickets. Aeroplan is notorious on all of these aspects especially for flights on our home grown airline Air Canada. However the new Market Fare awards do seem to be promising in some cases especially when you have Aeroplan Distinction status. The issue of availability is always a consideration that needs to taken into account when choosing a card like this. If you can be flexible in your dates, airlines and routing (ie making connections vs. direct) then this is less of an issue.

The card also lacks the CreditSmart feature that is seen on its CIBC equivalent. While some people may consider a small negative to this card when being switched over from CIBC to TD some like the reader of ours who alerted us to this makes the TD card seriously deficient for them.


Conclusion
Unfortunately the TD Aeroplan Visa Infinite Card does not live up to the hype that was being touted before being launched. Don't get us wrong, if Aeroplan is your primary loyalty program, or are a frequent Air Canada traveller then this is best mid-level premium credit card out there for you. It takes over from the CIBC Aerogold Visa Infinite card as the primary Aeroplan co-branded card in Canada even though the CIBC card is still available to the public.

We have to stress that this card is strong because of the Aeroplan program not so much what the card itself offers. If Aeroplan is not a program of your choice or flights in business class are not your cup of tea and you bank at TD and want to keep your credit card with TD you are better off with the TD Visa First Class Infinite card for the utmost in flexibility for travel.

Related: Options outside of Aeroplan

However if you want flights in business or first class at the best possible return on your credit card spending (business and first class redemptions made via a frequent flyer program represent the best possible value out of any loyalty program), you collect a lot of Aeroplan miles from sources other than credit card spend getting this card is a good choice and even better if you pair it with an Aeroplan card from American Express' suite of cards that offer Aeroplan miles.

Overall this card will become the mainstay Aeroplan credit card for the foreseeable future as nearly half a million Canadians have been transferred to it automatically from CIBC. The question is will the card break the one million mark like its CIBC predecessor? Not likely for a few years but there is no doubt that a certain percentage of cardholders who were kept by CIBC have or will get this card as well for their credit card portfolio and then determine sometime down the road which one works better for them.

Care to comment? Do you agree or disagree with us? Tell us what think about the TD Aeroplan Visa Infinite Card on our blog

Related Links:
TD Aeroplan Visa Infinite Card on tdcanadatrust.com
Rewards Canada's All Travel Rewards Credit Card Comparison including the TD Aeroplan Visa Infinite Card
Rewards Canada's Airline Only Credit Card Comparison including the TD Aeroplan Visa Infinite Card

Other cards to consider would come from the Airline Card category, Hotel Card category or the Hybrid Card category:
American Express AeroplanPlus Gold Card
American Express Gold Rewards Card
Capital One® Delta SkyMiles® World Mastercard®
CIBC Aerogold Visa Infinite
Diners Club Club Rewards Mastercard
RBC British Airways Visa Infinite
RBC Cathay Pacific Visa Platinum
RBC Visa Infinite Avion
mbna Alaska Airlines World Elite® Mastercard®
Marriott Bonvoy™ American Express® Card
WestJet RBC World Elite Mastercard