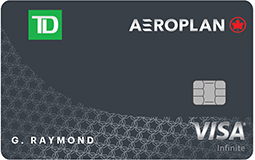 One of the most popular travel rewards credit cards in Canada, the TD® Aeroplan® Visa Infinite* Card was first reviewed by Rewards Canada in 2014 when it was introduced. For the better part of six years the card didn't change very much but then we saw the entire Air Canada Aeroplan saga transpire for numerous years which culminated in Air Canada buying Aeroplan back from Aimia and launching a whole new Aeroplan in November of 2020 along with refreshed credit card offerings. This mainstay Aeroplan card from TD underwent many changes for the new program and thus the need for this updated review.
If you want to see what the old card was like read our TD Aeroplan Visa Infinite Review (Old 2014 version)
Overview
The TD Aeroplan Visa Infinite Card hit the market on January 1st, 2014 when TD took over as the primary issuer of Aeroplan co-brand cards in Canada from CIBC. The current version of the card was revealed on November 8, 2020 to coincide with the launch of the new Aeroplan program. The new card saw quite a few changes take place that ultimately made the card even better than version 1.0. Also with the launch of the new Aeroplan program we decided to re-classify its co-brand cards as airline cards once again in our Top Travel Rewards Credit Card rankings as we dissolved the coalition program category. Hence this card returned to top spot in the Airline category, a position it held from 2014 to 2017 and yes it continues to be the best airline credit card in Canada.
Recommended reading: The New Air Canada Aeroplan Program All the resources you need

Costs & Sign up Features
The TD Aeroplan Visa Infinite Card comes with a $139 primary card annual fee. The annual fee is higher than the old card's $120 charge however the card does come with more benefits and in fact we are starting to see more of these premium cards bump up their annual fees from that $120 we have all become accustomed to. Supplementary cards are now $75 each up from the previous $50 however again these additional cards do come with additional benefits.   If you have a TD All Inclusive Bank account you can have the annual fees rebated on the cards.
Right now the TD Aeroplan Visa Infinite Card sees its highest ever welcome bonus of up to 70,000 Aeroplan Points. We value the 70,000 Aeroplan Points at no less than $1,050 but they are typically worth much more than that. The 70,000 points offer ends September 5, 2023.
Here is how you can earn the current welcome bonus points:

Earn a welcome bonus of 10,000 Aeroplan points when you make your first purchase with your new card†

Earn 40,000 Aeroplan points when you spend $5,000 within 180 days of Account opening†

Plus, earn an anniversary bonus of 20,000 Aeroplan points when you spend $7,500 within 12 months of Account opening†
The interest rate on the card is 20.99% on purchases. 22.99% on cash advances and balance transfers. These rates are equivalent to or below many cards at this level. The minimum annual income requirements for the card are $60,000 personal or $100,000 household.

Earning
The card earns Aeroplan points and earns those points as follows
These earn rate are similar to the old TD Aeroplan Visa Infinite card albeit you'll notice the card no longer earns the higher point rate at drug stores.
New to the card (and most other new Aeroplan cards) is the ability to earn status points and segments with the card. You'll earn 1,000 Status Qualifying Miles and 1 Status Qualifying Segment for every $10,000 spent on the card.
Point Valuation Chart
Spending Category
Points earned per dollar spent
Effective Rate of return (Travel) *
Air Canada, Groceries, Gas, Starbucks
1.5
2.25% to 7.5+%
All other spending
1
1.5% to 5+%
* This is a very low minimum valuation. In most cases you should be able to easily pull more value than this especially if you redeem for business class or first class flights.
Redeeming
This is where the strength of the Air Canada Aeroplan program comes through and makes the TD Aeroplan Visa Infinite Card shine. Aeroplan offers numerous redemption options but being a frequent flyer program the primary redemption option is reward flights on Air Canada and Aeroplan partner airlines. Overall you can redeem Aeroplan points to well over 1,300 destinations Worldwide which is one of the reasons Aeroplan is so popular.
The new Aeroplan program has done away with their standard award charts (Classic Flights) that were the norm with the program since its inception in the 1980s. That being said, for travel on Air Canada, they do provide a range of points you could expect to redeem for flights on Air Canada with the claim that approximately 80% of redemptions will fall in that range but 20% could end up being less or more than what is published. Essentially what Air Canada has done is made the old Market Fare awards (any available seat at any time for a dynamic range of points) as their standard redemption model now for Air Canada flights. Flights on partner airlines will still follow a fixed price reward chart model. You can see all the redemption values in this PDF here.

What hasn't changed in the Aeroplan program is the ability to redeem for Economy, Premium Economy, Business and First Class flights. With the latter three tending to provide outsized value when you compare to any other loyalty program in the market. Speaking of premium flights, just in case you didn't know you can redeem Aeroplan points to fly in Etihad's ultra luxurious Apartment first class seats. And the great news with the TD Aeroplan card (or any Aeroplan co-brand card) is that you receive preferred award pricing when you redeem points for flights. This discount varies by route, date, time etc. but we have seen it in the 10 to 30% range. The discount gets slightly bigger if you have Air Canada elite status but that only adds a few percentage points to the overall discount - the biggest portion does come from having the credit card.
On top of all this the new Aeroplan program no longer has to those dreaded carrier surcharges that could run into hundreds and sometimes thousands of dollars. While the surcharges have been done away on all airlines Aeroplan does charge a reasonable $39 fee for booking flights on partner airlines. The removal of the surcharges does however translate into an average higher cost in points for a lot of the redemption options albeit in many of our searches the increase in points is much less than what you used to have to pay for those surcharges.
We didn't want to make this review go on forever so we have kept the redemption section to a very top level description however it you want to learn more about redeeming for flights with the Aeroplan program we recommend reading the following articles:
Finally you are also able to redeem Aeroplan points for non-flight rewards including hotels, car rentals, Air Canada Vacations packages, gift cards (soon to be electronic only so you'll get them right away!), merchandise (the catalog is being expanded greatly thanks to partnerships with new retailers) and more.

Features and Benefits
The new TD Aeroplan Visa Infinite Card is chock full of benefits and additional features that complement and go beyond the Aeroplan program. Some have already been mentioned - the preferred pricing on Aeroplan reward flights is one such benefit. As well as the elite status earning portion of the card and now will take a look at more of the benefits.
Probably the most popular or will be the most popular benefit that has been added to the card is the first checked bag free benefit. Provided for the cardholder and up to 8 companions on the same reservation this benefit waives the fee associated with basic and standard economy class fares. This saves the cardholder $30 per bag on flights in Canada, to the U.S., Mexico & Caribbean. It will also save $70 per bag if you buy the cheapest economy basic fares to Europe. (Pricing was current as of February 17, 2021)
The next benefit is one we saw CIBC bring to our market a couple years back and that is a NEXUS fee rebate. TD now offers it on this card and also the higher up Aeroplan Infinite Privilege card. They will provide the cardholder with up to $100 in rebates every 48 months and with NEXUS having a 5 year expiry you can easily never pay again for NEXUS for one person and cover a significant portion of the fee for a second person. (NEXUS fees are US$50 per person 18 years of age and older, free for kids - current as of February 17,2021)
Air Canada benefits are also extended to additional cardholders which for this card is primarily the first checked bag free. This means additional cardholders don't have to be travelling with the primary cardholder to enjoy the benefit.

On the insurance side of benefits the card has well rounded suite of coverage. The card has flight delay coverage, lost/stolen/delayed baggage insurance, trip cancellation and trip interruption, travel medical coverage for up to 21 days for those under 65, four days if you are 65 and over. It also has pretty standard CDW car rental insurance, hotel/motel burglary insurance, purchase protection and extended warranty.
The card also provides Mobile Device Insurance - a relatively new type of coverage that we are starting to see on more cards here in Canada. As with virtually all credit card mobile device insurance there are deductible and depreciation costs applied to any claims made.
Recommended reading: The New Aeroplan credit cards compared