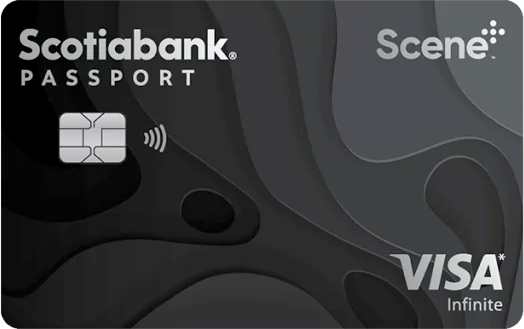 Back in 2014 we stated that the first major Canadian financial institution to offer a No Foreign Transaction Fee credit card stood to "to take a big chunk of the Canadian market." This is now reality. Sure we've had No Foreign Transaction fee cards in Canada for more than five years however they were from small card issuers, primarily Chase with their Marriott and Amazon cards and even Sears cards back when they issued them. Then some others came along like Home Trust and HSBC who added this benefit but all in all no big bank touched upon it. That was until March 12, 2018 when Scotiabank introduced the Scotiabank Passport Visa Infinite Card, the first No Foreign Transaction fee card from a major Canadian financial institution.
Related: Why 'no foreign transaction fees' hasn't proliferated in the Canadian credit card market
Overview
The best overview of this card is with two simple words: well rounded. Scotia has done their homework with this card that launched in March 2018 to provide a little bit of everything that most Canadians want out of a travel rewards credit card. Flexible points, insurance, benefits, airport lounge access and the biggie: No Foreign Transaction fees.

Costs & Sign up Features
Limited Time Offer of a 30,000 point sign up bonus worth $300 in travel! See the card grid below for details!

The Scotiabank Passport Visa Infinite card comes with a $139 primary card annual fee which is higher than the average $120 seen for most other Visa Infinite cards. But don't let that sway you as the card has lots of benefits to make up that difference and one is the first supplementary card is free. That means your first and second card cost you $139 versus $170 to $200 if you go with the same set up with this card's closest competitors. The card offers a 25,000 Scotia Rewards point welcome bonus after spending $1,000 on the card in the first three months which is worth $250 towards any travel. The interest rate on the card is 19.99% on purchases. 22.99% on cash advances, balance transfers and Scotia Credit Card Cheques. These rates are competitive with most everyone else on the market. The minimum annual income requirements for the card are $60,000 personal or $100,000 household.

Earning
The card earns Scotia Rewards points and earns those points as follows
2 points per eligible dollar spent on grocery, dining, entertainment and daily transit (including buses, subways, taxis, Ubers and more) - This earn rate is only awarded on the first $50,000 spent in these categories annually.

1 point per dollar spent outside of the categories listed above
The card also provides an annual bonus of 10,000 points if you spend $40,000 or more on the card per year.  The bonus then continues as you will earn 2,000 bonus points for every $10,000 spend after that.
Redeeming
On the redemption side, the points earned with the Scotiabank Passport Visa Infinite card can be redeemed for any travel that is booked with any provider. Simply put, you book the travel where you want and charge it to your Passport Visa Infinite Card, then call up Scotia Rewards or go online to redeem your points against that travel charge. This is the same feature found on quite a few cards in Canada that have their own proprietary rewards program. And with the elimination of the tiered redemption schedule the card provides a straight 2% return on your spending when you redeem for travel. What this means is that you can go to any travel provider, be it an airline, hotel, all inclusive, travel agency, car rental company, you name it, you book your travel with them once the charge shows up you redeem your points at a rate of 100 points to $1 with a minimum redemption of 5,000 points. You can also choose to book via Scotia Rewards and get the same redemption option. The beauty of this is that you have complete control and flexibility to book the travel you want, on the days you want and choose to pay for a portion or all of it with points. What's also cool about cards like this one is you don't need any points at time of booking as you have up to twelve months after the charge posts to redeem points against it. Which means you can actually be travelling and make additional bookings while away from home and redeem points for it at a later date.

Related: Not all Travel Points and Hybrid Credit Cards are created equal and Why proprietary credit card reward programs are the best option for most Canadians

Points can also be redeemed for many other non-travel items and even for any purchases made on the card as we have now seen from other cards like American Express' Membership Rewards and mbna Rewards World Elite Mastercard. Like most programs focused around travel rewards, when you redeem for non-travel items your rate of return drops. Scotia calls this options Points for Credit and here are the redemption rates (please note these are changing on April 1):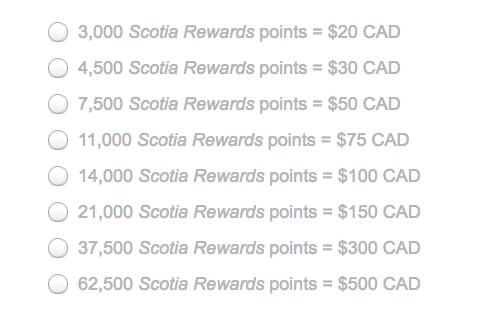 This translates to a return of 0.66% to 1.6% depending on whether you earned 1 point or 2 points per dollar and what level of points you redeem at. Not great if you are at the 0.66% level but this is always a good option to have on a card as it provides yet another option for using your points.

Scotia Rewards also offers the Best Buy and Apple catalogues online to provide merchandise redemptions with these two big electronics players! The redemption provides for increased customer flexibility as it allows Scotia Rewards Cardmembers to pick up select Best Buy items in store within 24 hours of redemption.
A new redemption benefit from Scotia Rewards is the ability to convert Scotia Rewards to SCENE and vice versa. This feature which was brought about in November 2017 is great for added flexibility but Scotia doesn't really provide what that conversion ratio is and leave it open to be constantly changed: "The rate of conversion of Scotia Rewards points to/from SCENE points in each case will be determined by us, Scotiabank for Scotia Rewards points and SCENE LP, for SCENE points, each in our sole discretion. We may modify the rate of conversion at any time in our sole discretion."
Related: Scotia Rewards program relaunch highlights – its seeing some great improvements!
Features and Benefits
The number one feature of the Scotiabank Passport Visa Infinite card that most people will be getting this card for is the No Foreign Transaction fee benefit. Most cards in Canada charge between 2% and 3% on purchases that are made in a foreign currency. This can provide a significant savings if you make a lot of purchases in US$, Euros or any other currency.
On the insurance side of benefits the card has the full slate of coverage that can be expected with a premium travel card like this one. It has the standard Travel Accident, Flight Delay and Car Rental insurance. On top of that it has Price Protection, Trip Cancellation and Interruption insurance as well as a really good out-of-province emergency medical insurance benefit.

The card also offers free Priority Pass membership which allows access to over 1,000 business class lounges Worldwide. Normally the pass costs US$99 per year plus your entry fee into each lounge of US$27. The Scotiabank Passport Visa Infinite card also gives you six complimentary lounge access passes valued at a total of US$162. As you can see the Priority Pass benefit is worth about C$300 alone which is more than double the annual fee cost.

Related: Rewards Canada's Guide to Business Class Lounge Access

What is good about this card
The best thing about the Scotiabank Passport Visa Infinite card is the no foreign transaction fee benefit. Whether you travel lots outside Canada, shop online a ton from the U.S. or import goods for you business, being able to save 2 to 3% on each transaction is a huge deal.
The next best feature of this card is the Priority Pass benefit. Scotiabank covers the annual membership fee and giving you 6 free lounge visits. This provides well around C$300 in value but you'll want to be sure you travel at least once or twice per year via an airport that has Priority Pass lounges to make sure you can take advantage of them!

The sign up bonus is another strong point, 25,000 points is worth a minimum of $250 towards travel. With all of the other features and benefits that this card provides Scotiabank didn't have to go with a high sign bonus like this but we'll take it!

The card also has a very strong insurance package including trip cancellation and up to 25 days of out of province emergency medical coverage for those under 65 years old and 10 days for those 65 and over. It is also nice to see price protection being offered - that is, if you buy something on the card and then if that item drops in price within 60 days of buying you can make a claim and get a refund of the price difference.

What is not so good about this card
Their isn't too much that is bad about this card, probably our biggest gripe is the earn rate on the card. Don't get us wrong, it's not that bad when you take in to account all the benefits and features of this card, like we've said it's a well rounded card but when looking at earn rate only, this card comes up short when you compare it to some other cards. Some examples are Scotia's own Gold American Express card, it earn 4x points at gas stations, grocery stores, dining and entertainment or American Express' Cobalt card that offers 5x points on eats and drinks and then 2x on the same transit category.

Finally the annual fees are higher than many comparable cards at $139 versus $120 but as already mentioned this card offers a lot more at that price than most of the $120 cards and you can't forget that the first supplementary card is free which most of this card's competitors charge $50 for.
Who should get this card
Consumers who have a lot of foreign currency spending. Whether that's through travel, online shopping or even importing goods for your business from out of Canada.
Consumers who bank at Scotia and want to keep all financial products with one bank (especially if your accounts give you that card for free
Consumers who want the utmost in flexibility with their points, that is making their own travel bookings and using the points for those or even redeeming the points for any purchase made on the card
Consumers who want a strong insurance package combined with lots of the above features
Consumers who travel at least once or twice per year and can make use of the Priority Pass lounge benefit.

Conclusion
We have been waiting for the day a major Canadian bank decided to launch to a no foreign transaction fee card since 2014. And with the loss of the Chase Visa cards in March of 2018, the launch of this card couldn't come at a better time. Up until the release of the Scotiabank Passport Visa Infinite card, the few no foreign transaction fee cards that are or were in our market were of the give and take variety. We'll give you no foreign transaction fees but we won't give you much insurance or rewards. This rang true for more of them except for HSBC's offering but then again their application requirements are stricter than most so that is a downfall of that card. So for a major bank to come out with an accessible card that provides excellent benefits, good points earning and no foreign transaction fees is a step in the right direction for our market. We stated back in 2014 that the first major card issuer to come out with a no FX fee card stood to take a big chunk of the market and that was just based on that fee - it didn't include whatever else the card offered and Scotiabank really took the bull by horns here with this card. With the Scotiabank Passport Visa Infinite card you get a well rounded card that curbed the give and take - it gives you almost everything you need in travel rewards credit card.



Related Links:
Scotiabank Passport Visa Infinite card on scotiabank.com
Rewards Canada's All Credit Cards Comparison including the Scotiabank Passport Visa Infinite card
Rewards Canada's Travel Points Credit Cards Comparison including the Scotiabank Passport Visa Infinite card
Other cards to consider if you are looking at this card:
American Express Cobalt Card
Brim Financial Mastercards
Home Trust Preferred Visa Card
HSBC Premier World Elite Mastercard
mbna Rewards World Elite Mastercard
Rogers Platinum Mastercard
Scotiabank Gold American Express Card

Talk to us!
We would like to hear your thoughts on the new Scotiabank Passport Visa Infinite card by commenting below!


Rewards Canada can be found on the following social media channels: