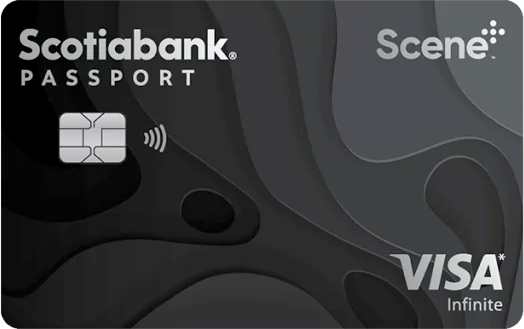 Back in 2014 we stated that the first major Canadian financial institution to offer a No Foreign Transaction Fee credit card stood to "to take a big chunk of the Canadian market." This is now reality. Sure we had No Foreign Transaction fee cards in Canada since the late 2000s however they were from small card issuers, primarily Chase with their Marriott and Amazon cards and even the Sears cards back when they issued them. Then some others came along like Home Trust and HSBC who added this benefit but all in all no big bank touched upon it. That was until March 12, 2018 when Scotiabank introduced the Scotiabank Passport Visa Infinite card, the first No Foreign Transaction fee card from a major Canadian financial institution.
Recommended readng: Why 'no foreign transaction fees' hasn't proliferated in the Canadian credit card market
The review of the Scotiabank Passport Visa Infinite Card is broken down into the following sections:
Overview
The best overview of this card is with two simple words: well rounded. Scotia has done their homework with this card to provide a little bit of everything that most Canadians want out of a travel rewards credit card. Flexible points, insurance, benefits, airport lounge access and the biggie: No Foreign Transaction fees.
Recommended reading: The new Scene+ program is now live, find all the details here!

Costs & Sign up Features
The Scotiabank Passport Visa Infinite card has a $150 primary card annual fee which is now becoming the norm for most Visa Infinite cards. But don't let that sway you as the card has lots of benefits to make up that difference from cards that are $120 and the first benefits is that the first supplementary card is free. That means your first and second card cost you $150 in total versus $170 to $200 if you go with the same set up with this card's closest competitors. The interest rate on the card is 20.99% on purchases. 22.99% on cash advances, balance transfers and Scotia Credit Card Cheques. These rates are competitive with most everyone else on the market. The minimum annual income requirements for the card are $60,000 personal or $100,000 household. If you have a Scotiabank Ultimate Package bank account the annual fee is waived on the primary card!
The card typically offers a 20,000 Scene+ Points welcome bonus after spending $1,000 on the card in the first three months which is worth $250 towards any travel. However right now the welcome bonus on the card offers 25,000 bonus Scene+ Rewards points when you spend $1,000 on the card in the first three months - that's right only $333.34 a month, this is one of the lowest spend requirements for a card of this level.
The card also provides an annual bonus of 10,000 points if you spend $40,000 or more on the card per year.  The bonus then continues as you will earn 2,000 bonus points for every $10,000 spend after that.
The last big note in this section is Foreign Transaction fees and as already mentioned this was the first card from a major Canadiian bank to not charge the average 2.5% fee on any non Canadian dollar purchases. That's a huge benefit for online shopping out of the country and of course when you travel outside the country. This card actually makes up the Visa portion of Rewards Canada's Ultimate No Foreign Transaction fee Credit Card portfolio

Earning
The card earns Scene+ Points and earns them as follows
3 Scene+ points for each dollar charged to your account on all eligible purchases1 at Sobeys, IGA, Safeway, Foodland, FreshCo, Voilà by Sobeys, Voilà by IGA, Voilà by Safeway, Chalo! FreshCo, Thrifty Foods, IGA West, Les Marchés TradItIon, Rachelle Béry and Co-Op.
2 Scene+ points per eligible dollar spent on grocery, dining, entertainment and daily transit (including buses, subways, taxis, Ubers and more) .

1 Scene+ point for every $1 you spend on all other eligible everyday purchases
The accelerated earn rates of 2 points per dollar are capped at $50,000 spending annually. Unlike this card's sibling the Scotia Gold American Express Card whose accelerated earn rates are limited to purchases in Canada, the Passport Infinite will earn the 2 points per dollar on purchases outside of Canada and you won't pay the foreign transaction fee.
Point Valuation Chart
| Spending Category | Points earned per dollar spent | Effective Rate of return (Travel) * |
| --- | --- | --- |
| Sobeys, IGA, Safeway, Foodland, FreshCo, Voilà by Sobeys, Voilà by IGA, Voilà by Safeway, Chalo! FreshCo, Thrifty Foods, IGA West, Les Marchés TradItIon, Rachelle Béry and Co-Op. | 3 | 3% |
| Grocery stores, dining, entertainment, daily transit | 2 | 2% |
| All other spending | 1 | 1% |
Redeeming
Travel Redemptions
Falling into the Rewards Canada "Travel Points" category in our annual credit card rankings means the points earned are part of the credit card's semi-proprietary reward program, in this case Scene+ and not a totally separate co-brand program like Aeroplan or AIR MILES. For the vast majority of Canadians this is a good thing since you are not bound by the restrictions and limitations that frequent flyer programs and programs like AIR MILES put on flights and in fact you are not limited to only flights but any travel. This card falls into the book any travel anywhere category of Travel Points cards which means you don't have to redeem via Scene+ Travel. All you have to do is book your travel on your own, whether it be aircanada.com, westjet.com, expedia.ca or anywhere else including your trusted travel agent and when that charge shows up on your statement you simply call up Scotia or go online and redeem points against the charge.

Recommended reading: Using the Scotiabank Gold American Express card to redeem for any travel - whale watches included!

Points are redeemed at a rate of 100 points for $1. That is the beauty of this card and many like it, you don't have to have the full amount of points to begin to enjoy the rewards and you have complete control and flexibility of who you book with! If you buy an airline ticket for $600 and have 30,000 points you can choose to redeem those points for a $300 credit which means your flight only cost $300. You also get 12 months after the travel charge posts to your account to redeem points so you can continue to pay off that vacation with points up to a year after! There aren't too many card programs in Canada that give you that amount of time to redeem after the fact. Another benefit of this' book travel on your own' is you can be on vacation and buy travel on the card (say a rail ticket) and then redeem points when you get home. It can't be done with cards that don't have this feature since you need to redeem the points ahead of time. Essentially the Scotiabank Passpost Visa Infinite Card falls into the category of one of the most flexible travel rewards cards.
Grocery Redemptions
Now that Empire Company Limited stores like Sobeys, Safeway, IGA and more are part of Scene+ you can redeem the points earned on this card directly at the till to help pay for your groceries. The redemption rate is 1,000 for $10 which means you receive the same return as you would if redeemed for travel. This is a great option from the card and the Scene+ program especially given with the inflation we are seeing in the nation.
Cash Back Redemptions
There are also non-travel redemption options in the Scene+ program. Probably the second most popular after travel would be their Points for Credit option which is essentially a cash back option. This works in the same vain as the travel rewards option although with a different redemption rate. Basically you can apply points to receive a cash back credit on a non-travel charge. The redemption rates are as follows:
| Cash Back Credit | Points Required | Rate of Return |
| --- | --- | --- |
| $20 | 3,000 | 0.667% |
| $30 | 4,500 | 0.667% |
| $50 | 7,500 | 0.667% |
| $75 | 11,000 | 0.681% |
| $100 | 14,500 | 0.689% |
| $150 | 21,500 | 0.697% |
| $300 | 43,000 | 0.698% |
| $500 | 71,500 | 0.699% |
For the points earned as 1 point per dollar your cash back return are the rates seen above and for your 2 points per dollar it will be double that and 3 points per dollar will be triple that. Not the most ideal seeing there are cash back cards that have better returns but at least the option is here on this card since it is primarily a travel rewards card.
Other Redemptions
You can also redeem Scene+ points for merchandise directly from Apple and Best Buy or via their own merchandise catalog. The last redemption option is using points to redeem for gift cards for dozens of stores, restaurants and more. All these redemption options also come in at a lower value than redeeming for travel but it is nice to have them as an option!

Features and Benefits
The number one feature of the Scotiabank Passport Visa Infinite Card that most people will be getting this card for is the No Foreign Transaction fee benefit. Most cards in Canada charge between 2% and 3% on purchases that are made in a foreign currency. This can provide a significant savings if you make a lot of purchases in US$, Euros or any other currency.
On the insurance side of benefits the card has the full slate of coverage that can be expected with a premium travel card like this one. It has the standard Travel Accident, Flight Delay and Car Rental insurance. On top of that it has Price Protection, Trip Cancellation and Interruption insurance as well as a really good out-of-province emergency medical insurance benefit.

The card also offers free Visa Airport Companion membership which allows access to over 1,300 business class lounges Worldwide including Plaza Premium lounges. Normally the pass costs US$99 per year plus your entry fee into each lounge of US$32. The Scotiabank Passport Visa Infinite card also gives you six complimentary lounge access passes each year valued at a total of US$192. As you can see the lounge benefit is worth about C$350 alone which more than covers the $150 annual fee on the card.

Recommended Reading: Rewards Canada's Guide to Business Class Lounge Access

Insurance

The Scotiabank Passport Visa Infinite Card comes with an excellent insurance coverage package. The coverage is as follows:

Out of Province/Country Emergency Medical Insurance (25 days under age 65, 3 days for 65+)
Trip Cancellation Insurance
Trip Interruption Insurance
Flight Delay Insurance
Baggage Delay Insurance
Lost or Stolen Baggage Insurance
Car Rental Theft and Damage Insurance
Hotel Burglary Insurance
$500,000 Travel Accident Insurance
Purchase Security Insurance
Extended Warranty Insurance