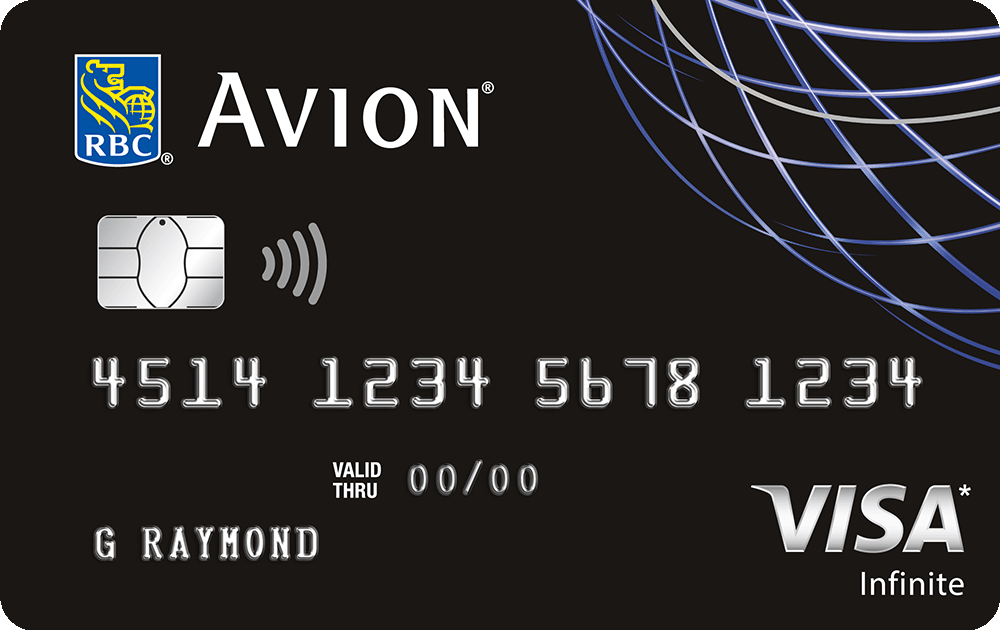 One of the first travel rewards cards to offer any flight any time potential, the RBC Avion Visa Infinite Card has been a mainstay in the travel credit card market for well over a decade. The card, which we first reviewed in 2011 is by far one of the most popular in Canada. Over the years we had some band-aid updates to that review so we thought it's time to do a complete refresh for 2022!
The review of the RBC Avion Visa Infinite Card is broken down into the following sections:
Overview
The RBC Avion Visa Infinite Card came out a few years after the release of the original Visa Platinum Avion card from RBC nearly two decades ago. In its long tenure the card has had a few tweaks here and there with its insurance coverage and the expansion of reward options via RBC Rewards but outside of that it hasn't actually hasn't changed very much . The card itself falls into our "Hybrid Card" category which means it gives you the best of both worlds for travel rewards in that it offers points that can be used towards any travel or you can chose to covert those points into a frequent flyer program..

Costs & Sign up Features
The RBC Avion Visa Infinite Card has an annual fee of $120 which is now consider being on the lower end of annual fees for premium cards like this one. Many competing cards are now charging $139 to $150 annually. Additional or supplementary cards are $50 annually per card.
The standard welcome bonus on the card offers 15,000 RBC Rewards Points however the card frequently has limited time increased welcome bonus offers.
Right now the RBC Avion Visa Infinite Card has its best ever welcome bonus offer of up to 55,000 RBC Rewards points! The bonus is awarded as 35,000 points when you are approved for the card and then you can earn 20,000 more points when you spend $5,000 in your first 6 months. You must apply for the card by September 16, 2022 to receive this offer.
The interest rate on the card is 19.99% and annual income requirements are $60,000 Personal or $100,000 Household.

Earning
The card earns RBC Rewards points as follows:
1.25 Points per dollar spent on eligible travel purchases
1 Points per dollar spent on all other eligible purchases

Point Valuation Chart
| | | | | | |
| --- | --- | --- | --- | --- | --- |
| Travel | 1.25 | Up to 2.92% | 1.25% | 0.73% | 1.25% to 9% or higher |
| All other spending | 1 | Up to 2.33% | 1% | 0.58% | 1% to 6% or higher |
Redeeming
The RBC Avion Visa Infinite Card participates in the RBC Rewards program which provides numerous avenues of redemption. The most famous of all those options is the Avion airline award chart also known as the Avion Air Travel Redemption Schedule. You can also redeem points for any travel you book via RBC Rewards, you can redeem points for any purchase you make on the card, RBC financial products, merchandise, gift cards and also famously you can convert your points to British Airways Executive Club, WestJet Rewards and several other programs.
We'll start off by looking at the Air Travel Redemption Schedule which is the most popular redemption feature for this card. In basic terms this schedule is just like your traditional frequent flyer program award chart. You redeem a set number of points for a flight within a specific region or from one region to another. The only difference between this chart and traditional frequent flyer programs is that RBC does have a maximum ticket price for each award level.
Here is the schedule of points required per category and the maximum ticket price for each round trip ticket: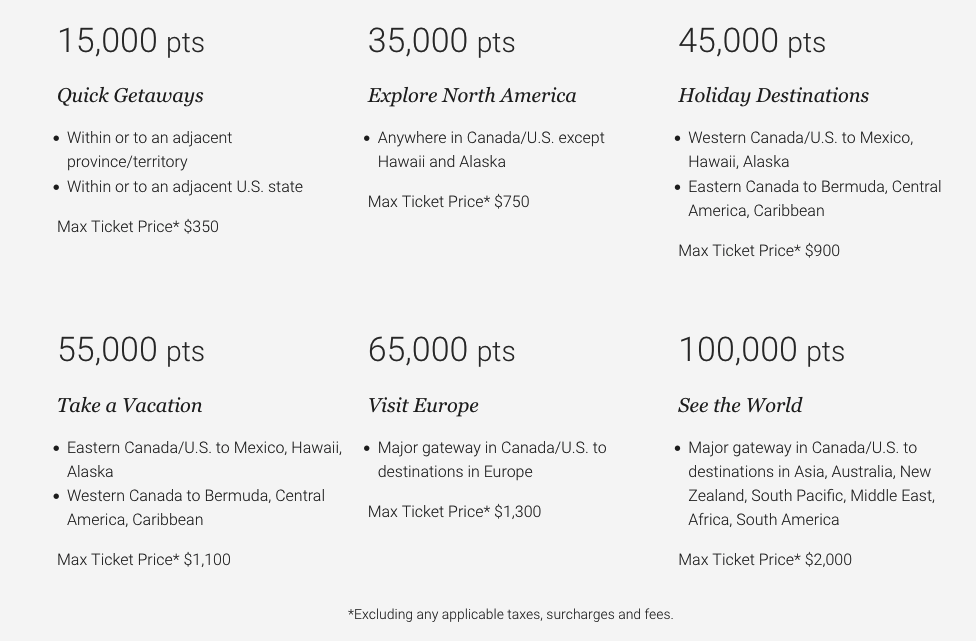 Recently RBC Rewards enhanced this reward option by adding one way reward options. They are exactly 1/2 the cost of the round trip options. Here is the one way Air Travel Redemption Schedule: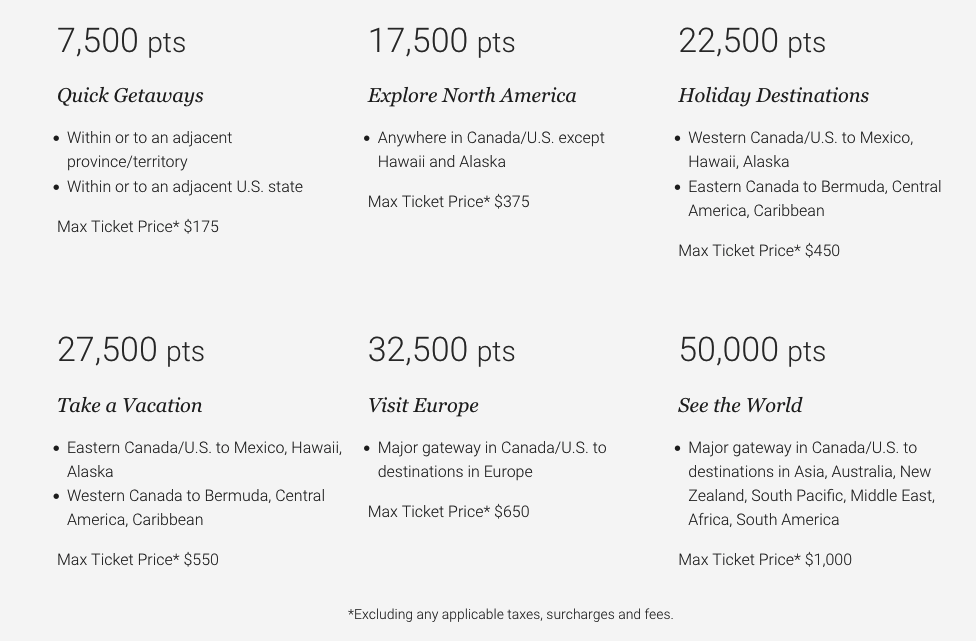 Recommended reading: How to maximize value out of the RBC Avion Airline Award Chart
As you can see from the schedules you have set points requirements for the various travel regions. For example you can redeem for a short haul flight with only 15,000 points. The maximum ticket value for that short haul flights is $350 before taxes and fees. If you redeem in this category it doesn't matter if the ticket is $225 or $350 before taxes and fees it will require 15,000 points. Same goes for all the categories. Thus if you are someone looking to maximize the value of your points you'll essentially want to get as close as you can to each of those maximum ticket values to ensure you are getting the best value out of the points. While we do still believe in our mantra that any redemption is a good redemption as long as you are happy (see our piece on The True Value in Reward Redemptions) so for some of you you won't care what the ticket price is however if you are about getting the most value out of credit card rewards you'll want to try to push to that maximum limit.
For the fees and taxes portion you can chose to just charge it to your card (basically paying cash for it) or you can choose to redeem points at a rate of 100 points to $1 towards those fees.
If the ticket you are purchasing has a base value higher than the set maximum you can still use a combination of points or points and cash to buy the ticket. Let's take the short haul example, if the base ticket price is $380 before taxes and fees you can redeem the 15,000 points to cover $350 of the ticket and the additional $30 (plus all the taxes and fees) can be paid with cash or points at that 100 points to $1 ratio.
The next travel redemption option is being able to redeem points for any travel you book via RBC Rewards. That is you don't have to use the above schedules to book flights. You can simply go online or call up RBC Rewards travel and book flights, hotels, car rentals and other travel and simply redeem towards that travel at a rate of 100 points to $1. This is a good option for flights that may be coming in super cheap where it wouldn't make sense to use the air travel redemption schedule and of course for any non-air travel requirements.
The third redemption option that falls under travel and is a favourite of points and miles enthusiasts is converting your RBC Rewards points to a frequent flyer program. A lot of enthusiasts will strictly get this card for the welcome bonus offer and then convert those RBC Rewards points over to one of the partner programs. Those partners are American AAdvantage, British Airways Executive Club, Cathay Pacific Asia Miles and WestJet Rewards. The most popular are British Airways and WestJet and those two also happen to be ones that RBC Rewards will sometimes offer an extra limited time bonus when converting your points. Typically seen once or twice per year, RBC offers a 30 to 50% bonus when converting to British Airways Executive Club while WestJet Rewards has seen a steady 10% bonus during the last few times it was offered. It is this bonus, especially the 50% to British Airways that made this card so popular in the points and miles community.
The conversion to an airline like British Airways or Cathay Pacific opens up possibilities for you to use the points you earned on your credit card spend for business class or first class flights at a much better value than if booked those same flights via RBC Rewards Travel and redeemed points at at that 100:1 ratio which is a 1% return. With the frequent flyer programs it's easy to have returns 3 to 4 times higher than that, if not more.
Current RBC Rewards Transfer partners and the transfer ratio:
American AAdvantage - 10 points to 7 AAdvantage Miles
British Airways Executive Club - 1 points to 1 Avios
Cathay Pacific Asia Miles - 1 points to 1 Asia Miles
WestJet Rewards - 100 points to 1 WestJet dollar
After travel you have several other redemption options via RBC Rewards. One of the more popular ones is to redeem points for RBC Financial Products at a rate of 12,000 points to $100 for RRSP contributions, TFSA contributions or other financial options. You can also choose to pay your credit card with points (this is basically a cash back option) which requires 17,200 points for a $100 statement credit.
You can also redeem points for merchandise via RBC Rewards' merchandise catalog as well as with Apple or Best Buy or you can redeem for over 100 different gift card options.


Features and Benefits
For being RBC's flagship premium card you would think the card would provide a lot of bells and whistles. It does not. Unlike many of the card's competitors this card does not provide business class lounge access, annual travel or statement credits, it charges a foreign transaction fee and so on. Outside of the decent insurance package, standard Visa Infinite benefits, the RBC Offers program and select partner benefits there is lot left to be desired with this card in the face of what the competition provides!
Visa Infinite benefits
Visa Infinite Luxury Hotel Collection provides benefits like room upgrades, complimentary Wi-Fi and breakfast, late checkout, and so much more at over 900 Visa Infinite Luxury Hotel Collection properties around the world.
Visa Infinite Dining Series - Each event includes multi-course meals, drink pairings and an interactive experience. You'll get to taste dishes from some of the country's top chefs and restaurants as they guide you through each course.

Wine country benefit from wineries across Ontario and British Columbia including complimentary tastings and tours. You can also get access to online offers like complimentary shipping and savings on wine purchases.
Get golf perks with Troon Rewards® through your Visa Infinite card and automatically receive Silver Status. You'll save 10% on golf fees, merchandise, and lessons at over 150 courses around the world.
Access to private movie events and at-home offers as part of the Visa Infinite Screening Series. In the fall, get special perks at the Toronto International Film Festival®.

Visa Infinite card includes a Complimentary Concierge service that can offer help with anything like the perfect travel itinerary, restaurant recommendations, finding the perfect birthday gift, and more
RBC offers
As with all RBC cards the RBC Avion Visa Infinite Card receives RBC Offers. These exclusive limited time offers are sent out to cardmembers to receive statement credits, discounts or bonus points for using their card at select merchants. Depending on your shopping habits these offers alone can provide enough savings in a year to cover the annual fee on the card if not more! You can learn more about this feature in Rewards Canada's Guide to RBC Royal Bank 'RBC Offers'
Partner benefits
RBC offers some exclusive benefits for all their credit cardholders with select retail partners in Canada. For the RBC Avion Visa Infinite Card those benefits are:
Link your Petro-Points card to your new RBC credit or debit card and use it to pay for purchases at Petro-Canada to always:
Save 3 ¢/L on gas with every fill-up
Earn 20% more Petro-Points
Earn more Be Well points at Rexall
Get 50 Be Well points for every $1 spent on eligible purchases when you shop at Rexall with your linked RBC® card
Enjoy $0 delivery fees with DoorDash
Get a complimentary DashPass subscription for up to 12 months with an eligible RBC credit card – a value of almost $120

Insurance
The RBC Avion Visa Infinite Card comes with a very strong insurance package that includes the following:
Out of Province/Country Emergency Medical Insurance (15 days under age 65, 3 days for 65+)
Trip Cancellation Insurance
Trip Interruption Insurance
Flight Delay Insurance
Baggage Delay Insurance
Lost or Stolen Baggage Insurance
Car Rental Theft and Damage Insurance
Hotel Burglary Insurance
$500,000 Travel Accident Insurance
Purchase Security Insurance
Extended Warranty Insurance
Mobile Device Insurance