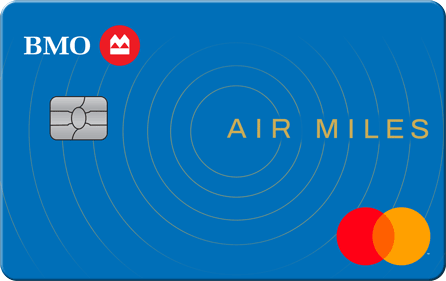 The BMO AIR MILES Mastercard was the very first AIR MILES card to receive the Rewards Canada review treatment way back in 2015. We last updated this review early in 2020 and since that time the card and the AIR MILES program have undergone additional changes so an updated review is now here. The BMO AIR MILES®† Mastercard®* is one of the most popular no annual fee travel rewards in Canada and it always does well in our Canada's Choice awards where we have Canadians vote for their favourite cards. So what do we at Rewards Canada think of the card? Read on to find out!
Overview
The BMO AIR MILES Mastercard is a no annual fee credit card that is extremely popular with Canadians. This card is for collectors who have AIR MILES as their primary program who want an easy way to earn more Reward Miles on their everyday spending.

Costs & Sign up Features
Being a no annual fee credit card the BMO AIR MILES Mastercard has no monthly or annual costs associated with it!
Right now the BMO AIR MILES Mastercard has a welcome bonus offering up to 800 AIR MILES Bonus Miles when you spend $1,000 on the card within the first 90 days of having it.
This is a relatively easy welcome bonus offers to achieve as you only have to spend $333.34 per month at the start to earn it. Those 800 AIR MILES Reward Miles are worth around $84 and seeing that you pay no annual fee you 're getting that $84 in your pocket for free!
The interest rate on the card is 20.99% on purchases. 22.99% on cash advances and balance transfers.

Earning
The card earns AIR MILES Reward Miles as follows:
3 AIR MILES Reward Miles for every $25 spent at participating AIR MILES partners
2 AIR MILES Reward Miles for every $25 spent at at any eligible grocery store
1 AIR MILES Reward Mile for every $25 spent on all other eligible purchases.

You do have to note that 'participating AIR MILES partners' does not cover all AIR MILES partners but rather only around 9 partners depending on which province you live in. Due to this fact, we here at Rewards Canada find the accelerated partner earn rate quite limiting. Click here to see those partners
The grocery store accelerated earn rate of 2 AIR MILES for every $25 spent is capped at $500 per month spending. Any spending at eligible grocery stores over and above that $500 will earn the base rate of 1 AIR MILES Reward Mile for every $25.


Valuation Chart
Spending Category
Miles earned per $25 dollar spent
Average rate of return on spending*
AIR MILES Partners
3
1.26%
Grocery Stores
2
0.84%
All other spending
1
0.42%
*Based on the Cash Miles value of 10.5 cents per Reward Mile
(All other redemption options including travel may fall below or above this amount)
Redeeming
There are multiple redemption options in the AIR MILES program which include travel, cash back, merchandise, and more.
Travel
This redemption category underwent big changes in 2021 when AIR MILES revamped their flights program and as such technically changed all the co-brand cards including the BMO AIR MILES Mastercard. There were both positive and negative to the changes to the flight program. On the positive side was opening up the ability to redeem miles for flights worldwide, that is you can now redeem for flights that don't originate in Canada. Want to fly from Los Angeles to Miami? You can now redeem your miles for those sort of flights. As well you can now redeem miles for all fare classes - not just economy. You can use your miles for economy, premium economy, business and first class flights. This all comes with more availability, the old version of AIR MILES flights was limited to a certain amount of seats per flight on select airlines, now there are more airlines available and if you can pay cash for a seat you can redeem miles for it.
On the negative side was the change to dynamic pricing. That is the fixed mileage amounts for travel were done away with and now the required miles closely follow the cash price of a ticket. This meant a lot of the outsized value members used to be able to extract from the AIR MILES program was gone. In the old version of AIR MILES flights we valued each mile at 11 to 15 cents each when redeemed for flights. Many times you could exceed 15 cents and even get value in the 20 cents or higher range. Now with the new program we value them between 9 and 10.5 cents. AIR MILES told us all flight redemptions should get at least 10.5 cents in value however in my experience in looking for flights it typically falls below that. On occasion we have seen some flights provide value above 10.5 cents but not by much and they have been few and far between. That was the trade off - the new flights program provides more availability and flexibility for a lower value per mile.
In general however I feel most collectors are happy with the changes due to the increased flexibility in the new flights program.
You can redeem AIR MILES Reward Miles for vacation packages through AIR MILES' partnership with Red Tag Vacations and this is one of the stronger travel redemption options in the program. This partnership allows you to redeem 909 miles for $100 (and multiples thereof) towards vacation packages booked via Red Tag Vacations. That works out to 11 cents per mile of value which bumps the rate of return on the BMO AIR MILES Mastercard up to 0.44% to 1.32%
You can also redeem AIR MILES Reward Miles for hotels and car rentals. Both of these have varying redemption rates where you can see values below that 10.5 cent average for Cash Miles but you can also see values higher than that. In the past some car rental redemptions provided big returns of 20 to 30 cents per mile and in one of my latest searches on June 7, 2022 I found a value of 14 cents per mile for a week long rental in Los Angeles.
Cash back
The Cash Miles option as AIR MILES calls is set in your AIR MILES account so that you can redeem miles for a cash discount at select AIR MILES partners in store. The rate is 95 miles for a $10 credit. There are also some eVoucher options that allow you to redeem at the same rate (or multiples of that 95 miles to $10) and some of those partners include DoorDash, Spotify and Uber Eats.
The 95 miles to $10 credit provides you with a value of 10.5 cents per mile.
Merchandise
This is really what AIR MILES has become famous for. Years ago when AIR MILES did reveal some statistics on redemptions, flights made up less than 10% of all the rewards redeemed for by AIR MILES members. What were most members redeeming for? Merchandise. I don't think a day goes by without me seeing some on Twitter happily announcing some sort of merchandise they redeemed for with their AIR MILES. Merchandise is something AIR MILES does well.
In fact, I even redeemed for some merchandise in late October 2022 - yes I know... don't shoot me but AIR MILES had discounted some merchandise on sale and being AIR MILES Gold dropped the mileage requirement even lower for these soon to be Christmas presents. In the end I took the lowest cash cost I could find for these items, added in shipping and taxes and this merchandise redemption worked out to a really decent 11.4 cents per mile! So while much of the points and miles world (including ourselves) scoffs at the idea of redeeming for merchandise - when it comes to the AIR MILES program their merchandise rewards can provide good value.
Features and Benefits
Like the majority of no fee cards in Canada the BMO AIR MILES Mastercard does not provide too many features or benefits. In fact the only extras are some discount offers, extended warranty and purchase protection.
The best benefit the card provides is automatic Gold Status in the AIR MILES program. Thus cardholders will receive the Gold level discounts on select flight, merchandise and other rewards.
In terms of insurance the card provides extended warranty and purchase protection.
Finally the card also provides several discounts:
Save up to 25% off rentals at participating National Car Rental and Alamo Rent a Car locations.
Get 15% off admission to Cirque du Sollie shows touring Canada, and 20% off resident shows in Las Vegas