Credit Card Offers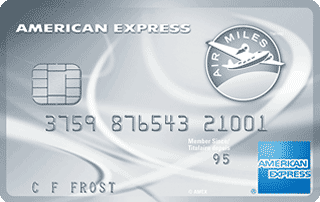 American Express®  AIR MILES* Platinum Credit Card

Card Type: Credit   
Annual Fee: $120 Additional Card Fee: $50
Annual interest rate 20.99% on purchases and 21.99% on funds advances; Missed payment applicable rates, 23.99% and/or 26.99%

• New American Express® AIR MILES®* Platinum Credit Card Cardmembers, earn a Welcome Bonus of 2,000 AIR MILES®* Bonus Miles when you charge a total of $1,500 in purchases to your Card within your first three months of Cardmembership. That's enough to redeem for $200 towards your purchases with AIR MILES®* Cash 
• Earn 1 Mile for every $5 in Card purchases, up to $30,000 annually, on eligible food & drinks, (such as eligible restaurants, coffee shops and stand-alone grocery stores), and eligible gas & transit (such as local commuter transportation including ridesharing services and taxi) in Canada.
• Earn 1 Mile for every $10 in Card purchases everywhere else.
• American Express® AIR MILES®* Platinum Credit Card Cardmembers can take advantage of the Annual Travel Redemption Benefit. Once per calendar year, when an eligible Cardmember uses Dream Miles with the AIR MILES Reward Program to book their first single flight or package vacation through airmiles.ca or vacations.airmiles.ca, they can get Bonus Miles equivalent to 25% of the net number of Miles used (up to a maximum of 750 Bonus Miles).
• Shop at participating AIR MILES®* Partners®* across Canada with your Card and show your AIR MILES®* Card, and you can earn Miles twice
• American Express is not responsible for maintaining or monitoring the accuracy of information on this website. For full details and current product information click the Apply now link. Conditions apply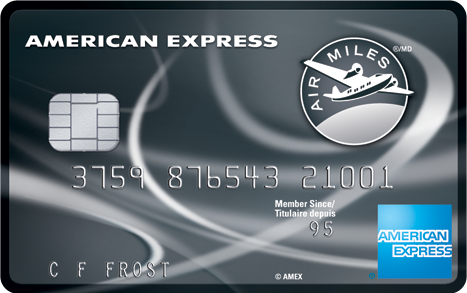 American Express® AIR MILES®* Reserve Credit Card

Card Type: Credit   
Annual Fee: $299 Additional Card Fee: $50
Annual interest rate 20.99% on purchases and 21.99% on funds advances; Missed payment applicable rates, 23.99% and/or 26.99%

New American Express® AIR MILES®* Reserve Credit Card Cardmembers, earn a welcome bonus of 2,400 AIR MILES®* Bonus Miles when you charge a total of $3,000 in purchases to your Card within your first 3 months of Card membership. That's enough for two select flights
• Your ticket to the World of Onyx™ - Receive automatic Onyx™ status
• Once a year, when you redeem for any flight Reward within the AIR MILES®* Reward Program, you can receive up to a maximum of 1,700 Miles towards a Companion Flight, for your companion to travel with you for the same itinerary (offer excludes service charges if applicable and taxes)
• Earn 1 Mile for every $10 in Card purchases at eligible AIR MILES®* Partners * Excludes purchases made at airmilesshops.ca
• Earn 1 Mile for every $10 in Card purchases at other eligible grocery stores, gas stations, and drugstores in Canada
• Plus, earn 1 Mile for every $15 in Card purchases everywhere else
• You can receive four (4) complimentary visits per year to more than 1,300 airport lounges around the globe. After your four (4) complimentary visits have been used for the year, you may continue to visit the lounges for a usage fee at the prevailing rate
• American Express is not responsible for maintaining or monitoring the accuracy of information on this website. For full details and current product information click the Apply now link. Conditions apply"

American Express® AIR MILES®* for Business Card

• Earn a bonus of 2,000 AIR MILES®* Reward Miles when you charge a total of $5,000 in purchases to your Card within your first 3 months of Cardmembership
• You can maximize your cash flow with up to 55 interest-free days and enjoy purchasing power that adjusts dynamically with Card usage
• You can benefit from an exclusive 25% discount on business rewards when you redeem AIR MILES Reward Miles from your Dream balance for rewards from the AIR MILES For Business Rewards catalogue, an online catalogue designed especially with the small business owner in mind
• Earn 1 Mile for every $10 in Card purchases at eligible AIR MILES®* Partners* and 1 Mile for every $15 in Card purchases everywhere else
• Make the most of a suite of business management tools that give you more control over your business anytime and anywhere
• With the American Express® AIR MILES®* for Business Card, your purchasing power adjusts dynamically with your Card usage, and can grow over time, as long as you make your payments on time and maintain a good credit history. That's the power of a charge card
• As a Charge Card, the balance must always be paid in full each month. 30% annual interest rate applies to balances not paid in full. Payments must be received and processed by the date of the next monthly statement to avoid finance charges
• American Express is not responsible for maintaining or monitoring the accuracy of information on this website. For full details and current product information click the Apply now link. Conditions apply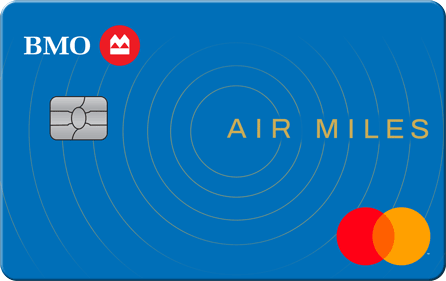 BMO AIR MILES®† MasterCard®*

Welcome offer: Get 800 AIR MILES Bonus Miles!* That's enough for $80 towards purchases with AIR MILES Cash.*
- and there's No annual fee
- Get a 0.99% introductory interest rate on Balance Transfers for 9 months, 2% fee applies to balance amounts transferred.*
- Get 3x the Miles for every $25 spent at participating AIR MILES Partners and 2x the Miles for every $25 spent at any eligible grocery store*.
- Get 1 Mile for every $25 spent everywhere else*
- Earn more reward miles when you use your card at Shell, National Car Rental and Alamo Rent A Car
- Extended Warranty
- Purchase Protection
- Interest Rate: Purchases: 20.99% Cash Advances 22.99% (21.99% for Quebec residents)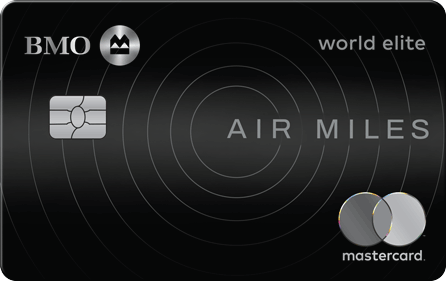 BMO AIR MILES®† World Elite®* MasterCard®*

Annual Fee: $120 Primary Card $50 Additional Card
Interest Rate: Purchases 20.99% Cash Advances 23.99% (21.99% for Quebec residents)

Welcome offer: Get 2,000 AIR MILES Bonus Miles and we'll waive the $120 annual fee for the first year*.
· Get 3x the Miles for every $12 spent at participating AIR MILES Reward Partners* and 2x the Miles for every $12 spent at any eligible grocery store*
· Earn 1 reward mile for every $12 in credit card purchases, everywhere you spend*
· Get valuable benefits and offers for digital everyday services from a variety of on-demand apps and subscription services
· Use your card at Costco
· Extended Warranty
· Access over 1 million Wi-Fi hotspots around the world - all at no added cost, and no added fees or roaming charges*
· Complimentary membership in Mastercard Travel Pass provided by DragonPass.*
· Use less Miles with our exclusive 25% discount on one worldwide AIR MILES flight redemption during the calendar year.*
· BMO AIR MILES World Elite Travel and Medical Protection*
· BMO Concierge Service*
· Unlock Mastercard Travel Rewards cashback offers when you travel and shop outside of Canada

*Terms and conditions apply





BMO is not responsible for maintaining the content on this site. Please click on the Apply now link for the most up to date information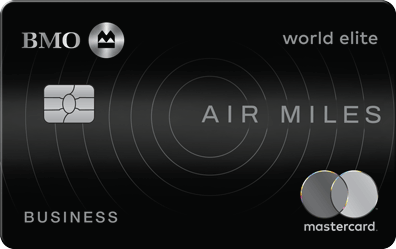 BMO AIR MILES®† World Elite®* Business Mastercard®*

Annual Fee: $149 Primary Card $50 Additional Card
Interest Rate: Purchases 19.99% Cash Advances 22.99% (21.99% for Quebec residents)
Welcome offer: Get 3,000 AIR MILES Bonus Miles when you spend a minimum of $5,000 in the first three months. Plus, we'll waive the $149 annual fee for the first year!*
Get 1 Mile for every $12 you spend*
Get 4x the Miles when you use your card at participating AIR MILES partners
25 payment grace days*
Get up to 22 additional cards so employees can easily make purchases on behalf of your business and help you earn points faster* (employee cards have an annual fee of $50)
Use your card at Costco locations across Canada*
Travel Protection*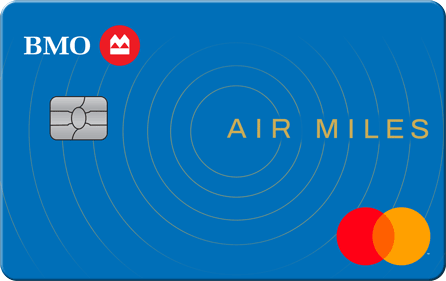 BMO AIR MILES®† Mastercard®* (Student)

Welcome offer: Get 800 AIR MILES Bonus Miles!* That's enough for $80 towards purchases with AIR MILES Cash.*
- and there's No annual fee
- Get 3x the Miles for every $25 spent at participating AIR MILES Partners and 2x the Miles for every $25 spent at any eligible grocery store*
- Get 1 Mile for every $25 spent everywhere else*
- Get AIR MILES back every time you spend, plus start building a healthy credit history
- Best BMO AIR MILES Mastercard for Students
- Earn more reward miles when you use your card at Shell, National Car Rental and Alamo Rent A Car
- Extended Warranty
- Purchase Protection
- Interest Rate: Purchases 20.99% Cash Advances 22.99% (21.99% for Quebec residents)