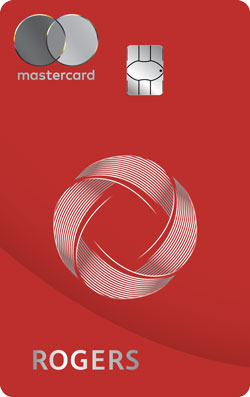 The Rogers World Elite Mastercard is still a relative youngster in the Canadian market having only been released in May of 2018. It is the premium version of the Rogers Platinum Mastercard that was introduced several years prior. That Platinum card underwent several changes over its short life including devaluations that essentially paved the way to release the World Elite Mastercard. The World Elite is the better of two of course seeing that it is a premium card and both of the card versions have no annual fee. So why would you even bother with the Platinum if this is the case? Well the main reason is income requirements, the World Elite has high income requirements where as the Platinum is a lot lower.
The review of the Rogers World Elite Mastercard is broken down into the following sections:
Overview
The Rogers World Elite Mastercard is a cash back credit card and a pretty good one at that! Don't be deceived by the Rogers name - the cash back earned on the card does not have to be used for Rogers services nor is the card only for Rogers customers. Anyone can get this card and you have the option to redeem for true cash back in the form of statement credits or pay with points options.


Costs & Sign up Features
The Rogers World Elite Mastercard is in a small subclass of premium World Elite Cards that are offered with no annual fee. That's right - this is a premium card and it costs $0 per year to have. You do have to note however they have a minimum spend stipulation in place for not having an annual fee. That requirement states you must spend at least $15,000 on the card annually. If you do not reach that amount you card may be downgraded to the Platinum version.
The standard welcome bonus on the card offers $25 cash back when you make your first purchase on the card within the first three months of having it.
The purchase interest rate on the card is 19.99% while cash advances are charged 22.99%. Annual income requirements are $80,000 Personal or $150,000 Household.


Earning
The card earns cash back rewards as follows:
1.5% unlimited cash back on all eligible purchases
3% unlimited cash back on all eligible purchases made in U.S. dollars

Redeeming
As with most cash back cards there is only one redemption option with The Roger World Elite Mastercard and that is to redeem for cash back! The Rogers card has a very simple and easy cash back redemption process. Once your cash back rewards balance reaches $10 you can redeem towards purchases you made that have a value of $10 or more. For example if your cash back balance is $10 and you had a purchase post to your account of $12 you could apply your cash back rewards balance towards that purchase.
Rogers provides several options to go about redeeming your cash back. You can choose to do it manually via the Rogers Bank Mobile App or online via your Rogers account. The manual process lets you instantly apply your cash back rewards balance towards purchases made in the previous 90 days. The second option Rogers provides is an automatic redemption whereby your cash back rewards balance is automatically applied to your next purchase once the $10 level is reached.


Features and Benefits
Seeing that the card carries no annual fee it isn't chock full of benefits like some other cards however it does provide the standard benefits that come on all Canadian World Elite Mastercards.
World Elite Mastercard benefits
Mastercard Travel Pass provided by DragonPass Complimentary membership to Mastercard Travel Pass provided by DragonPass gives access to over 1,300 airport lounges worldwide at discounted rate of $32 USD per person per visit
Boingo Wi-Fi Boingo Wi-Fi for Mastercard Cardholders provides access to more than 1 million premium Wi-Fi hotspots worldwide at no charge. This also covers Wi-Fi on several airlines including WestJet.

Apple Music Receive 4 free months of Apple Music


Insurance
The Rogers World Elite Mastercard comes with a decent insurance package for being a no fee card and that package includes the following:
Out of Province/Country Emergency Medical Insurance (10 days under age 65, 3 days for 65-75)
Trip Cancellation Insurance
Trip Interruption Insurance
Car Rental Theft and Damage Insurance
Purchase Protection Insurance
Extended Warranty Insurance