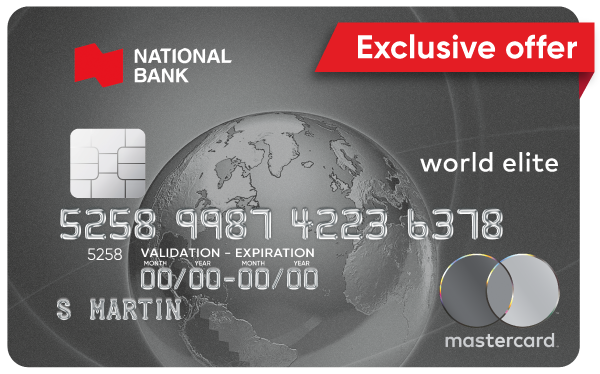 The National Bank of Canada World Elite® Mastercard® is the flagship premium card offering from the sixth largest bank in Canada. The card underwent some major changes in the summer of 2022 to become Canada's latest 5x points earning card. It joins a small group of cards awarding that many points with an equivalent value for redemption (ie 5 points = at least 5%) but the card does have one major drawback to its 5x points earning that you'll learn about in this review.
The review of the National Bank of Canada World Elite® Mastercard® is broken down into the following sections:
Overview
The National Bank of Canada World Elite® Mastercard® is an all encompassing travel rewards credit card. It has decent points earning, flexible travel redemption options, provides annual refunds for travel expenses and has excellent travel insurance coverage.
Costs & Sign up Features
The National Bank of Canada World Elite® Mastercard® has an annual fee of $150 for the primary card. This fee is near the top end of what you see on premium card offerings in Canada where cards range from $119 to $165 per year. Additional cardholders can be added for $50 per year per card.
Much like many National Bank Cards the World Elite Mastercard does not have a standard welcome bonus but enjoys frequent limited time offers. Currently, the limited time welcome bonus awards up to 70,000 points along with no annual fee in the first year when you apply by June 30, 2023. The bonus is broken down as follows:
30,000 points when you spend $5,000 on the card within the first three months of having it
10,000 points if you sign you up for credit card payment insurance for at least 3 months
30,000 points if you spend at least $12,000 on your card within the first 12 months of account opening.
A credit for the first year annual fee for the primary card will be issued within 4 months of account opening

70,000 points are worth $700 towards travel booked via National Bank's À la carte Travel™ Agency.
Requirements for the card are to have $80,000 annual personal income or $150,000 annual household income.

Earning
The card earns À la carte rewards points as follows:
Here is that drawback to this card that we mentioned at the start of the review. Unlike other cards that have spending caps specific to a category or high annual gross spending caps, National Bank does not. The $2,500 monthly cap is based on all your spending which means it will affect how you much you can earn at the 5x points level.
That is, if you go out and spend $500 for something that does not fall into groceries or dining – say a Costco visit, a car repair or anything like that, you will only be able to earn 5x points on the remaining $2,000 of spend that month. And this is if, and only if you spend that $2,000 on groceries and dining. The minute you start putting any other spending on the card within your first $2,500 each month you take away your ability to earn 5x points.
Have a big purchase you would like to make? Perhaps put a $5,000 deposit on a car? If you put that purchase on this card near the beginning of your monthly earn cycle you are saying good bye to any 5x points earning for the rest of that month.
Ideally with this card you do not want to put any spending on it other than groceries and dining until you have spent $2,500 in those categories in each monthly period. Once you have, then by all means, go nuts spending in all the other categories.
Loyalty Lesson: The revamped National Bank World Elite Mastercard is good but….
Read more here

Point Valuation Chart
Spending Category
Points earned per dollar spent
Rate of return when booking travel with

À la carte Travel™ Agency

Rate of return when booking your own travel
Rate of return Cash Back
Grocery & Restaurant
5
5%
4.17% to 4.55%
2%
Grocery & Restaurant (after $2,500)
2
2%
1.67% to 1.82%
0.8%
Gas, EV Charging, Recurring Bills
2
2%
1.67% to 1.82%
0.8%
À la carte Travel
2
2%
1.67% to 1.82%
0.8%
All other purchases
1
1%
0.83% to 0.91%
0.4%
Redeeming
There are multiple redemption options in the À la carte Rewards Plan and like most proprietary credit card programs these include travel, cash back, merchandise, gift cards and more.
Travel
Redeeming for travel is extremely straightforward with the À la carte Rewards Plan. To get the best value out of your points for all the purchases made on your card you must book your travel via the À la carte Travel™ Agency. Basically you book travel through them as if you were booking travel anywhere else and then you redeem points against the charge during the payment process for your travel. You can choose to redeem a partial amount or the full amount of points against the charge so it makes it quite flexible. The redemption rate is 10,000 points = $100 toward the travel booking.
For example, if you are purchasing $1,200 in flights and have 50,000 points you can redeem those points for a $500 credit and end up only paying $700 out of pocket for those flights. If you have 120,000 points (or more) you could redeem that exact amount so those flights are free!
With that 10,000 points to $100 ratio you are earning a 1% to 5% return for your spending on this card (see the point valuation chart above).
The next travel redemption option is being able to redeem points for any travel you book outside of the À la carte Travel™ Agency What this means is that you can book a flight directly with Air Canada, WestJet or any other airline, book any hotel, car rental, train, vacation package etc. and when that charge shows up on your account you can redeem your points against that charge. The redemption rates for this option are as follows:
If you redeem 55,000 or less points in one transaction you will receive a $100 credit for every 12,000 points redeemed
If you redeem 55,000 or more points in one transaction you will receive a $100 credit for every 11,000 points redeemed.
For the less than 55,000 points redemption this works out to a 0.83% to 4.16% return on your spending. Over 55,000 it works out to a 0.91% to 4.54% return.
Cash back
You can choose to redeem the points for cash back in the form of a statement credit towards your credit card balance. Like the majority of travel rewards card this option provides lower value than seen when redeeming points towards travel. National Bank publishes the following levels for this redemption option:
6,250 points for a $25 credit
12,500 points for a $50 credit
25,000 points for a $100 credit
125,000 points for a $500 credit
250,000 points for a $1,000 credit
The conversion rate is the same across all levels at 0.4 cents per point. That means you are earning a 0.4% to 2% return for your spending on this card if you choose the cash back option (see the point valuation chart above). This is a relatively low value and while it is good to have this option with this card you can do better with other cards if you are primarily looking for cash back rewards.
Other redemption options
The rest of the redemption options from National Bank of Canada include gift cards, National Bank Investment products and merchandise.

Features and Benefits
The National Bank of Canada World Elite® Mastercard® provides some great benefits and additional features that complement the points earning side of things:
Up to $150 annual credit towards travel expenses
The card provides up to $150 each year in refunds for travel expenses on airport parking, seat selection, baggage fees, airline ticket upgrades and access to airport lounges worldwide. To receive the credits you simply submit your receipt(s) to National Bank of Canada for an approved travel expense that is charged to the card.
Unlimited access to the National Bank lounge at Montreal-Trudeau airport
The card provides free and unlimited access for the primary cardholder along with one guest to the National Bank Lounge® at Montréal-Trudeau airport. This is a great benefit for those people who travel internationally out of YUL as the lounge is in the International portion of the airport. If you primarily fly domestic or to the U.S. this benefit won't mean much to you.
World Elite Mastercard benefits
Airport Lounge Access The card also comes with Mastercard Travel Pass provided by DragonPass which is a standard feature found on all World Elite Mastercards in Canada. This means you get free membership in the lounge access program that is pretty much the same as Priority Pass. While the card covers your annual membership it does not cover the actual lounge visit fees which are currently US$32 per person (except for the National Bank Lounge)
Boingo Wi-Fi Boingo Wi-Fi for Mastercard Cardholders provides access to more than 1 million premium Wi-Fi hotspots worldwide at no charge. This also covers Wi-Fi on several airlines including WestJet. As of March 9, 2023 members are limited to twelve 90 minute in-flight sessions per year.

Insurance
The National Bank of Canada World Elite® Mastercard® provides excellent insurance coverage and is in fact one of the best that amongst all its direct competitors. The coverage is as follows:
Out of Province/Country Emergency Medical Insurance (60 days for ages up to 54, 31 days for 55-64 and 15 days for 65-75)
Trip Cancellation Insurance
Trip Interruption Insurance
Flight Delay Insurance
Baggage Delay Insurance
Lost or Stolen Baggage Insurance
Car Rental Theft and Damage Insurance (up to $65,000 MSRP)
Purchase Protection Plan
Buyer's Assurance Protection Plan
Mobile Device Insurance
What is notable about National Bank of Canada's coverage is that it covers reward tickets from other loyalty programs*. Typically, most credit card insurance coverage will only cover travel that is redeemed for with that issuer's own proprietary program. Not so with this card. For example, you can redeem Aeroplan points for a flight and as long as you pay the taxes and fees with the National Bank World Elite Mastercard you'll receive the insurance coverage. We do want to note this is specific to certain coverages such as trip cancellation trip interruption flight delay, lost baggage (not delayed baggage however) etc.
* It will cover the dollar amount charged to your card for the taxes and fees that is not refunded to you by the loyalty program if you cancel your flights, hotel etc. It will not refund or return the points or miles you redeem. When you do cancel, most (but not all) loyalty programs will refund the points or miles you redeemed based on the program's own cancellation policies.
In terms of other coverage such as flight delay you would simply submit your reasonable expenses as if you would if you used the card for a revenue flight.