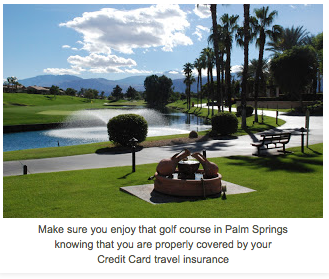 In the mid-2000s Emergency Travel Medical Insurance coverage began to emerge as a new insurance benefit on premium travel rewards credit cards and now it is even being added to cash back cards. Also called Out of Province Medical Coverage this type of insurance benefits covers medical needs that should arise if you are travelling outside of your home province. Think of this insurance as something like your provincial health care plan but for outside of your province. Coverage varies by card and the primary condition set out by all of them is the age of the cardholder. Ever since this type of insurance was introduced on credit cards we started receiving and still receive requests from some of Rewards Canada's 'seasoned' readers about coverage once they hit 65 years old. We first looked into this around 2010 and at that time personally responded via email to those who asked. But somehow when 2013 hit, we started to receive so many emails asking about which credit cards provide Emergency Travel Medical Insurance coverage for people over the age of 65 that we figured it was best to summarize all the information into one post.

We have gone through all of the major Travel Rewards and Cash Back credit cards in Canada that provide this insurance benefit and summarized their age coverage in the chart below.
We do want to stress however that if you are picking a card primarily for the Travel Medical Insurance coverage be sure to read the policy before you get the card to see what is and what isn't covered, what the coverage periods are and more as each card has their own 'exclusions' and such. Here are some of the things that stood out for us:

Most of the plans will only cover you for pre-existing conditions (known or unknown in some cases) when those conditions are/were considered stable prior to traveling. Now the difference comes in in the time period that you have to be stable, I found most cards require 90 days to 180 days prior to travel but some require 365 days for older age groups (65+ or 75+). Now a pre-existing condition can be different than a Medical or chronic condition which is controlled but once again during that 90,180, 365 day period can't usuall see any changes or other treatment for the condition. This includes changes to the dosage of your medication - if it is increased or decreased this constitutes a change and you will not be covered if that pre-existing condition is the source of your emergency. Some of the insurance plans will also not cover routine care for a chronic condition.


If you are traveling 9 weeks prior to or after giving birth many of the cards will not cover you if any medical issues arise that are related to the pregnancy.


If you are young (or young at heart) and go party in Cancun during Spring Break, many of the cards will not cover you for medical emergencies that happen while you are intoxicated.


Certain dangerous or professional sports are not covered, even Scuba Diving is an exclusion unless you hold a basic designation from a certified school or licencing body.


These are only a few of the conditions and/or exclusions. Key word here in many of the cases is Emergency, so if you are getting routine care for something prior to travel there is a possibility it may not be covered. Also, many of the policies require you to contact the insurer as soon as possible and get approval for the treatment except where the emergency is life threatening: This excerpt is taken from the CIBC Avenutra Visa Infinite policy:
"In the event of an emergency, you must call Global Excel before seeking treatment. If it is not reasonably possible for you to contact Global Excel before seeking treatment due to the nature of your emergency, you must have someone else call on your behalf or you must call as soon as medically possible. Failure to do so may limit the benefits payable to you."
So please, before you choose a card based solely on the medical insurance please read the policies carefully of those cards that you are considering before making your decision.
Extending coverage
Many of the cards also allow you to extend your coverage for a fee should you be travelling for a period of time that exceeds the maximum time allowed by a card.
COVID-19
You will also want to check the policies regarding the COVID-19 pandemic as many will not cover you if you choose to travel when there is an advisory not to travel (ie avoid all non-essential travel) or if you travel to an area that is not recommended for travel.