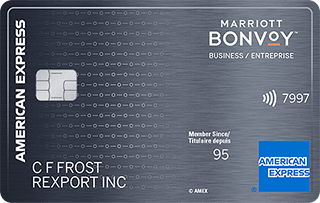 In this review we look at the Marriott Bonvoy™ Business American Express®* Card which is the only small business hotel loyalty program credit card in Canada. It is the business version of the fifth best overall travel credit card for consumers, the Marriott Bonvoy™ American Express®* Card. The card offers the same benefits as the consumer card as well as some additional accelerates earn rates which makes it one of the best business cards in Canada.
Even though it is a Small Business card, American Express does allow individuals to apply for it by simply using your Social Insurance Number as your business number (Just as any sole proprietors would need to do)
The review of the Marriott Bonvoy Business American Express Card is broken down into the following sections:
Overview
The Marriott Bonvoy Business American Express Card is a dream card for points maximizers, luxury travellers and really should be a consideration for many Canadian business owners. It has one of Canada's best everyday earn rates (that is, spending on non bonus categories), it gives you a free night stay each year with your card anniversary, has a welcome bonus that can provide big value and it makes it easier to achieve elite status within the Marriott Bonvoy program. When you take into account that you can redeem points for stays at over 8,000 hotels ranging from a road trip stay in a small Canadian town to a once in a lifetime vacation in the Maldives, you can start to see why this card is a dream!
Costs & Sign up Features
The Marriott Bonvoy Business American Express Card has a $150 primary card annual fee and supplementary cards are $50 each. Both of which are are pretty standard for nowadays for small business accounts.
The standard welcome bonus for this card is 50,000 Marriott Bonvoy points after you spend $1,500 in the first three months of having it.
However right now you can earn up to 85,000 points:

Earn 75,000 Welcome Bonus Marriott Bonvoy® points after you charge $5,000 in purchases to your Card in your first three months of Cardmembership.

Plus, earn 10,000 Marriott Bonvoy points when you make a purchase between 14 and 17 months of Cardmembership
Offer ends July 24, 2023.
Those 85,000 points are worth at least $850 in our books since we value Marriott Bonvoy points at a minimum 1 cent each but you can get much more value out of them than that!
The interest rate on the card is 20.99% on purchases. 21.99% on cash advances and balance transfers. These rates are equivalent to or below many cards at this level. Just like all American Express cards there is no minimum income requirement. Approvals will be based upon credit history and other factors.

Earning
The card earns Marriott Bonvoy points on all eligible purchases and are deposited to your Marriott Bonvoy account a few days after your statement posts. Earn rates are as follows:
5 points for every $1 you spend at participating Marriott Bonvoy properties
3 points for every $1 you spend on gas, dining and travel
2 points for every $1 you spend on all other eligible everyday purchases

These are pretty amazing earn rates - in fact the 2 points per dollar on all other spending is the same as the consumer Marriott card which we consider one of the best card out there in terms of non-category bonus spending. Very few cards award the equivalent of a 2% return on base level spending and in most cases when you redeem via Marriott you should easily be able to get more than 1 cent per point hence a return of over 2%.
Recommended reading: The top credit cards for everyday non-category bonus spending
Add on top of that great earn the accelerated earn rates of 3 points per dollar on gas, dining and travel. Plus of course the exclusive 5 points per dollar when you spend at Marriott and you can see that this card is major points earner.
Point Valuation Chart
Spending Category
Points earned per dollar spent
Effective Rate of return (Travel) *
Marriott Hotels
5
5+%
Gas, Dining, all other travel
3
3+%
All other spending
2
2+%
* We value Marriott Bonvoy points at a minimum of 1 cent each hence the valuations above - that is a minimum though as we typically see higher value than that, in fact we've seen redemptions in excess of 3 cents per points so you could triple those values seen above.
Redeeming
As it is a hotel card means the points earned go directly into your Marriott Bonvoy account after each statement period. From there you can redeem the points for free night awards at over 8,000 Marriott Hotels worldwide, convert the points into frequent flyer miles/points for over 40 global airlines programs including Air Canada Aeroplan, Cathay Pacific Asia Miles or United MileagePlus. Marriott also has redemption options for gift cards, flight+hotel packages and the very famous Marriott Bonvoy Moments.
Free Night Awards
First we'll look at the primary redemption option - free night awards. The main premise of any hotel frequent guest program is to earn points that you can redeem for free night stays at hotels participating in that program. This is where Marriott Bonvoy excels. Being one of the largest hotel chains in the world with over 8,000 hotels there are a lot of locations to choose from to redeem those points.
Marriott used to have a category chart that free night award redemptions would follow however in 2022 they switched to dynamic pricing. Thus, the program no longer publishes set rates and the amount of points required for a free night will somewhat follow what the cash rates are for that hotel. Even though there is no chart anymore the maximum you can expect to spend for one night in a standard room is 150,000 points at a handful of ultra luxury properties. Most hotels will fall between 5,000 and 120,000 points.

For a lot of us the highlight is being able to use the points at the higher end hotels. So ultimately you are looking at being able to use points to redeem for a stay at a place like The St. Regis Maldives Vommuli Resort or The Gritti Palace, a Luxury Collection Hotel, Venice just to name a few!
For example here's a five night stay at The St. Regis Maldives: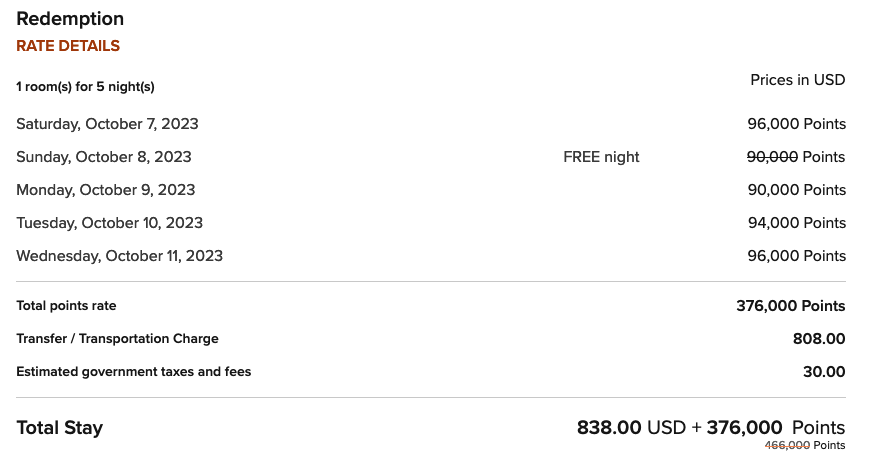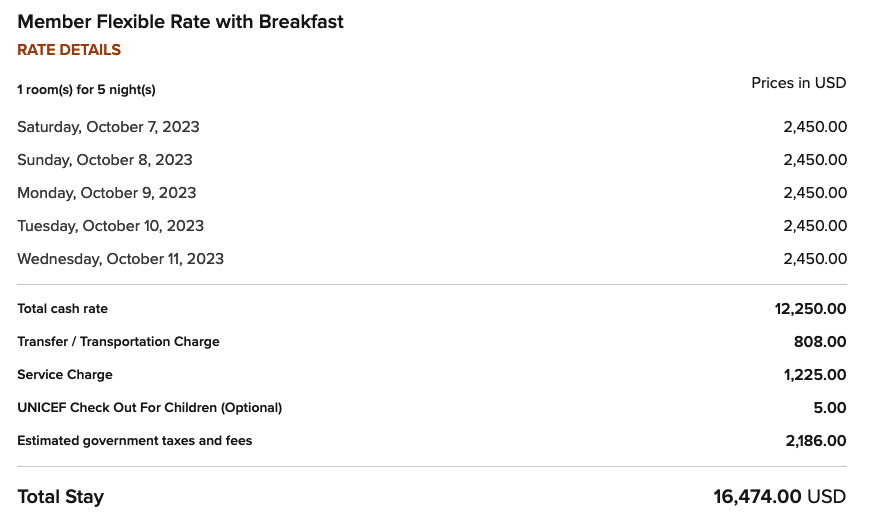 We picked an upgraded room - an Overwater Villa, 1 Bedroom Villa, 1 King, Sofa bed, Private pool for five nights in October for this example. The nights ranged in price from 90,000 to 96,000 points, which might have you asking why is it only 376,000 points and not 466,000? Well, that brings us the one of the best features of the Marriott Bonvoy program - when you book 5 award nights you get one free. Of course, it is the night that costs the least that is free and in this example it is one of those at 90,000 points. So if we go back to our example - you are redeeming 376,000 points for the equivalent of US$15,636.00. This works out to a value of 4.1 cents per point in USD or roughly 5.6 cents per point Canadian. That means the 2 points per dollar earned on this card provides an 11.2% return, 3 points earns 16.8% and 5 points is at 28% - yes a 28% return on any Marriott spending you have!
Ultimately your rate of return will be different as hotel prices are constantly changing and a portion of that amazing return counts on getting that 5th night free. For example, if you are only redeeming for three nights at the hotel above your rate of return drops down to US 3.4 cents per point - still an awesome return but as you can see that free night makes a huge difference.
How about a two night middle of the summer stay in Winnipeg? Here's what the Delta Winnipeg looks like:



In this example you can redeem 24,400 points for a stay that is $477.21. That's the equivalent of 1.96 cents per point or nearly a 4% return on your 2 points per dollar base spending, 5.88% on 3x points and nearly a 10% return on your 5 points per dollar earning. Again, amazing value, it may not be the same as the Maldives but this Winnipeg example provides a perspective on some everyday real world value from the credit card and the Marriott program.
Convert to airline miles/points
The next best redemption option from the Marriott Bonvoy program is the transfer option to over 40 airline frequent flyer programs. It is well known in the points and miles circles that these are the only hotel points that have a meaningful conversion rate to airlines. The reason why is that Marriott has a very good conversion ratio and they also provide a bonus when redeeming 60,000 points.
The conversion ratio for most of their airline partners is 3 to 1 with the exceptions being Air New Zealand and JetBlue. These two are different because of how their points systems work.
Now ideally, you only want to convert to airlines in 60,000 Marriott Bonvoy point increments and that's because Marriott will kick in an additional 5,000 miles or points from the partner program. For example if you convert 60,000 Bonvoy Points to Air Canada Aeroplan you'll receive 20,000 points from the 3:1 conversion ratio plus an extra 5,000 for a total of 25,000 Aeroplan Points. This bonus works for most of their frequent flyer partners. United MileagePlus is unique as they have an enhanced partnership with Marriott so you'll actually receive 10,000 bonus miles with every 60,000 points converted.
For many Canadian points and miles enthusiasts this conversion option is the primary route to earning points and miles for airlines that have no other options in Canada. These include the likes of ANA Mileage Club, Turkish Airlines Miles&Smiles and Virgin Atlantic Flying Club.
Marriott Bonvoy Moments
Marriott Bonvoy Moments are another great option to redeem your points for. These are one of a kind experiences that you can't typically purchase with cash. Some are auction based whereas some others a flat rate redemptions and you're redeeming points for things like tickets to premium seats and suite access at the U.S. Open tennis, exclusive access to concerts, VIP access to car racing events and so much more.
Here is an example of Marriott Bonvoy Moments package in Montreal:


Considering a free night on April 3 is 48,000 points alone, this package that starts at 50,000 is a deal!
Other redemption options
You can also redeem points for flights, car rentals and gift cards - all of which provide less value than redeeming for actual hotel award nights. There is also an option to donate your points to various global charities.

Features and Benefits
Not only does the Marriott Bonvoy Business American Express Card card shine when it comes to value on the earn and burn side it is a bright light when it comes to extra benefits:
Anniversary Free Night Award
The first benefit is one of the best out of any credit card in the market. And that benefit is the annual Free Night Award that is provided each year on your card anniversary date. This voucher provides a free night at any Marriott hotel worldwide up to a value of 35,000 points. This used to cover hotels up to Category 5 (sometimes Category 6) however now that Marriott moved to dynamic pricing you have to do some digging to find hotels you can use it at - but there are a lot! This voucher alone can typically provide more value than the annual fee on the card! In fact, we consistently find hotels that charge $200-$400 per night that you can use this free night award at.
Recommended Reading: 10 great hotels in Canada to use your Marriott Amex free night award at
Here is an example in summer of 2023 at the JW Marriott Edmonton ICE District that shows availability under the 35,000 points requirement for the voucher:

You can see from the above example this free night award voucher can save you anywhere from $281 to $414 before taxes. The voucher actually covers taxes as well so the value is even higher than this! Not a bad deal to spend $150 on the card to get value that can reach three times the fee!
The Marriott Bonvoy program also allows members to top off the certificates with up to 15,000 points. This means if you find a hotel that runs 50,000 points for a free night you can combine your Free Night Award voucher and 15,000 points to cover that night.
Complimentary Marriott Bonvoy Silver Elite status + Receive 15 Elite Night Credits
The next feature or benefit that comes with the card is 15 elite night credits that are awarded each and every year you have the card. Those 15 nights count towards your Marriott Bonvoy elite status qualification and with Silver status only requiring 10 nights that means you automatically receive Silver status by having this card. Gold elite status requires 25 nights so you only have to complete 10 actual nights to earn Gold Status (or see the next benefit), 35 nights to achieve Platinum status or 60 nights to earn Titanium status.
Spend to earn Gold Elite Status
If you spend $30,000 or more on your Marriott Bonvoy Business American Express Card each year you'll receive an upgrade to Gold elite status so this is your other option to reach this level if you can't complete the 10 additional nights as mentioned above.
American Express Experiences
The Marriott Bonvoy Business American Express Card comes with American Express Experiences which includes Front Of The Line® Advance Access, Front Of The Line® Reserved Tickets, Front Of The Line® E-Updates, Special Offers & Experiences for all Cardmembers and Social Access for all Cardmembers.
Amex offers
As with all American Express Cards this card receives Amex Offers. These are exclusive limited time offers sent out to cardmembers to receive statement credits or bonus points for using their card at select merchants. Depending on your shopping habits these offers alone can provide enough savings in a year to cover the annual fee on the card if not more! You can learn more about this feature in Rewards Canada's Guide to American Express Canada 'Amex Offers'
Business Solutions
The Business Platinum card comes with a very strong insurance package that includes the following:
Leverage your cash flow with the option of carrying a balance or paying in full each month
Business and expense management tools and resources
Employee Card Misuse Protection
Insurance
The Marriott Bonvoy Business American Express Card comes with an average insurance coverage package. The coverage is as follows:
Flight Delay Insurance
Baggage Delay Insurance
Lost or Stolen Baggage Insurance
Damaged Baggage Insurance
Car Rental Theft and Damage Insurance (up to $85,000 MSRP)
Hotel Burglary Insurance
Travel Accident Insurance
Purchase Protection Plan
Buyer's Assurance Protection Plan (Extended warranty)