Let's look at some examples of the savings IAP provides on business class flights with some global airlines as well as economy and business class with WestJet:
Japan Airlines Business Class
Here we have a flight in business class on Japan Airlines from Vancouver to Tokyo departing March 13, 2023 and returning March 26, 2023. This is the pricing directly from JAL: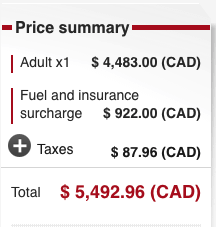 and the same flights with Amex's IAP:


As you can see there are some huge savings to be had with the IAP program! This example alone the savings amount to $1,121.03!
For these flights we also conducted a search on Kayak.com to see if you could buy the same flights cheaper anywhere else:

The closest was $4,961 which is almost $600 more than Amex's IAP pricing.

Qatar Airways Business Class
Montreal to Delhi in business class for two weeks in November. Here is the pricing from Qatar Airways: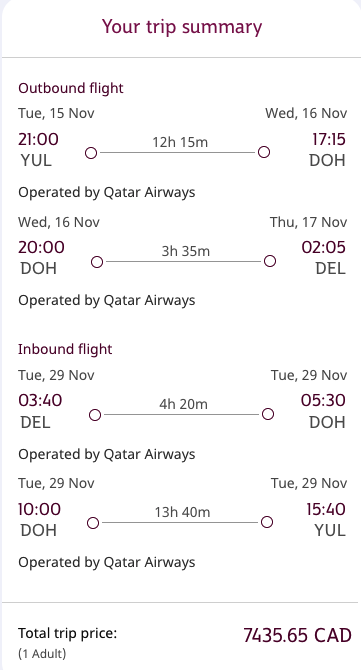 and those same flights with Amex's IAP:

Another example of some big savings as the Platinum Cards with IAP prices out $841.91 lower than buying direct with Qatar Airways.
WestJet Economy Class 
Even though it is stated the International Airline Program is only for Premium Economy tickets and higher, the program does provide discounts on all WestJet economy class tickets except for their lowest basic fare. Thus if you are planning on purchasing Econo or higher tickets with WestJet you definitely would want to consider booking via Amex Travel with your Platinum Card to receive some savings.

Here's an example of a family of four flying to Victoria from Calgary for a weekend in September. WestJet did not have an basic fares available so it made this comparison easy to do.
The price of four tickets from WestJet:


Those same four tickets with Amex's IAP:

For this short haul flight for four people the Platinum Card's International Airline Program provides a savings of $145.52. Not a huge difference but it's a savings nonetheless and you'll still earn and receive all your WestJet benefits if you have elite status and/or the WestJet RBC World Elite Mastercard. If you fly multiple times per year with your family on WestJet the savings could mount up by using one of the Platinum Cards.

I recommend reading Redemption Stories: Saving $3,800 on last minute flights with the Platinum Card from American Express. This article is about how the Rewards Canada family utilized IAP to save us some cash on some last minute WestJet flights and still receive all of our WestJet benefits etc.

WestJet Business Class
How about a trip for two from Calgary to Maui on WestJet's Boeing 787 Dreamliner in Business Class for May 2023.
The price of the two tickets from WestJet:


Those same two tickets with Amex's IAP:


In this case the IAP provides $878.44 in savings over booking those flights with WestJet. Right here with this one booking the savings more than pays for the $499 or $699 annual fee on the cards! And you still get all the other benefits from the cards!
Wrapping it up
The International Airline Program is just one of many valuable benefits that come on the Platinum and Business Platinum Cards from American Express. If you purchase economy class tickets with WestJet and/or are in a position where you buy premium class tickets on any of the airlines in the International Airline Program then paying the annual fee on one or both of these Platinum cards is a no-brainer. The savings alone from the program can more than cover the annual fee and then you have all the additional benefits from the cards on top of this to take advantage of!
Recommended reading:
If you don't have either of these cards now is the time to grab one or both them as they are being offered with some really big welcome bonus offers. See the next section for details