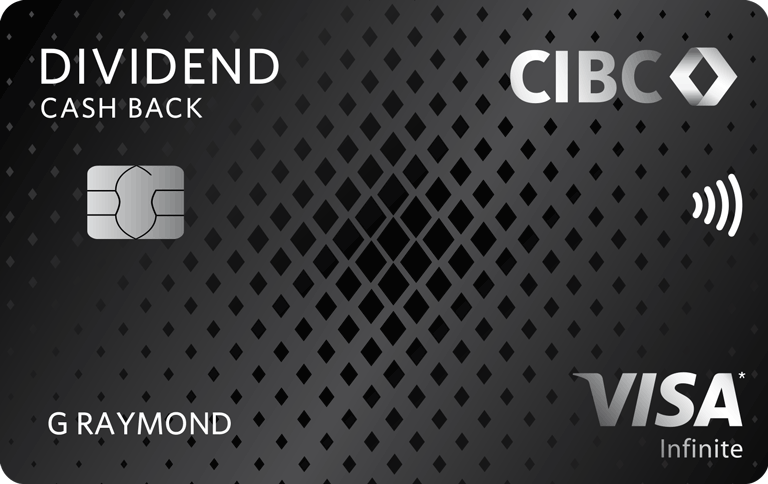 Thanks to a revamp several years ago the CIBC Dividend® Visa Infinite* Card came back to the forefront of the cash back market and in fact here at Rewards Canada we ranked it as the number one cash back card for a short while after those changes. At this time we still rank it as the best "true" cash back credit card in the market as this card takes second place only to the American Express Cobalt Card - which isn't a true cash back card but does provide the best cash back redemption value. We feel the CIBC Dividend Visa Infinite Card is undervalued by other rewards sites and our calculations place it right near the top in our Top Cash Back Credit Card rankings.
The review of the CIBC Dividend Visa Infinite Card is broken down into the following sections:
Overview
The CIBC Dividend Visa Infinite Card is one of Canada's best overall cash back credit cards and in our opinion the best true cash back card! By true cash back card we mean that it is its sole reward type. It is not a hybrid travel rewards/cash back card that we have seen proliferate in the market. It is one of the best thanks to a strong welcome bonus, accelerated earn rates and low anytime cash out balance requirement.


Costs & Sign up Features
The CIBC Dividend Visa Infinite Card has an annual fee of $120 for the primary card. This is the going rate for most premium cash back cards in Canada that carry the Visa Infinite branding. Additional cards are $30 each annually which is actually $20 lower than some of this card's direct competitors.
Right the card has a limited time welcome bonus of 10% cash back for the first 4 statements on net purchases of up to $2,500. That equates to up to $250 cash back! Plus you'll receive a first-year annual fee rebate for you and up to three Authorized Users†
The purchase interest rate on the card is 20.99% while cash advances are charged 22.99%. Annual income requirements are $60,000 Personal or $100,000 Household.


Earning
The card earns cash back rewards as follows:
4% cash back on eligible gas and grocery purchases.†
2% cash back on eligible transportation, dining purchases and recurring payments†
1% cash back on all other purchases†

Redeeming
As with most cash back cards there is only one redemption option with CIBC Dividend Visa Infinite Card and that is to redeem for cash back! The Dividend Visa Infinite card has a very simple and easy cash back redemption process. Once your cash back rewards balance reaches $25 you can redeem towards purchases you made that have a value of $25 or more. For example if your cash back balance is $25 and you had a purchase post to your account of $30 you could apply your cash back rewards balance towards that purchase.


Features and Benefits
Cash back cards aren't known for extra features and benefits like their travel counterparts however the CIBC Dividend Visa Infinite card does come with savings on gas via Journie Reward and it earns extra More Rewards points for grocery shopping with the Save-On family of grocery stores. The card also provide the standard benefits that come on all Canadian Visa Infinite cards.
Save on gas with CIBC and Journie Rewards
Link and use your CIBC Dividend® Visa Infinite* Card with Journie Rewards to automatically save up to 10 cents per litre† at participating Pioneer, Fas Gas, Ultramar and Chevron gas stations.†
More Rewards
To earn simply use your CIBC credit or debit card and More Rewards cards to earn 2x More Rewards points at Save-On Foods, Urban Fare and PriceSmart Foods.
Visa Infinite benefits
Visa Infinite Luxury Hotel Collection provides benefits like room upgrades, complimentary Wi-Fi and breakfast, late checkout, and so much more at over 900 Visa Infinite Luxury Hotel Collection properties around the world.
Visa Infinite Dining Series - Each event includes multi-course meals, drink pairings and an interactive experience. You'll get to taste dishes from some of the country's top chefs and restaurants as they guide you through each course.

Wine country benefit from wineries across Ontario and British Columbia including complimentary tastings and tours. You can also get access to online offers like complimentary shipping and savings on wine purchases.
Get golf perks with Troon Rewards® through your Visa Infinite card and automatically receive Silver Status. You'll save 10% on golf fees, merchandise, and lessons at over 150 courses around the world.
Access to private movie events and at-home offers as part of the Visa Infinite Screening Series. In the fall, get special perks at the Toronto International Film Festival®.

Visa Infinite card includes a Complimentary Concierge service that can offer help with anything like the perfect travel itinerary, restaurant recommendations, finding the perfect birthday gift, and more


Insurance
The CIBC Dividend Visa Infinite Card comes with a pretty good insurance package for a cash back card and that package includes the following:
$500,000 Common Carrier Accident Insurance
Out of Province/Country Emergency Medical Insurance (10 days under age 65)
Auto Rental Collision/Loss Damage Insurance
Mobile Device Insurance
Purchase Security Insurance
Extended Warranty Insurance