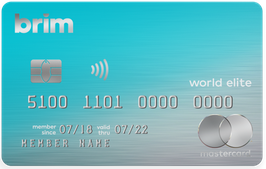 This review of Brim Financial Mastercards has been provided by Rewards Canada contributor Jeff W. who recently became a Brim World Elite Mastercard cardholder. At the time of providing this review he had the card for a few months and was able to test drive many of the card's features and provide this first hand review of the cards.
Editors Note: Please note that some but not all Brim Mastercard holders are experiencing issues with purchases made outside of Canada. They are having transactions blocked or declined. We are not sure how widespread this issue is and once we find out more details about this news we will update this post.
Overview
Brim Financial is a Canadian Fintech company, and is the only Fintech company in Canada to be licensed to issue credit cards. They launched their suite of Mastercards in July of 2018, and the points you earn can be redeemed for merchandise on their online shopping portal, or as cash back towards your statements. To top it off, they also offer No Foreign Transaction fees across all three of their cards.

Costs & Sign up Features
Brim offers three different Mastercard options, so you can choose the one that's right for you. Their first option which comes with no annual fee is the Brim Mastercard. The Brim World Mastercard is the next card in the lineup that will cost you $99 annually. Lastly, the Brim World Elite Mastercard will cost you $199 annually. There is no fees for additional cards with the standard Mastercard, while those supplementary cards will run $20 on the World Mastercard, and $50 on the World Elite Mastercard.

The preferred interest rates on the card is 19.99%, and 21.50% on cash advances. The Standard interest rates for purchases, and cash advances are 24.99%.

Brim doesn't offer a standard welcome bonus offer on their cards that are typical of the industry - that is spend a certain dollar amount and you'll earn a certain amount of points or receive a certain increased cash back percentage. What they do offer is first-time bonus earning with particular partners/vendors. The first time bonuses are as follows: $200+ on the Brim Mastercard, $300+ on the Brim World Mastercard, and $500+ on the Brim World Elite Mastercard. They do also provide limited time first annual fee waivers for the World or World Elite Mastercards. Currently (April 2022) they are offering the first year free on the World version of the card which translates to $99 in savings in the first year.

Earning
The Brim Mastercards earn Brim Rewards points which are awarded as a percentage of the spend as follows:
Brim Mastercard: 1% back in points per dollar spent on all eligible purchases
Brim World Mastercard: 1.5% back in points per dollar spent on all eligible purchases up to $25,000 annually, then 1% back in points
Brim World Elite Mastercard: 2% back in points per dollar spent on all eligible purchases up to $25,000 annually, then 1% back in points
Base Point Valuation Chart

| | | | |
| --- | --- | --- | --- |
| All spending | 1% | 1% to 1.5% | 1% to 2% |
One of the unique features with the Brim Mastercards is the ability to earn additional points per dollar on purchases with their retail partnerships.
You can earn a first-time bonus' like was mentioned in the signup features. This could include a predetermined amount of points, or a predetermined higher points earning rate, or a combination of both! For example, earn 1,000 bonus points for shopping at Bouclair for the first time, or how about 10% back in points for shopping for the first time at Indigo.
They also offer a 500 point bonus on every birthday and includes your supplementary card holder's birthdays!
Next up the cards offer what Brim calls Level points. This is a rewards system based on how much you shop at a particular merchant offered by Brim. For example, spend up to $150 and earn 7%, then 12% on earning from $151-$300, 18% from $301-$500, and 20% from $501+.
This is followed by the next type of points earning called Card Earn Multipliers. For example, Brim offers 2x the points on Netflix. You may think my World Elite gives me a flat 2x points on all purchases, which is correct. If you have the regular Brim Mastercard however, which has no annual fee, you can still earn 2x points on Netflix. Some other examples would be earning 10x points on every purchase at Snugabye, or 2x points at La-Z-Boy, 13x points at H&R Block.
Some merchants also offer Milestone bonuses. For example, spend $100 in cumulative purchases at Detour Coffee roasters and earn 1,000 bonus points.
The last way to earn additional points is through Brim Financial's EShop. Like other shopping portals, you can view the list of merchants and their earning rate. You click on "shop now" and it takes you to their website. You will then earn that amount of points. Some available options are: 3% back at Apple, 8% back through Lululemon, 4% on Nike, 6% on NFL Shop, 6% on Steve Madden, 8% on Fanatics, 15% on Loews Hotels, 5% on Radisson Hotels, and 4% on Sandals Resorts.

Redeeming
Brim offers has a very simply redemption process where you can choose to either redeem points towards a specific purchase, or decide how many points you want to redeem for a cash back option. Redeeming points on their website, or on their app is a very easy and quick process. Points are redeemed at a rate of 100 points for $1.

Features and Benefits
The first and probably most popular feature of this card is that it has No Foreign Transaction fees. This will save you between 2% - 3% on transactions made in foreign currencies whether in person (travelling) or online if you are ordering something from outside of Canada.
One additional benefit that all three cards offer is the Brim Open Rewards program, where you can earn more than your standard earn rate for your particular card.
All three cards also come with a free Global Wi-FI benefit via Boingo that also provides Wi-Fi on select airlines, namely for us Canadians, WestJet. This is typically only seen on World and World Elite Mastercards so this is a nice bonus for the base level Brim Card!
Like all Canadian World and World Elite Mastercards the Brim World and World Elite Mastercards also offer free business class lounge access membership from Mastercard Travel Pass provided by DragonPass.  
Recommended reading: Big News! Mastercard Canada switching lounge access from LoungeKey to DragonPass (which means access to Plaza Premium lounges!)
On the insurance side of things the standard Mastercard provides five different insurance types while the World Elite Mastercard has up to fourteen types of insurance including Out of Province Emergency Medical Insurance, Trip Interruption/Cancellation, Flight Delay coverage and more.