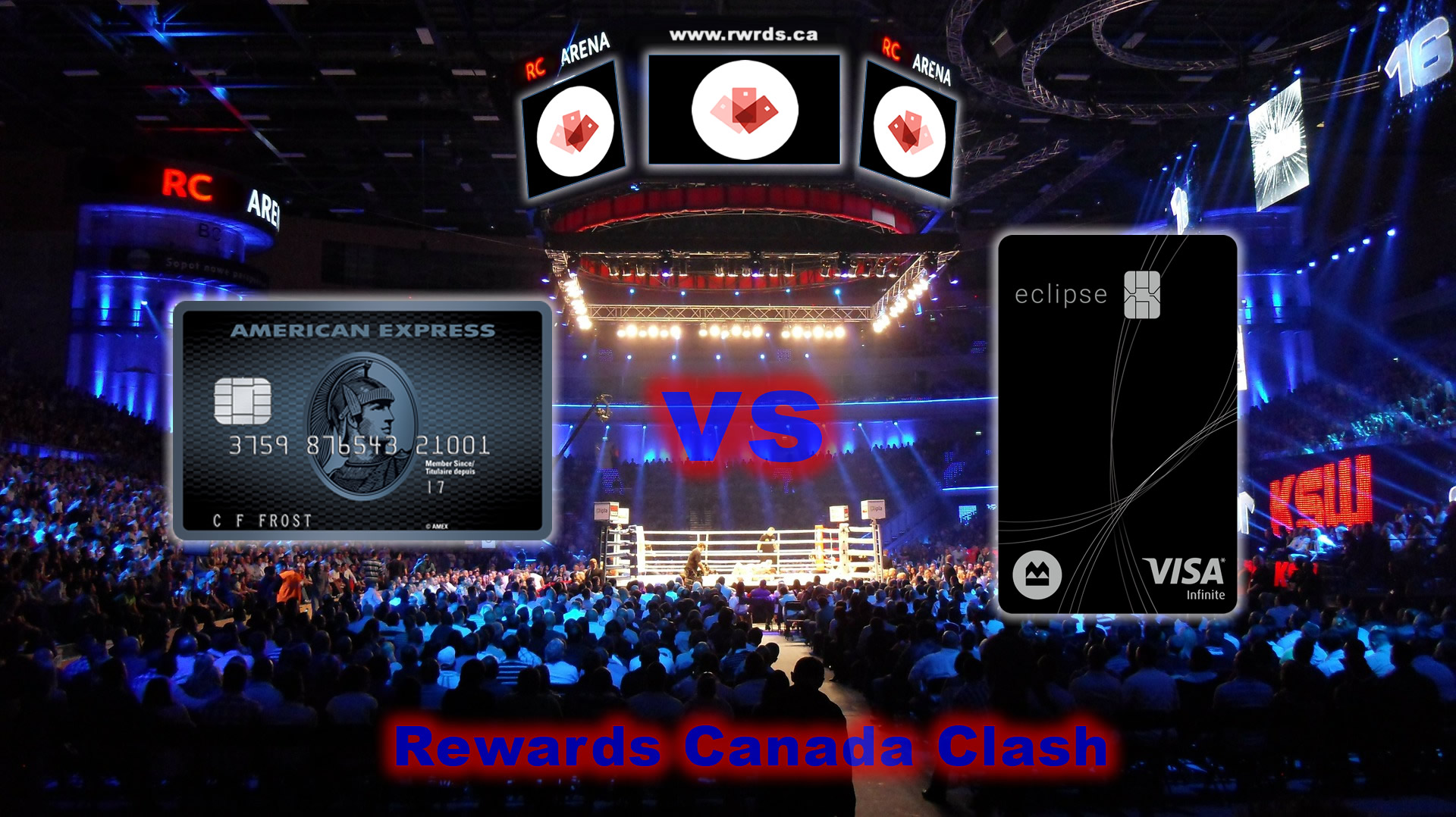 Welcome to another Rewards Canada Clash! This time in our Clash of the Credit Cards we pit two 5x points cards against each other! Those cards are the American Express Cobalt™ Card and the BMO eclipse Visa Infinite* Card

Past clashes:
In this match up we look at over half a dozen criteria to compare the cards against one another along with a head to head detailed table comparison.
Annual Fees / Sign Up Bonus

The annual fees for both these cards are no longer equal - the American Express Cobalt Card charges $12.99 per month for an annual amount of $155.88. The BMO card has your standard $120 annual fee. Supplementary or additional cards have no charge with the Cobalt card while on the eclipse each additional card is $50. At the time of first posting this clash (February 2021) the Eclipse card comes with a first year annual waiver something we have not seen on the Cobalt card. One should also be aware that the Cobalt Card does not have a minimum income requirement when compared to the BMO card's $60,000 personal or $100,000 income stipulation.

For the standard sign up bonus there are some slight differences between the cards. The standard bonus on the Cobalt Card is 30,000 points but that is divvied up as 2,500 points per month in each month you spend at least $500 on the card in the first 12 months of having it. Miss a month of hitting $500 and you don't get the bonus that month. The standard bonus on the eclipse card is 25,000 points when you spend $3,000 on the card in the first three months of having it. So you can achieve the BMO welcome bonus sooner however it's value is less than what can be achieved on the Cobalt card. Also miss that $3,000 spend mark and you get no bonus at all on the BMO card. Those are your standard sign up bonuses.
Currently the BMO card has an increased welcome bonus - it is offering 30,000 points when you spend $3,000 in the first three months along with the annual fee waiver in the first year as noted above and an additional 2,500 points for each subsequent month in which you make at least $2,000 in purchases on your card, for 12 months (montths 4-15) for a total potential bonus of 60,000 points. That's a lot of spending required to get the entire bonus - $27,000 to be exact verus Cobalt needing $6,000 in the first year to get the entire bonus.
While close in numbers, this category goes to the Cobalt Card for the actual value of the welcome bonus (see the chart below) and the no fee additional cards.
Rates

The American Express Cobalt Card has slightly lower interest rates when compared to the BMO eclipse card. Which for any one who does carry credit can make a difference thus this category also goes to the Cobalt Card.
Bonus Features & Benefits

Both cards don't offer a lot of bonus features or benefits like some other cards but those that they do offer are notable. The BMO eclipse Visa Infinite Card includes an annual $50 lifestyle credit. Simply put, they give you $50 each year as a statement credit for having the card. That's really the only additional benefit this card has.
The American Express Cobalt Card does not have any annual credits like the BMO card but it does have Amex Offers. These are typically statement credits or bonus points that are offered throughout the year for using your card at select merchants. We've seen bonuses and credits for Amazon.ca, Chapters Indigo and many more. Rewards Canada has an entire guide to Amex Offers which you can check out here. American Express also has Amex Invites which the Cobalt Card is part of and that's Amex's exclusive access to concerts (Amex Front of the Line), shopping events and more. Due to the pandemic there hasn't been much happening with Amex Invites but you can bet that once life returns to something that looks normal we'll start seeing a lot of exclusive offers and events from the programs.
This is a tough category to call as it's quite close but we'll give it to BMO for the $50 annual credit as it is guaranteed compared to Amex Offers which may be valuable for one person but not the next.
Points Earning & Redemption
Points earning on the two cards are very similar but also very different. That's due to the redemption value of the points which we'll discuss here as well! Both cards have multiple earn rates and heavily promoted for their 5x points earning on select categories. The American Express Cobalt Card earns 5x points on eats and drinks (dining, groceries, food delivery, coffee shops, convenience stores etc.) and the BMO eclipse Visa Infinite Card earns 5x points on groceries, dining, gas and transit. The Cobalt Card places an annual cap of $30,000 on the 5x points earning while the BMO eclipse sees a higher $50,000 cap. Then the Cobalt Card earns 3 points per dollar on select streaming services, 2 points per dollar on travel, gas and transit purchases with no annual cap. All other spending on both cards sees an earn rate of one point per dollar spent. BMO cardholders will earn an extra 10% points if they add an additional card however we don't know for how long as BMO's terms do state it as an introductory offer.
Recommended reading: American Express Cobalt Card Confirmed Multiplier Locations
We know from personal experience that the Cobalt card's multipliers work outside of Canada but cannot say if the BMO card will earn its 5x points outside of Canada as their terms and conditions state in Canada only. Hopefully some our of readers can chime in who have the BMO card and let us know if the multipliers work outside of Canada.
One should also note on the earning side that since the BMO is a Visa card which gives it a slight edge in terms of acceptance but that gap has been closing every year as American Express has made great strides in adding merchants, especially mom and pop shops.
Recommended reading: A step by step guide to the American Express Shop Small Program
So while it may look like BMO has the edge on the points earning with a higher cap and more categories to earn 5x points you have to look at what those points are worth and that is where the cards differ and that's why I recommend reading the following article of ours:
Recommended reading: When earning 5x points isn't the same as earning 5x points - a loyalty lesson
Both of these cards strong points are supposed to be their redemption for travel rewards. The BMO eclipse card is pretty simple in that you book any travel via BMO Rewards and redeem your points at a rate of 150 points for a $1 credit. That's a redemption rate of 0.667 cents per point, which means those 5x points you earned are worth 3.33 cents. Compare this to the Cobalt Card - you can redeem points towards any travel booked via any travel provider and then redeem points against the charge. The rate is 1,000 for a $10 credit. That makes the 5x points you earned worth 5 cents each. Now you can see how these two 5x points cards actually differ. Then the BMO card only earns the equivalent of 0.667 cents per point for the 1 point non-category bonus spending versus the Cobalt Card's 1 cent per point. That's a pretty big difference! In terms of the any airline anytime redemption the Cobalt Card is also the better option since you do your own bookings with any provider whereas the BMO card you have to book via BMO Rewards who do not have the most stellar reputation with our readers. Even if you factor in BMO's 10% extra points for having an additional card the numbers still don't match the Cobalt's rates.
Recommended reading: More BMO credit card changes - travel redemption rate devaluation affects new eclipse Visa cards and BMO Rewards Mastercards
The travel redemption options don't end there however for the Cobalt Card. American Express also has a travel option called Fixed points for Travel. This is their reward chart option that you can use to book travel via American Express Travel. Think of it as your traditional frequent flyer program style chart where you redeem a fixed amount of points for travel to a certain area. For example you can redeem 60,000 points for a flight to Europe from Canada with a maximum value of $900 before fees and taxes. That means you could spend as little as $12,000 on the Cobalt Card for a $900 flight. The BMO card? That $12,000 in spending nets you $400 towards travel (at 0.667 cents). Ultimately the Fixed Points for Travel chart provides potential returns of 1.5% or more on the 1 point per dollar spent category to a high of 10% for the 5x points category if you redeem for the five popular route options on the chart (15,000 points for routes like Calgary-Vancouver, Toronto-Montreal etc.)
And we still have one more travel redemption option for the Cobalt Card. That's it option to convert points to airline programs like Air Canada Aeroplan and British Airways Executive Club plus hotel programs likeMarriott Bonvoy and Hilton Honors. The latter doesn't provide a huge amount of value so we'll stick to the Marriott Bonvoy conversion option. You can convert the Membership Rewards Select points earned on the Cobalt Card to Air Canada and British Airways at a 1:1 ratio and Marriott Bonvoy at a rate of 1,000 MR-S points to 1,200 Bonvoy Points. Thus you can consider the earn on the Cobalt Card as 1 to 5 Aeroplan points or Avis and 1.2 to 6 Bonvoy points per dollar spent. We value Marriott Aeroplan points and Avios at no less than 1.5 cents each and Bonvoy points at a minimum of 1 cent a piece so your return at a minimum is 1.5 to 7.5%. We say minimum as typically you can get higher value out of each where that return on spending easily eclipses 10%. One final note as well - Marriott Bonvoy points can be transferred to over 40 airline programs from around the world including Aeroplan, Alaska Airlines, United MileagePlus and many more so that's just one more tick in the win box for the Cobalt Card.
Both cards also offer cash back redemption options. The American Express Cobalt Card allows cardmembers to redeem 1,000 points for a $10 credit towards any non-travel purchase made on the card. That works out to a 1 to 5% return on your card spending. The BMO eclipse card has a similar option where you can redeem 200 points for $1 credit which works out to a 0.5% to 2.5% return on your spending. There is one other avenue for BMO however for cash back and that is redeeming points to have cash deposited into a BMO savings account. That rate matches the new travel rate of 150 points to $1. This last option works out to a 0.667 to 3.33% return.
While on paper the BMO card may earn more points thanks to it $50,000 cap and more categories, across the board when you look at both sides of the equation and all earn rates the Cobalt Card does better. Add in Cobalt's Fixed Points for Travel and conversion to Marriott and the Cobalt just widens that gap. This category goes to the American Express Cobalt Card.

Insurance
Insurance on these cards may not match several other cards in the market as more of the issuers budgets go to the higher points earning but they do still include some coverage. Both cards are equally matched on travel medical insurance, purchase protection and extended warranty. The BMO eclipse card does have better common carrier insurance and also mobile device insurance which the Cobalt does not but that's it. The Cobalt Card has flight delay, baggage insurance and hotel burglary insurance which the BMO cards has none of. Finally the Cobalt Card has slightly better car rental coverage with a higher MSRP car value. Overall the insurance category goes to the American Express Cobalt Card.
Conclusion
Here we have two cards that are well known as 5x points earners - one brand new and the other the king of travel rewards cards in Canada for the better part of four years. BMO came out to challenge the Cobalt Card and other premium cards in Canada with the new eclipse family of Visa cards but with the eclipse Visa Infinite card is has definitely fallen short. I mean no card that charges $120 a year should have a base earn rate below 1% yet the BMO card does. Thus thanks to better per point valuations, better insurance and more flexible reward options the American Express Cobalt Card is the clear winner here by beating the BMO card in most categories and comparisons. If you are someone who spends a lot on gas or transit the BMO card may be the better way to go so long as you are open to less flexible redemption options but that's really it for the BMO card and that's not much when you look at the big picture of this clash.