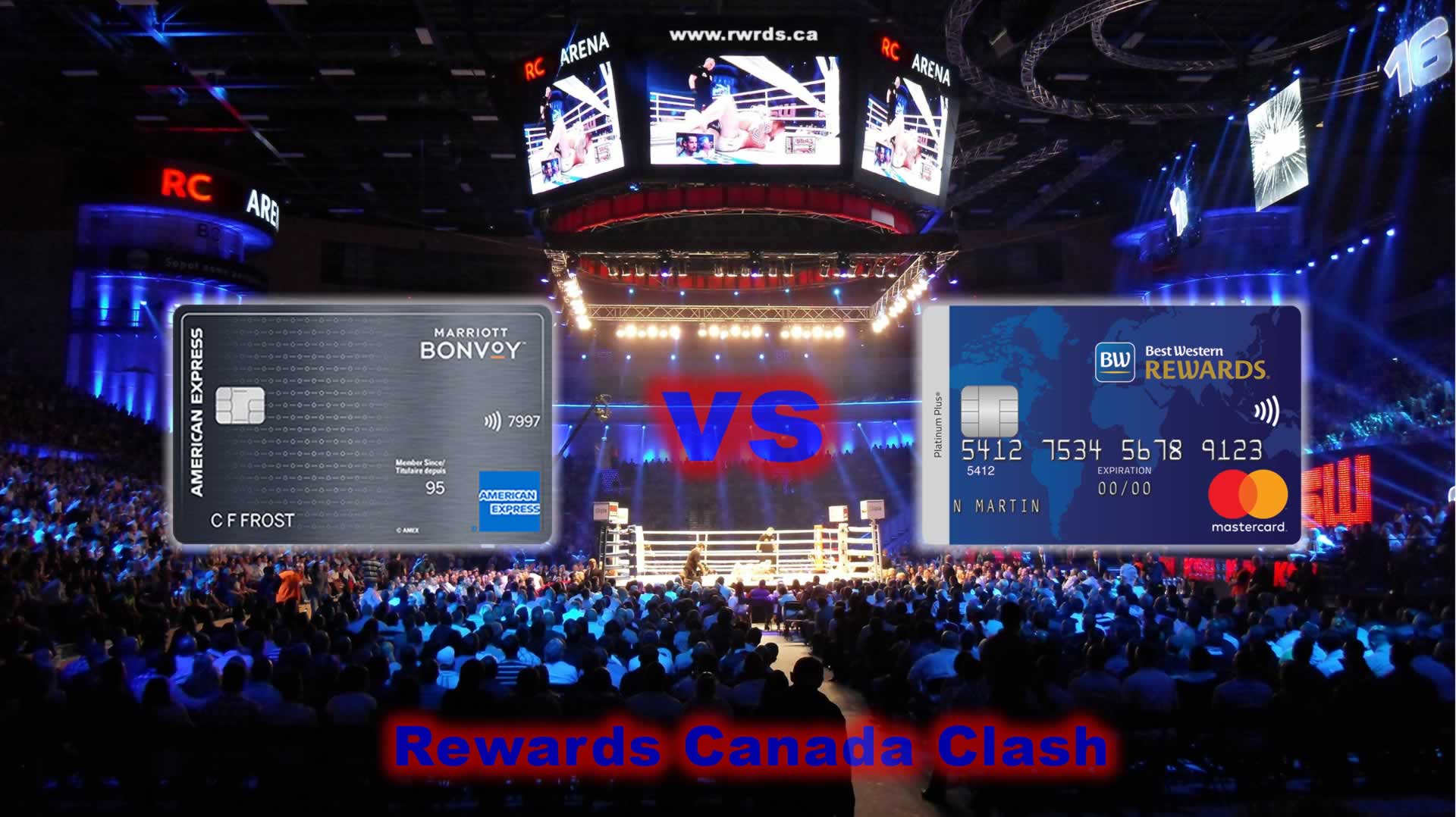 Welcome to another Rewards Canada Clash! This time we have a Clash of the Credit Cards between the only two remaining hotel loyalty program credit cards in Canada. Those cards are the Marriott Bonvoy™ American Express®* Card

and the MBNA Best Western Rewards Mastercard (Please note the Best Western Card is no longer available for new applicants)

Here are some of our past clashes:
In this clash we look at over half a dozen criteria to compare the cards against one another along with a head to head detailed table comparison.
Annual Fees / Sign Up Bonus

In the straight line comparison below you'll see these two cards don't compare as the Best Western Card has no annual fee so it beats out the Marriott card which costs $120 per year. Both cards however do not charge any fees for supplementary cards.

For the standard sign up bonus, there is a big difference between the cards. The Marriott card offers 50,000 points which we value at $500 or more towards free nights at Marriott Hotels. Best Western's 20,000 points welcome bonus is worth $160 towards free nights. Marriott clearly takes this category. Both cards do run limited time offers from time to time that can provide more value, we've seen 60,000 points offers for the Best Western Card and 85,000 or more points for the Marriott Card.
Rates

Both cards are very similar with their rates with a slight edge going to the Marriott as is does have lower interest rates for cash advances. Bot cards do charge the exact same rate for foreign transaction fees.
Bonus Features

Both cards award the cardholder with automatic lower level elite status in their respective programs. That is, Gold with Best Western Rewards or Silver in the Marriott Bonvoy program. Both of these elite levels don't provide too many benefits over the base membership level other than a 10% boost in points earning on hotel stays and early check in /late check out based on availability.
Both cards then have accelerators to reaching the next status level. The Best Western cardmember can receive Diamond status when they spend $10,000 or more on the card annually. Diamond provides an extra boost on points earning for Best Western stays and a better likeliness of getting early check in / late check out. The Marriott card on the other hand provides Gold status when you spend $30,000 on the card annually. Marriott Gold provides extra points on stays, a welcome gift on each stay, better access to late check out and most importantly the potential to get a room upgrade.

Keeping on the status tip here - the Marriott Card also provides a 15 night credit towards elite status each and every year you have the card. These nights get added to any nights you complete normally with the hotel chain so if you stays 60 nights and add in the 15 from the card you have yourself Titanium elite status.
The Marriott Bonvoy card also has one more benefit that you won't find on the Best Western Card - an annual free night award that is given to the primary cardholder each and every year on the card anniversary date. This free night award can be used at any Marriott Hotel that is pricing at 35,000 points or less for that one night. In most cases this means you can redeem up to a Category 5 hotel under standard award night pricing. On the odd occasion you may be able to also redeem for a Category 6 hotel as long it is pricing at Off-Peak under the Point Savers chart. We have provided numerous examples on our site over the years of the value of this free night award easily eclipsing $200 and to think you get that by only paying the $120 annual fee when your card renews.
Further Reading: 10 great Marriott Hotels in Canada to use your anniversary free night award from the Marriott Bonvoy American Express Card
While both cards provide elite status the Marriott card definitely takes the cake on bonus features by also adding the annual elite night credits and the annual free night award.
Points Earning & Redemption
On paper the points earning on these two cards may look similar but when you take the value of each program's respective points there are notable differences. The Marriott card's base earn rate is 2 points per dollar spent which with our valuation of 1 cent per point for Marriott Bonvoy points translates to a 2% return. The Best Western card on the other hand awards 1 point per dollar as its base earn rate and we value Best Rewards points at 0.8 cents each or a 0.8% return for this type of spending. That means the Marriott card is providing more than double the value for non bonused spending.
For bonused spending both cards offer 5 points per dollar spent at each respective hotel chain. This means you are achieving roughly a 5% return when using the Marriott card for stays at Marriott Hotels and about a 4% return when utilizing the Best Western card at Best Western Hotels. Again the Marriott card comes out on top.
On the redemption side there are also some big differences between the two reward programs associated with the cards. First it comes down to hotels and locations. Best Western offers around 4,700 hotels in over 100 countries while Marriott has well over 7,000 hotels in over 130 countries. What those numbers don't speak to are locations and quality of hotels. Marriott has every type of hotel from budget hotels to ultra luxurious resorts with some locations being those that dreams are made of. Best Western on the other hand tends to be on the lower end with budget to mid level premium hotels and not too many exotic locations where dreams come to reality. That being said if you are someone who hits up small towns in Canada Best Western does have Marriott beat. Ultimately though the variety of brands that Marriott has in their portfolio and options of where you can use your points is much better than what Best Western can provide.
Then there is the value of points redemption, with Marriott you have to ability to really get some outsized value from your points when you are redeeming for hotels that cost $500 to $2,000 or more per night. In the past we've easily seen times where the spend on the Marriott card is bringing in 15% or higher returns. Best Western can't even come close to that and one of the reasons why is that Marriott will always give you the fifth night free if you redeem for a stay of 5 nights or longer.
Then there is the other popular redemption option from hotel loyalty programs and that is converting points to airline frequent flyer programs. Again the nod goes to Marriott. There is no hotel loyalty program in the world that can match Marriott's airline conversions. They have the most airline partners with over 40 and the conversion rate is 3 to 1 and when you convert 60,000 points at a time Marriott will kick in an additional 5,000 miles so you end up with 25,000 airline miles/points for those 60,000 points. Best Western on the other hand only has 13 airline partners with the majority of them seeing a 5 to 1 conversion ratio with no bonus like Marriott provides.

Insurance
The last factor to look at when comparing these cards is the insurance that is provided on each of them. Both cards provide less insurance benefits than many of Canada's Visa Infinite and World Elite Mastercard cards so if you are looking for something like out of province medical insurance you should make sure you also have one of those aforementioned card types in your wallet. Both cards do have insurance benefits with the Marriott card again offering more. The Marriott card provides benefits like flight delay, baggage delay and hotel burglary insurance while the one benefit the Best Western card provides that the Marriott card doesn't have is Trip Interruption insurance.
Conclusion
This clash has a definite winner and that winner is The Marriott Bonvoy American Express Card. Virtually everything about this card eclipses the Best Western card with the only major category win going to the BW card being the annual fee. Yes the Best Western card is $120 less than the Marriott card the Marriott cards first year bonus of 50,000 points being worth $380 if you subtract the annual fee just smashes the Best Western card's $160 value. Then take the Marriott card's annual free night award, higher earn value per dollar, better redemption options and so on and there is no comparison. Head to Head the Marriott card takes it.
The Cards Head to Head:
Yellow background indicates the clear winner for that category. For rows that do not have yellow in either column it is a tie between the cards.
Basics

Card Type
Hotel
Hotel

Annual Fee

$120

$0

Supp. Card Fee

$0

$0

Interest Rate

19.99%
Purchase †

21.99%
Cash Advance †

19.99%
Purchase

24.99%
Cash Advance

Foreign Exchange Transaction Fee

2.5%

2.5%

Minimum Income

N/A

N/A

Reward Miles/Points Earning

Welcome Bonus

Earn 50,000 Marriott Bonvoy® points after you charge $1,500 in purchases to your Card in your first three months of Cardmembership. Subject to change at any time


Welcome Bonus Value*
$500
$160

Renewal Bonus

Annual Free Night Award (up to 35,000 points) at eligible hotels and resorts worldwide

0

Earning Ratio

5 points for every dollar in eligible Card purchases at participating Marriott Bonvoy® properties

2 points for every $1 in all other Card purchases

5 points per dollar spent on Best Western Purchases

1 Point per dollar spent everywhere else

Value of points per $1 spent*

2 to 5 cents

0.8 to 4 cents

Bonus Features

15 Elite Night Credits each calendar year

Automatic Silver Elite status membership

Enjoy an automatic upgrade to Gold Elite status when you reach $30,000 in purchases on the Card each year.

Gold Status upon first use of your credit card and Diamond Status when you spend $10,000 in eligible purchases within one year

*Valuations are based closer to the minimum value of the points. For most redemptions you should be able to achieve this value or more

Redemption/Exchange Options

Miles/Points deposited to

Marriott Bonvoy

Best Western Rewards

Exchange Options

Transfer points to 42 airlines

3 Points = 1 mile

+ 5,000 bonus miles when you convert 60,000 points

Transfer points to 13 airlines

5 Points = 1 mile
(for most airline partners)

Benefits

Common Carrier Travel Accident Insurance

$500,000

$1,000,000

Flight Delay Insurance

4 hours
$500 per person

No

Delayed Baggage Insurance

6 hours
$500 per person

No

Lost / Stolen Baggage Insurance
Yes
up to $500
No
Damaged Baggage Insurance
Yes
up to $500
No

Trip Cancellation Insurance

No

No

Trip Interruption Insurance

No

Yes

Up to $2,000


Travel Medical Insurance up to 64 years old
No
No

Travel Medical Insurance 65+

No

No

Auto Rental/Loss Damage Insurance

48 Days

Up to $85,000 MSRP

Up to $65,000 MSRP

Hotel / Motel Burglary Insurance
Yes

Up to $500
No

Purchase Protection

90 Days

Up to $1,000 per occurrence

90 Days

Up to $60,000 lifetime

Price Protection

No

No

Extended Warranty Plan

Yes

Up to 1 extra year

Yes

Up to 1 extra year

Link to Apply
---
Continued reading and related articles:
Talk to us!
What do you think of this Clash? Tell us in the comments section below or join the conversation on Facebook

and Twitter!

LATEST TOPICS & NEWS
REWARDS CANADA'S TOP FEATURES
SHARE THIS FEATURE


Rewards Canada can be found on the following social media channels:






Disclaimers:
Our goal at RewardsCanada.ca is to present readers with reliable financial advice and product choices that will help you achieve your financial goals.
Rewards Canada receives compensation from some companies issuing financial products, like credit cards and bank accounts, that appear on this site.
Unless a post is clearly marked "Sponsored", however, products mentioned in editorial articles and reviews are based on the author's subjective assessment of their value to readers, not compensation. For full details and current product information click the Apply now link / learn more link.

Sponsored advertising. The Toronto-Dominion Bank (TD) is not responsible for the contents of this site including any editorials or reviews that may appear on this site. For complete information on this TD credit card, please click on the Apply Now button.