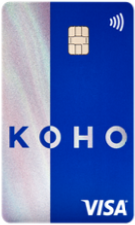 The Koho Premium Prepaid Visa is one of only a select few prepaid credit cards that offers rewards for your everyday spending on the card. This card is virtually open to anyone since there are no credit checks necessary as you have to fund it prior to using it. Technically what you are opening a savings account with Koho that comes with a reloadable prepaid Visa card. They also offer non-premium version called the Koho Reloadable Prepaid Visa.
Overview
The Koho Premium Prepaid Visa is the top end card from People's Trust Company which is the parent company of Koho. The card is prepaid which means you don't have to have good credit to have it in your wallet. You simply fund it before using and you can only spend as much as you have loaded onto the card. The card does carry a monthly fee but it also provides the best reward earn rates of the two of cards offered in the Koho program. Not only that you can earn additional cash back when you refer people to Koho and here's a biggie - it comes with no Foreign Transaction fees so if you use the card to shop online outside of Canada or travel outside of Canada you won't be dinged with that 2 to 3% extra most cards charge on non C$ purchases.

Costs & Sign up Features
The Koho Premium Prepaid Visa charges a $9 monthly or $84 annual subscription fee however you do get your first 30 days free to try it out. There is no welcome bonus outside of the free trial period but it does have the extra cash back bonus when you refer a friend.

As the card is prepaid there are no interest rates associated with it since you cannot run a credit balance.
You can also choose to pay $7 per month for their Credit Building feature and KOHO will report to the credit agencies to help you grow your credit rating over a 6 month period. This credit building feature is not available in New Brunswick, Quebec or Saskatchewan.

Earning
The card earns cash back as follows:
2% cash back for Eating & Drinking, Transportation, and Grocery purchases
Up to 5% cash back with merchant partners listed ​here
0.5% cash back on all other purchases

Redeeming
Redeeming is simple via Koho as you aren't actually redeeming. The cash back you earn based on the rates above are simply applied to your account balance within 2 to 3 days of the authorised purchase.

Features and Benefits
More prepaid credit cards don't offer any benefits at all but that's not the case with this card. Granted the benefits and features list won't be as long as those that you see on premium credit cards it is nice that they actually offer something extra with these cards.

Firstly and this an important feature - they don't charge Foreign Transaction Fees on purchases made in currencies outside of Canadian dollars. There are only a handful (nine at time of originally posting this) cards in Canada that have this feature and most are premium cards. So this is big bonus for this card and it will save you the 2 to 3% that most cards in Canada charge when you make purchases in foreign currencies. So whether you are travelling or shopping online this is a nice benefit to have to some a bit of cash.
The next feature the card comes with is a price match benefit. This is a little different than price protection we see on some cards where the credit card pays the price difference on something you buy that you find later for a lower price. Koho's is more of a monitoring service - you send pictures of eligible receipts and they will watch to see the item you bought drops in price. If it does they'll notify you and in most cases you'll have to go to the store to claim the price match however there are instances (namely online) where Koho can do it for you.

Recommended reading: No Foreign Transaction Fee Credit Cards for Canadians

What is good about this card
The best thing about this card is that you earn a decent rate of cash back on a prepaid card that is comparable to a lot of actual credit cards. Earning 2% back on the most important categories and up to 5% back at select merchants the cash back rewards can stack up quickly.
The no foreign transaction fees of course! Saving that 2 to 3% can be mean a lot of cash in your wallet if you shop online a lot or want to save when travel starts up again.
What is not so good about this card
The $9 a month or $84 annual fee. It is a bit on the high side for a prepaid card - you would have to spend $450 per month on your card in the 2% back categories to break even on that fee. However make some purchases in foreign currencies, shop at the higher earn merchants and eclipse that $450 a month in spend and it can easily become worth it to pay that monthly fee.
It is essentially a debit card with rewards - you cannot run a credit balance as it is not a true credit card. You need to make sure you always have it loaded before utilizing and if you forget you might be sitting at the till with you purchase declined. And with etransfers taking up to 3 hours to show up on the card you don't want to be stuck without the item you wanted to buy.

Who should get this card
People who don't have a great credit file but want to be able to shop online or at merchants who take Visa and earn rewards for doing so versus using a debit card
People who don't want a credit card or additional credit cards but want access to No Foreign Transaction fees and/or cash back rewards
Conclusion
The Koho Premium Prepaid Visa is definitely a competitive player in the prepaid or even secured credit market albeit not being a true credit card. It's most direct competitor is the Stack Mastercard which doesn't have cash back rewards rather they offer discounts at various merchants. There in lies the difference between Koho and Stack - Koho you will earn rewards everywhere, Stack you will not. Neo Financial is also going to be getting into this market where you can get their Mastercard but only use it with the funds in your Neo Savings account but at time of posting this it has not gone live yet. Overall the Koho Premium Prepaid Visa seems to fit the bill for a rewards card without being an actual credit card so if you are looking for a product like this this card should probably be at the top of your list.
Latest card details: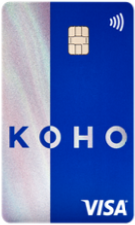 Koho Premium Prepaid Visa

Card Type: Prepaid Credit Card   
Annual Fee: $9 monthly or $84 annual subscription fee (Free 30 day trial)
Additional Card Fee: $0
Purchase Interest Rate: $0 - you can only spend your own funds with KOHO Cash Advance: You are able to withdraw up to $800 of your own funds in cash per day. KOHO does not charge any fees but you may incur a fee from the ATM provider Balance Transfer: Load your KOHO account via e-transfer, direct deposit, or Visa direct load

• Money-Back Rewards: earn a minimum 0.5% cash back on all purchases and an additional 2% on 3 main spending categories your wallet cares about: Eating & Drinking, Transportation, and Groceries
• Merchant Cash Back: Earn additional cash back with merchant partners listed ​here
• Signup/Referral Bonus: Get an additional 1% cash back on all purchases for 90 days when you sign up for KOHO with a referral code and when you refer a friend (Can earn up to 10% cash back for 90 days)
• No FX fees. We've waived the 2-3% you're usually charged when you spend outside of Canada
• Price match. We offer in-app price protection to get the absolute lowest possible price on your purchases
• Receive both a physical and virtual card. For new users, you can start adding funds and shopping online while you wait for your physical card to arrive in the mail. No need to budge from your couch to make online purchases! Just use your virtual card instead of getting up to find your wallet. Plus, it uses a different card number to help protect your physical card number when you're shopping or booking services online
• Plus opt in for Koho Save and begin earning 0.5% instant cash back and a 1.2% interest rate on your whole balance



Related Links:
Koho Premium Prepaid Visa(direct link to Koho)



---
Talk to us!
Let us know your thoughts on the Koho Premium Prepaid Visa? Do you have the card? Do you like it? Is there anything we missed? Tell us in the comments section below or join the conversation on Facebook and Twitter!

Continued reading and related articles:
LATEST TOPICS & NEWS
REWARDS CANADA'S TOP FEATURES
Rewards Canada can be found on the following social media channels:






Disclaimers:
Our goal at RewardsCanada.ca is to present readers with reliable financial advice and product choices that will help you achieve your financial goals. Rewards Canada receives compensation from some companies issuing financial products, like credit cards and bank accounts, that appear on this site.
Unless a post is clearly marked "Sponsored", however, products mentioned in editorial articles and reviews are based on the author's subjective assessment of their value to readers, not compensation. For full details and current product information click the Apply now link / learn more link.


Comments