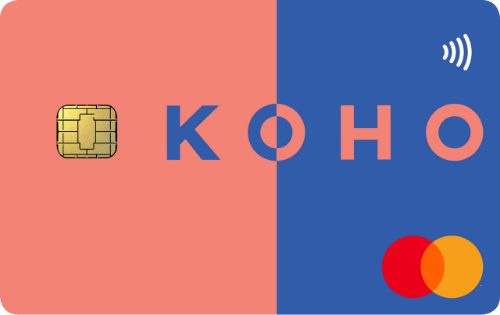 The
Koho Premium Prepaid Mastercard
is one of only a select few prepaid credit cards that offers rewards for your everyday spending on the card. This card is virtually open to anyone since there are no credit checks necessary as you have to fund it prior to using it. Technically what you are opening a savings account with Koho that comes with a reloadable prepaid Mastercard card. They also offer non-premium version called the
Koho Reloadable Prepaid Mastercard
.
Overview
The Koho Premium Prepaid Mastercard is the top end card from People's Trust Company which is the parent company of Koho. The card is prepaid which means you don't have to have good credit to have it in your wallet. You simply fund it before using and you can only spend as much as you have loaded onto the card. The card does carry a monthly fee but it also provides the best reward earn rates of the two of cards offered in the Koho program. Not only that you can earn additional cash back when you refer people to Koho and here's a biggie - it comes with no Foreign Transaction fees so if you use the card to shop online outside of Canada or travel outside of Canada you won't be dinged with that 2 to 3% extra most cards charge on non C$ purchases.

Costs & Sign up Features
The Koho Premium Prepaid Mastercard charges a $9 monthly or $84 annual subscription fee however you do get your first 30 days free to try it out. There is no welcome bonus outside of the free trial period but it does have the extra cash back bonus when you refer a friend.
As the card is prepaid there are no interest rates associated with it since you cannot run a credit balance.
You can also choose to pay $7 per month for their Credit Building feature and KOHO will report to the credit agencies to help you grow your credit rating over a 6 month period. This credit building feature is not available in New Brunswick, Quebec or Saskatchewan.

Earning
The card earns cash back as follows:
2% cash back for Eating & Drinking, Transportation, and Grocery purchases

Up to 5% cash back with merchant partners listed ​here
0.5% cash back on all other purchases
Redeeming
Redeeming is simple via Koho as you aren't actually redeeming. The cash back you earn based on the rates above are simply applied to your account balance within 2 to 3 days of the authorised purchase.
Features and Benefits
More prepaid credit cards don't offer any benefits at all but that's not the case with this card. Granted the benefits and features list won't be as long as those that you see on premium credit cards it is nice that they actually offer something extra with these cards.

Firstly and this an important feature - they don't charge Foreign Transaction Fees on purchases made in currencies outside of Canadian dollars. There are only a handful (nine at time of originally posting this) cards in Canada that have this feature and most are premium cards. So this is big bonus for this card and it will save you the 2 to 3% that most cards in Canada charge when you make purchases in foreign currencies. So whether you are travelling or shopping online this is a nice benefit to have to some a bit of cash.
The next feature the card comes with is a price match benefit. This is a little different than price protection we see on some cards where the credit card pays the price difference on something you buy that you find later for a lower price. Koho's is more of a monitoring service - you send pictures of eligible receipts and they will watch to see the item you bought drops in price. If it does they'll notify you and in most cases you'll have to go to the store to claim the price match however there are instances (namely online) where Koho can do it for you.

Recommended reading: No Foreign Transaction Fee Credit Cards for Canadians