If you are new to world of points, miles and/or rewards credit cards but want to get a head start at the game as you begin to immerse yourself in research to learn the ins and out of loyalty programs, there is one credit card you should get right away. Not only is this card a great card for beginners, it is in fact the number one card to have for even the most seasoned points and miles enthusiasts. That card is the American Express Cobalt® Card and with it you can choose to dip your toes into "any travel any time rewards", "set value airline rewards", "cash back rewards", "frequent flyer and frequent guest rewards" and so on and so forth. For those who don't want to read this entire piece, here are main points as to why this card should be first choice:
No minimum income requirements
All primary types of reward options available
You're not tied into one program or one type of reward
Strong points earning
Excellent redemption value

Why this card makes a good first choice
The amazing thing about the American Express Cobalt Card is that it is not considered an entry level card yet for someone entering the points and miles world it is just the card to get. The primary reasons this card is the best to start out with are two fold. First it has no minimum income requirements, so if you have a good credit rating but only make $40,000 per year there's a really good chance you can get the card. No need for $60,000 or $80,000 like some of the other top cards in Canada. Second is the card's reward program, Membership Rewards is the best credit card program in Canada and covers all of the primary types of reward options including the two most popular which are travel and cash back.
Since the Membership Rewards program has all those options this card has you totally covered while you are educating yourself and learning more about the world of points and no matter what you end up deciding as your primary reward goal or goals.
Card Overview
We won't go into huge detail here about the card as we would recommend reading our review of the card so that you can learn even more but we will briefly highlight the keep factors that make this card an excellent first card.
Recommended reading: American Express Cobalt Card Review
Strong Points Earning
The American Express Cobalt Card created a huge buzz when it first launched as it came out with a huge 5x points earning on eats and drinks. By eats and drinks this means restaurants, grocery stores, bars coffee shops, bakeries, food delivery (both restaurant and grocery) and more. Then is has 3x points earning on streaming services, 2x points on gas, travel, transit (including ride sharing taxis etc.) and then 1 point on everything else. This card is a points earning machine but there are other cards out there that are also points earning machines but they aren't so strong on the redemption so that brings us to our long term philosophy that you have to look at both sides of the equation and by that we mean the earning side and the redemption side. And the Cobalt Card has you covered on the other side of the equation as well because it retains value in your points unlike some other cards. It is a redemption star whereas those comparable points earning machine cards, not so much.
Recommended reading: When earning 5x points isn't the same as earning 5x points - a loyalty lesson

So many great redemption options

The other side of the points and mile equation is the redemption side and this is something American Express and thus the Cobalt Card do better than anyone else in Canada. The reason why is they have virtually every type of redemption option available to the cardmember so if you are just starting out in the incredible world of loyalty rewards you don't have to delay or miss out on any points earning opportunities while doing your research to figure out what type of reward or rewards will be best suited for you. You simply can get this card right away, spend as you need (well make sure you spend $500 per month for the first year to earn the entire welcome bonus) and then once you feel comfortable enough knowing how you want to be rewarded you'll be sitting pretty as you don't have points stuck in a program or programs that are much less flexible than American Express' Membership Rewards. So let's take a look at those redemption options:

First we'll start with any travel any time redemptions. What are any travel any time redemptions? This is where you get to choose who you book your travel with, whether it is directly with an airline like Air Canada or WestJet, directly with a hotel like Best Western or Marriott, with your neighbourhood travel agent or an online travel agency like Expedia, you book it, charge it to your Cobalt Card and once the charge shows on your account you redeem points against the charge and get a credit. Points are redeemed at 1,000 points for $10 and you don't need the full amount of points to redeem. For example if you bought a $600 plane ticket and have 40,000 points you can redeem them to get a $400 credit against the fare and you end up only paying $200 for your ticket. American Express even gives you 12 months after the charge posts to redeem against it, so if you have 0 points when you buy the ticket but then 11 months later are at 65,000 points you can redeem 60,000 of them for the $600 charge you had nearly a year prior! With this redemption option your rate of return on your spending is 1% to 5% which is amongst the best in the any travel any time category.
Next up you have set value airline rewards which are your traditional award chart style redemption where there is a set amount of points you need to redeem for flights within a specific region or between regions. American Express calls their's Fixed Points for Travel". With Fixed Points for travel you can redeem for some popular short haul flights for 15,000 points with a maximum ticket price of $300 before fees and taxes. If you redeem for a ticket right at that $300 level you effectively receiving 2 cents per point in value which places the Cobalt Card's 1 to 5x points earning at a 2% to 10% rate of return. This is the highest possible return out of any of three major set points credit card charts in Canada, the other two being RBC's Avion and CIBC's Aventura. You will want to note that if a ticket costs less than $300 you still have to redeem 15,000 points. That's why it is known as set value or fixed points but this is where Amex does better as you can utilize the above any travel any time if you are buying a really cheap ticket that wouldn't make sense redeeming a set amount of points for. There are then higher set amounts for longer haul flights in North America, to Europe, and so on. If you want to learn more about Fixed Points for Travel please read this article of ours: A closer look at the Membership Rewards Fixed Points Travel program
Amex's Fixed Points for Travel charts: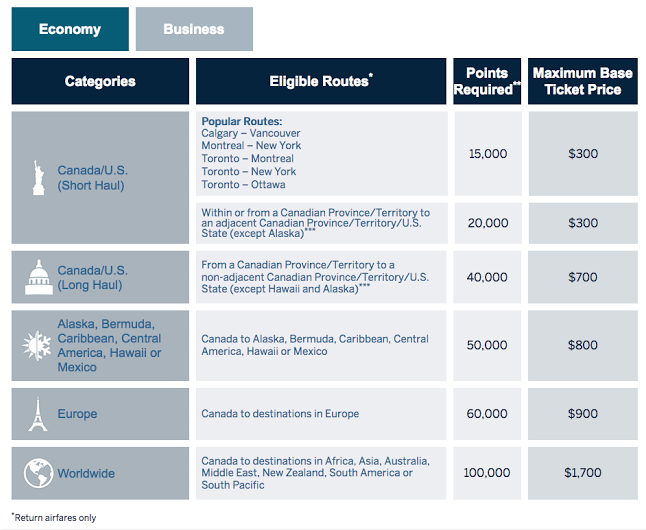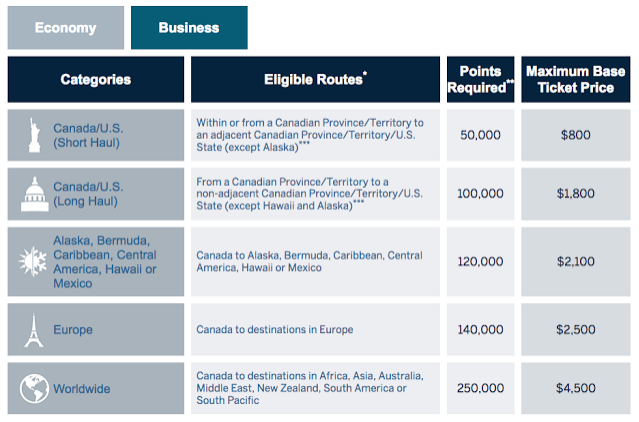 The next option, and this is the big one for points and miles veterans is converting points to partner airlines and hotels. The American Express Membership Rewards programs has six airline partners and two hotel partners that you can convert your points to. The big three are Air Canada Aeroplan, British Airways Executive Club and Marriott Bonvoy. These three are the most popular as they have ideal conversion rates but there are times even the lower redemption rates of partners like Air France KLM Flying Blue and Etihad Guest can provide some big returns.
Recommended reading: Which credit card earns the most Aeroplan Points?
If you are new to this world of points and miles you may be asking why would I want to convert my points to one of these programs and the answer to that question is value. These programs have the ability to provide you with outsized value for your points. For example, you can convert your Membership Rewards points 1 to 1 to Air Canada or British Airways. We value both Air Canada Aeroplan points and British Airways Avios at 1.5 cents at a minimum. So right away you can see that puts the 1 to 5 points earning on the Cobalt Card at a 1.5% to 7.5% return. That's a minimum and something you'd likely see redeeming for an economy class flight but it's for business class or first class flights where things really take off (pun intended). When you redeem Aeroplan Points or British Airways Avios for business class or first class flights you most likely receive a value of 2 cents per Point/Avios but in many cases be much higher than that. We've provided examples in the past where an Aeroplan business class redemption had 6 cents per point in value - thus a 6% to 30% return for your spending on the Cobalt Card. There is no other card in our market that can even come close to reaching a 30% return. You might even be able to get an even higher return as it is not unheard of hitting 10 cents per point in value. I think you get the point here but this is where your research will come in as frequent flyer and frequent guest programs are less flexible than your any travel any time options like we list above. So the trade off tends to be value versus flexibility but again here is where American Express shines, you don't have to convert to those programs until you know 100% you need the points in one of those other programs. For example the conversion from American Express to Air Canada is nearly instant, in fact there are many cases of travellers searching for Aeroplan flights on Air Canada's website and when they find flights that work for them open up another tab in their browser and convert points to Air Canada from American Express to covert those flights and then complete the booking.

Those are all the travel redemption options but then the Cobalt Card has its cash back option. Even this option is great and if you can believe it this card is in fact the number one cash back card in Canada. Called use points for purchases this option works exactly like the any travel any time redemption. You can simply redeem 1,000 points for a $10 statement credit to any eligible purchase made on the card. By eligible it means an actual purchase, you can't redeem points towards interest charges, cash advances etc. With that 1,000 points to $10 redemption rate the American Express Cobalt Card provides a 1% to 5% cash back return for the 1 to 5 points per dollar it earns. Again the Cobalt Card shines here as there are competing cards that also have a cash back option however they dilute the value of the points compared to their travel redemption rates.
Recommended reading: Canada's Top Cash Back Credit Cards 2022
After this you have other redemption options like merchandise, prepaid American Express cards and some others that are more of a last resort type redemption as these provide the least amount of value for your points.

Amex Offers

By getting this card you'll also be introducing yourself to Amex Offers. This is a program run by American Express where they offer statement credits or bonus points for using your card at select retailers or select merchant categories. When you first get the card you many not see many offers but after a few months of utilizing the card they'll start coming in. For many cardmembers these offers throughout the year provide enough savings to cover the annual fee on the card if not more!
Recommended reading: Guide to American Express Canada 'Amex Offers'
Here's an example of some recent Amex Offers: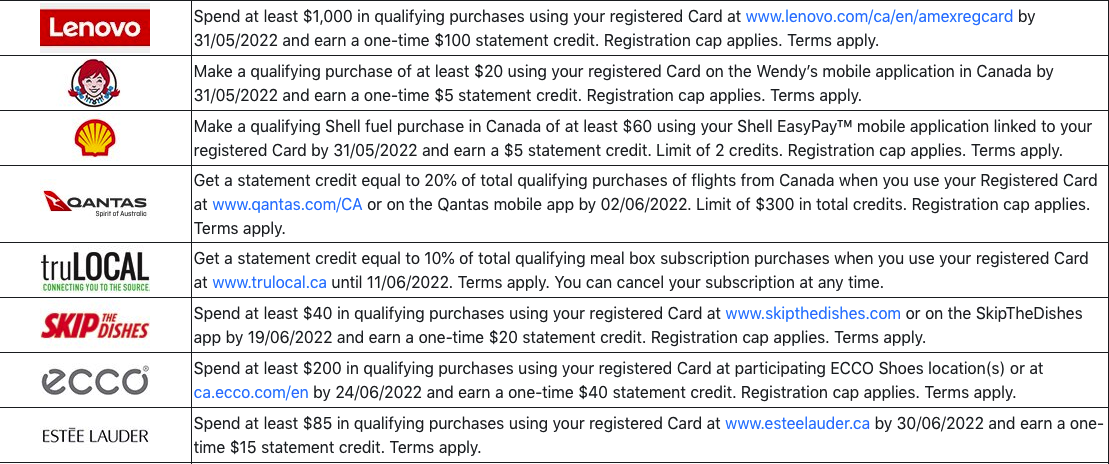 What about card acceptance?
If you do have some knowledge of credit cards you are most likely aware that the overall acceptance of American Express cards is lower than Visa or Mastercard. I know some of our readers will be quick to let us know about this but really there are enough merchants who accept the cards from coast to coast to coast in Canada to warrant getting this card. And honestly there is no better card to prepare a newcomer to the points and miles world.

By getting the card right away in your points and miles journey it is a good way to feel out what the actually acceptance of the card is like in the area you live in. It will allow you to develop habits to know when and where to pull out the card and which places you won't be able to use it. Then you'll be able to take this knowledge to make a decision as to what your second points and miles, cash back or other rewards card should be in your wallet.

The major Canadian merchants that are well known to not accept American Express are the Loblaw family of grocery stores, Wendy's and Costco. Since Costco only accepts Mastercard in their physical warehouses this will most likely lead you to make your second rewards card a Mastercard, unless you don't shop at Costco. If you shop a ton at Loblaw grocery stores then likely your second card will also be a Mastercard from PC Financial to earn those PC Optimum points. Really it will come down to your research of where you are spending your hard earned money and what sort of rewards you want to get beyond those on the Cobalt Card that will steer you in direction of you second card.

There are actually ways around those three major merchants not accepting Amex to being able to actually use your Cobalt Card with them. For Costco and Loblaws you can use Instacart as they accept American Express and then you can have your groceries and other supplies delivered to you. You will want to note that this is more expensive than going in store to shop yourself but if you like the convenience then by all means go with Instacart and the Cobalt Card as the card earns 5x points with Instacart. And for Wendy's the work around is to download and use the Wendy's mobile app. They accept Amex on the app so you can add your Cobalt Card to the app and then order ahead via the app and earn 5x points. We are also aware of select few Tim Hortons locations that do not accept Amex and you can do the same as Wendy's - simply utilize the Tim Hortons app to either order ahead or just scan to pay at the restaurant.
Recommended reading: American Express Cobalt™ Card Confirmed Multiplier Locations

Before you know it, whether you like McDonalds or Starbucks, shop at Sobeys or Safeway, buy gas for your car or transit passes for the TTC, you'll be racking up the points super quick with the Cobalt Card.

Wrapping it up
By having all the bases covered in the grand scheme of all things in the world of loyalty rewards, the American Express Cobalt Card makes the ideal first credit card for someone just starting out. You won't be tied into one program such as CIBC's Aventura program or the BMO Rewards program or you won't be stuck with Aeroplan Points or AIR MILES Reward Miles if you got an Aeroplan or AIR MILES credit card and then realized those programs are not right for you after your research. You literally have almost any reward option with this card. The card's strong earn rates coupled with those amazing redemption options hands down make it the best credit card in Canada that is a main stay in the most seasoned points and miles aficionados wallets. However, thanks to no minimum income requirements the card is open to those just starting out in this world of reward programs and it opens doors to travel that may have been potentially out of reach for some while for others it provides that nice cash back return to help them out financially.