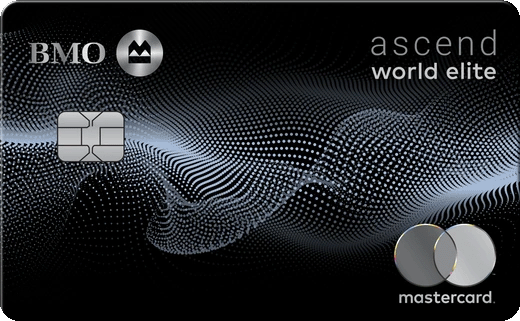 The BMO AscendTM World Elite®* Mastercard®* was introduced to the Canadian market as the BMO Rewards World Elite Mastercard in March of 2010 and in fact was the first World Elite Mastercard in Canada. Over the past 12 years the card has undergone numerous changes, the latest of which from May 2022 includes the change of the card's name.
The card used to be an amazing travel rewards credit card contender and in fact back in 2015 we ranked it as the number one Travel Points credit card with an annual fee. But that was then and this is now, and the numerous changes the bank has made to the card and the BMO Rewards program over the years saw it fall to fifth place in that category and well out of the top 10 overall cards in Canada. And that was prior to changes in May - those most recent changes may very well make the card completely fall out of our rankings for 2023. Read on to find out more.
The review of the BMO Ascend World Elite Mastercard is broken down into the following sections:
Overview
The BMO Ascend World Elite Mastercard has been BMO's flagship travel rewards card ever since it launched over a decade ago. The recent changes made to the card by BMO have it being marketed even more so now as a key travel rewards card. The card offers airport lounge access membership with annual free visit passes, decent points earning on travel purchases and BMO's famously strong travel insurance coverage - all of which should appeal nicely to travel enthusiasts who want to have a credit card with BMO.

Costs & Sign up Features
The BMO Ascend World Elite Mastercard has an annual fee of $150. This used to be on the higher end for premium cards but now is closer to the norm with a lot of cards in this category running between $139 and $150. Additional (supplementary) cards are $50 each annually.
If we can recall correctly, the standard welcome bonus on the card is 35,000 BMO Rewards Points however this card does seem to have an increased welcome bonus offers with a first year annual fee waiver in place all the time.
Right now the BMO Ascend World Elite Mastercard has a welcome bonus offering up to 60,000 BMO Rewards points and a first year annual fee waiver. The bonus is awarded as 30,000 points when you spend $3,000 on the card in the first three months and then 2,500 points for each subsequent month in which you make at least $2,000 in purchases on your card, for 12 months. Thus to earn the entire bonus you will have to complete $27,000 in spending on the card over the course of 15 months. For your information, this is one of the highest spend requirements of any credit card in Canada.
As it is a World Elite Mastercard it does have minimum income requirements of $80,000 (individual) or $150,000 (household)

Earning
The card earns BMO Rewards points like other proprietary BMO cards and has category multipliers on the types of purchases:
5 points for every $1 spent on eligible travel purchases
3 points for every $1 spent on eligible dining and entertainment purchases and recurring bill payments
1 point for every $1 spent everywhere else

The 5x points for travel is capped at $15,000 in spend for this category annually and the three 3x points categories are all capped at $10,000 in annual spend each.
Point Valuation Chart
Spending Category
Points earned per dollar spent
Rate of return when booking your own travel
Rate of return Cash Back
Travel
5
3.34%
2.5%
Dining
Entertainment
Recurring Bills
3
2%
1.5%
All other spending
1
0.67%
0.5%
Recommended reading: When earning 5x points isn't the same as earning 5x points - a loyalty lesson

Redeeming
Primary travel redemption: BMO Rewards points earned on this card can be redeemed for travel booked with any travel provider at a rate of 150 points for a $1 credit.
On the redemption side, the points earned with the BMO eclipse Visa Infinite Card can be redeemed for any travel that is booked via any travel provider. Up until August 2022 this wasn't the case as you had to book your travel via BMO Rewards. However, most likely due to technical issues they encountered earlier in 2022 and the competition they face from other cards BMO has moved to a permanent pick your own travel provider to buy travel with and redeem points against the charge model.

Recommended reading: The BMO technical issues saga:

Simply put you can go to Air Canada, WestJet, Expedia, Via Rail, Avis or virtually any other travel provider, book your travel and then when the charge shows up on your account you can redeem your points towards it. When you redeem for a travel purchase you do so at a rate of 150 points to $1 and you have up to 30 days after the charge posts to your account to redeem points towards it. Do note only travel charges made on the primary card can be redeemed for, that is, if you have an additional card on your account and they make a travel purchase you cannot redeem points for that charge.

Points can also be redeemed for many other non-travel items like merchandise, gift cards, BMO financial products and even for any purchases made on the card. BMO calls this last option their Pay with Points option where you can redeem as little as 200 points for a $1 statement credit.


Features and Benefits
The primary benefit this card provides is excellent airport lounge access and it also has the standard benefits that come on all Canadian World Elite Mastercards.
Airport Lounge Access
The BMO Ascend World Elite Mastercard offers an annual Mastercard Travel Pass provided by DragonPass membership which normally costs up to US$99 per year. The membership provides discounted access to over 1,300 lounges worldwide.
The card also provides four (4) complimentary visits per calendar year to any of the lounges in the program. This is a unique benefit to this card as all other Canadian World Elite cards do not offer any free visit passes.
World Elite Mastercard benefits
Boingo Wi-Fi Boingo Wi-Fi for Mastercard Cardholders provides access to more than 1 million premium Wi-Fi hotspots worldwide at no charge. This also covers Wi-Fi on several airlines including WestJet.

Apple Music Receive 4 free months of Apple Music
Insurance
The Ascend World Elite Mastercard comes with a very strong insurance package that includes the following:
Out of Province/Country Emergency Medical Insurance (up to 21 days for hose under age 65)
Trip Cancellation Insurance
Trip Interruption Insurance
Flight Delay Insurance
Baggage Delay Insurance
Lost or Stolen Baggage Insurance
Car Rental Theft and Damage Insurance
$500,000 Travel Accident Insurance
Purchase Protection Plan
Extended Warranty Plan
This is one area the BMO card stands out as it has rare insurance coverage of award/reward tickets from other loyalty programs. Unlike most cards that require 75% or more of the travel charge and/or only points from its own proprietary program being used, BMO's coverage simply state full or partial payment and thus will cover tickets such as Aeroplan reward tickets so long as the taxes and fees from that reward ticket are paid for with your BMO card as that would constitute a partial payment.