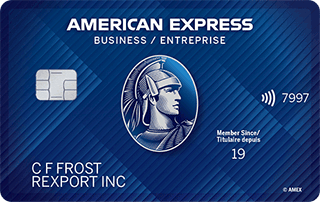 The American Express Business Edge™ Card was first introduced to the Canadian Market in October of 2019. It came storming onto the market and literally blew away the competition for small business credit cards. A strong welcome bonus, very strong points earning rates (and they're valuable points) and an easily manageable annual fee make this card stand out. The card mimics it's personal card brethren the American Express Cobalt Card in bonus categories for points and earning Membership Rewards select points and in Rewards Canada's mind it is the best small business card in the Canadian market.

Overview
The American Express Business Edge™ Card makes up one of half a dozen small business cards in American Express Canada's card portfolio. It is the first American Express small business card to earn Membership Rewards Select points which aren't very different from Membership Rewards - the main difference being that you cannot convert directly to airlines like Air Canada's Aeroplan and British Airways Executive Club like the Membership Rewards Cards. That being said everything else about the Membership Rewards select program is the same.


Costs & Sign up Features
The American Express Business Edge™ Card currently offers a welcome bonus of 30,000 Membership Rewards points when you are approved for the card. The first 30,000 is awarded when you spend $5,000 on the card within the first three months (however due to the COVID-19 Pandemic that has been extended to 6 months) The card then offers a 1,000 points bonus each month that you spend $3,000 on the card and is a continuous bonus that will be awarded to you for the life of the card as long as you hit that $3,000 in monthly spending. It is this 1,000 point per month bonus combined with the 30,000 welcome points that make up the up to 42,000 points you'll see in the card's marketing efforts.

The American Express Business Edge™ Card has a very reasonable annual fee of $99 on the primary card and no fees for any additional cards. The interest rate on the card is 19.99 % for purchases and 21.99% for cash advances which is in line with most of the cards at this level.


Earning
The American Express Business Edge™ Card has an accelerated earn rate of 3 points per dollar on eats and drinks (restaurant, quick service restaurant, coffee shops, drinking establishments, food delivery), 3 points per dollar on rides and gas (bus, subway, taxi, ride sharing) and 3 points per dollar on office supplies and electronics. These accelerated earn rates are capped at 75,000 points ($25,000 in spending) and then they will earn 1 point per dollar just like all other spending on the card
Recommended reading: American Express Business Edge Confirmed Multiplier Locations

Point Valuation Chart
Spending Category
Points earned per dollar spent
Minimum Rate of return*
Eats & Drinks**
3
3.0%
Rides & Gas**
3
3.0%
Office Supplies & Electronics**
3
3.0%
All other spending
3
1.0%
* when redeeming via Amex's Use Points for Purchases
** Up to 75,000 points annually
Redeeming
The American Express Business Edge™ Card comes with a modified version of Membership Rewards called Membership Rewards Select. It has the full Use Points for Purchases option, the Fixed Points Travel Programs and includes the hotel portion of the Frequent Traveller Participants. This means there is no direct conversion to the number of airlines that partner with the main Membership Rewards program.
Recommended reading: Membership Rewards Use Points for Purchases explained

If you redeem using the Use Points for Purchases option, you will get a $10 credit towards every 1,000 points redeemed. This is slightly different than the Cobalt Card as the Cobalt is $10 for 1,000 points for travel redemptions and $7 for 1,000 points for all other purchases. That's one of the main differences for the Business Edge card is that no matter what you redeem for with Use Points for Purchases you will get a $10 credit for 1,000 points redeemed. This means the purchases you make on eats, drinks, rides, gas, office supplies and electronics will equate to a 3% return. All other purchases provide a 1% return when redeeming via this method.
Recommended reading: A closer look at the Membership Rewards Fixed Points Travel program

Moving on to the Fixed Points Travel Program, the card provides great value here as well. Being able to earn up to 3 points per dollar means you can be flying for as little as $5,000 in spending on this card!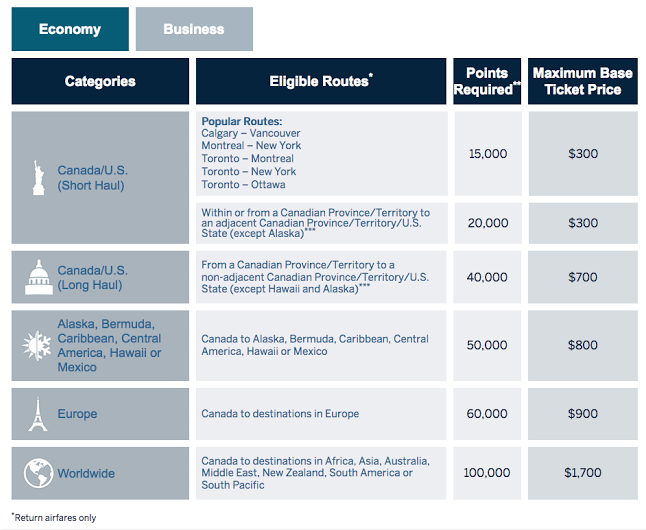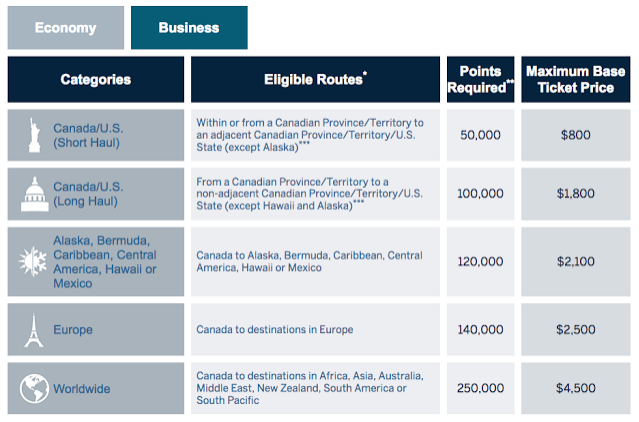 From the chart above you'll see you only need 15,000 points for popular short haul round trip flights. Make that spending with 3x multipliers and you have that ticket for only $5,000 in spending. This translates to up to a 6% return if you get a ticket for $300 in that redemption category. Even business class to Europe is an amazing deal, only $46,667 in spending over 2 years (as you are capped at $25,000) at 3x points gets you that round trip flight to Europe. Compare this to nearly double that for most other cards in Canada that allow you to redeem for business class. The Fixed Points Travel Program has proven to be a large success for American Express and is a great benefit to this card!
Finally, another huge and I mean huge benefit to the redemption side of this card is the ability to convert to Membership Rewards Frequent Traveller participants. This is where the modified version Membership Rewards is key. The only Frequent Traveller participants tied into the Business Edge card are the hotel partners, the airline partners like Aeroplan or British Airways are excluded. That's OK and here's why:

When you convert to Marriott Bonvoy, which is one of the two hotel transfer partners you'll get 6 Marriott Bonvoy points for every 5 Membership Rewards Points transferred. As we know the Business Edge card earns up to 3x points on purchases which means you'll get up to 3.6 Marriott points per dollar spent on this card. Then within Marriott you have the option to convert to 40+ airlines and when you convert 60,000 points at a time Marriott kicks in an additional 5,000 miles. For example convert 60,000 Marriott Bonvoy points to Aeroplan and you'll get 25,000 miles. That means this card has an effective per dollar earn rate of up to 1.5 Aeroplan Miles, British Airways Executive Club Avios, and so on! No other small business cards on the market offer the ability to earn that many Marriott points in these bonus categories (not even the Marriott Bonvoy Business American Express card

- although it's close)
Recommended reading:  Step by step guide to converting points from your American Express Card to Marriott Bonvoy 

The other hotel option is Hilton Honors and offers a 1:1 conversion rate from Membership Rewards which is an OK option but it doesn't provide as near as much value as the conversion to Marriott. It would come in handy though if Hilton Honors is your or your company's primary hotel chain and hotel loyalty program.
Outside of travel you can redeem for merchandise, gift cards and even redeem points directly for Amazon and Ticketmaster purchases.
Features and Benefits
As with all American Express Cards the card comes with American Express Invites which includes Front Of The Line® Advance Access, Front Of The Line® Reserved Tickets, Front Of The Line® E-Updates, Special Offers & Experiences for all Cardmembers and Social Access for all Cardmembers.
The card comes with a small insurance package that incudes Employee Card Misuse protection, Car Rental Theft and Damage Insurance, a purchase protection plan and buyers assurance.
One benefit that isn't promoted front and centre by American Express that his card has just like the consumer cards is the Amex Offers benefit. Amex Offers continually provides special deals at select retailers when you use your registered American Express card. The deals are typically a statement credit after you meet a minimum spend with a retailer but have also seen discounts and bonus points offers as well. We have a complete Guide to American Express Canada 'Amex Offers'

where you can learn more about the Amex Offers program.

What is good about this card
The full time earn rate of three points per dollar spent on eats and drinks, rides and gas & office supplies and electronics isn't matched by any other small business card in the market. With it translating to a minimum 3% return this card is front of the pack for earning. No other card small business provides a full time 3% return.
The sign up bonus is another strong point, 30,000 points is worth a minimum of $300 towards travel or cash back or even $600 of short haul flights with the Fixed Points Travel program. Add in the additional 1,000 points you can earn every month for the life of the card if you spend $3,000 per month and you can really see how this card just continually racks up the points.
You can have up to 99 supplementary cards which means the majority of Canadian small businesses can make do with one account and easily hit that $3,000 in spending every month!


What is not so good about this card
The elephant that is in the room with every American Express card is the notion of the lack of acceptance of American Express cards. Yes the cards aren't accepted at as many places as Visa or Mastercard - there's no bending the truth there - however over the past few years American Express has been very aggressive at adding new merchants all the time and have been closing the gap on the big two issuers. In fact in the U.S. it is now claimed that American Express is accepted at 99% of the locations that Visa and Mastercard are. Here in Canada we aren't that high yet but we aren't that far off. If you want help to see where American Express is accepted I recommend checking out these two features of ours:
Another potential drawback for this card is the cap on the number of points you can earn annually at the 3x points rate. This is capped at 75,000 points per year which translates to $25,000 in spending. If you are a sole proprietor, small partnership or corporation this limit shouldn't really matter however if you are a company that needs dozens of cards - up to the 99 allowable - you probably are able to spend a lot on your account and may hit that limit really fast. At least you have the 1,000 points per month to count on should you be at the 1x points level.
The insurance package isn't very strong when compared to some other small business credit cards, there aren't a lot of travel benefits or coverages on the cards which can be expected as the card isn't marketed as a travel card only. Hopefully you and your employees have personal cards that can provide coverage when you travel and seeing that this card has no point accelerators for purchasing flights, hotels etc. you most likely want to put those purchases on another card any ways.
Who should get this card
Small business owners and their employees who go to a lot of restaurants, cafes, pubs, bars etc.
Small business owners and their employees who take transit and ride sharing on a regular basis
Small business owners who want to make sure they are getting the highest possible return on select category spending
Small business owners who want a lot of flexibility in the rewards they earn ranging from travel to cash back and more
Small business owners who use the Marriott or Hilton Honors programs and want to boost the balances in those programs
Small business owners who make use of airline programs that are partnered with Marriott Bonvoy

Conclusion
Taking what they learned from the consumer Cobalt Card from 2017 to 2019 American Express developed a similar card for the small business card that is a winner. At the original time of posting this review the American Express Business Edge card is the best small business credit card in the market for low to medium spending. Its elevated earn rates coupled with the most flexible redemption options from the Membership Rewards program make the card ideal for small businesses with 1 to 100 employees. Whether it is the only card you have for your business or if you make it part of a trio for your company's credit card portfolio (we always state you should have a Visa card, a Mastercard and an American Express card) it will help you keep track of your expenses all the while rewarding you and your business very handsomely.
Here is the most up to date offer for this card:

American Express Business Edge™ Card 
American Express Business Edge™ Card 
• Earn up to 42,000 Membership Rewards® bonus points in your first year of Cardmembership
• Earn 30,000 Welcome Bonus points when you charge $5,000 in purchases to your Card in your first three months of Cardmembership
• You can earn an extra 1,000 Membership Rewards points for each monthly billing period in which you spend $3,000 in purchases on your Card. This could add up to 12,000 extra points in a year
• You can earn 3 times the points for Card purchases on eligible business essentials including office supplies & electronics, rides & gas, eats & drinks. Caps and other conditions may apply.
• You can earn 1 times the points on all other purchases charged to the Card
• Get choice and flexibility by using points for purchases or redeeming them for a wide range of travel, dining, entertainment and retail rewards options
• Make the most of a suite of business management tools that give you more control over your business anytime and anywhere
• Leverage your cash flow with the option of carrying a balance or paying in full each month
• American Express is not responsible for maintaining or monitoring the accuracy of information on this website. For full details and current product information click the Apply now link. Conditions apply


Continued reading and related articles:
Talk to us!
Care to comment? Do you agree or disagree with us? Tell us what think about the American Express Business Edge™ Card in the comments section below or join the conversation on Facebook and Twitter!
LATEST TOPICS & NEWS
REWARDS CANADA'S TOP FEATURES
SHARE THIS FEATURE


Rewards Canada can be found on the following social media channels:






Disclaimers:
American Express is not responsible for maintaining or monitoring the accuracy of information on this website. For full details and current product information click the Apply now link.

Our goal at RewardsCanada.ca is to present readers with reliable financial advice and product choices that will help you achieve your financial goals.
Rewards Canada receives compensation from some companies issuing financial products, like credit cards and bank accounts, that appear on this site.
Unless a post is clearly marked "Sponsored", however, products mentioned in editorial articles and reviews are based on the author's subjective assessment of their value to readers, not compensation. For full details and current product information click the Apply now link / learn more link.