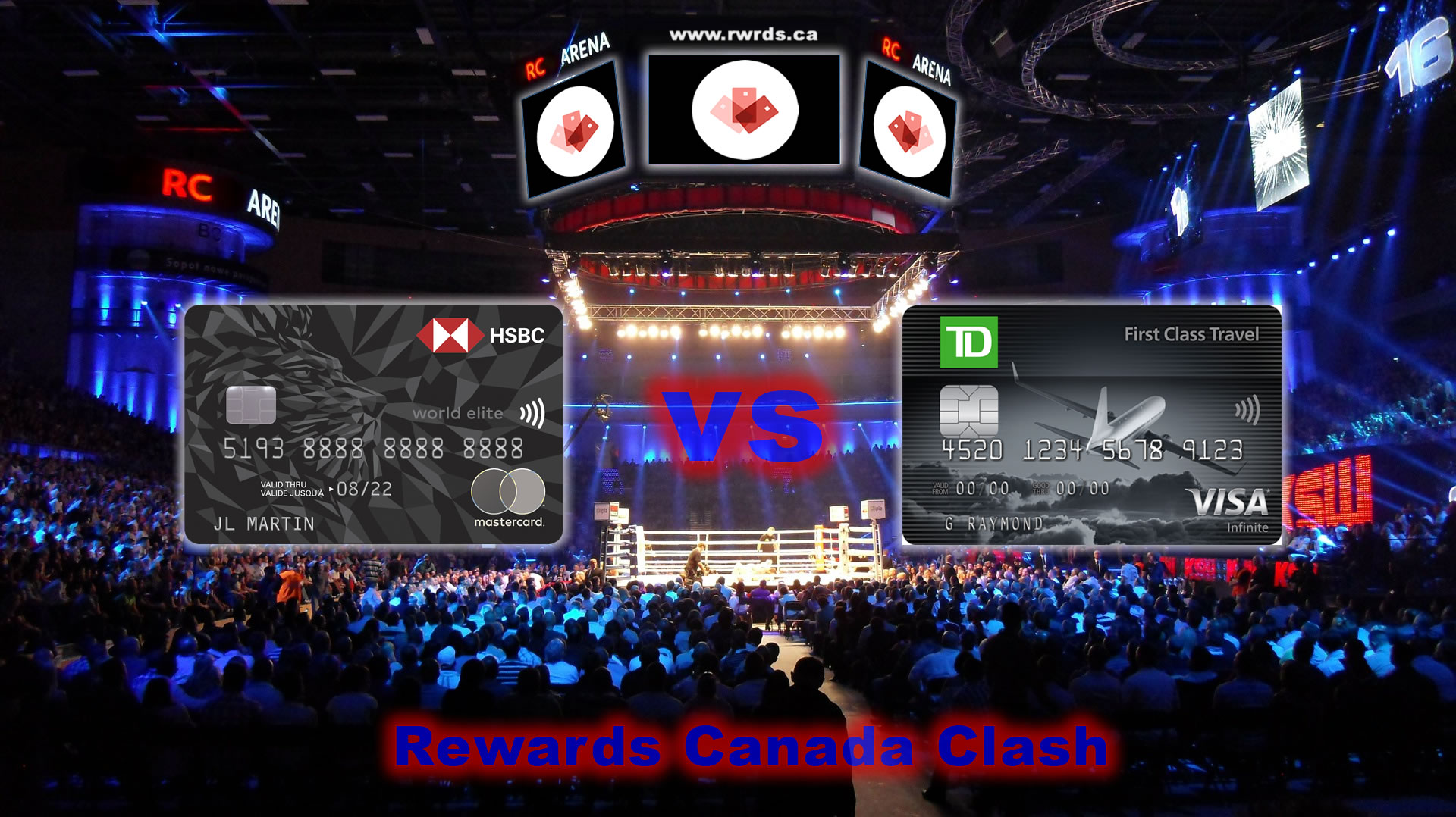 Welcome to another Rewards Canada Clash! This clash comes to us at the request of one of our Facebook followers! 'Nam' asked if we could have a Clash between the HSBC World Elite® Mastercard® and the TD First Class Travel® Visa Infinite* Card so here it is! If you would like to see any cards go head to head against each please do not hesitate to reach out to us in the comments, on social media or via email.

In this match up we look at over half a dozen criteria to compare the cards against one another along with a head to head detailed table comparison.
Annual Fees / Sign Up Bonus

In this first round there is a definite difference between the cards, the TD card retains used to be the standard fee for a premium card and that is $120 per year. The HSBC comes in higher at $149 per year. Supplementary or additional cards are equal between the two competitors at $50 per card. At the time of first posting this Clash (April 2022) both the HSBC World Elite card and the TD First Class Visa card come with a first year annual fee waiver/rebate allowing people to try out either one at no cost as part of their limited time welcome offers. In terms of minimum income requirements the TD card requires $60,000 personal or $100,000 household while the HSBC is higher at $80,000 personal or $150,000 household annual income

For the standard sign up bonus there are some slight differences between the cards. The standard bonus on the HSBC World Elite Mastercard is 20,000 points which are worth $100 towards travel. The standard bonus on the TD First Class Visa Infinite Card is 40,000 points and those points are worth $160.00 towards travel. However, over the past few years it has been very rare for either of these two cards to be offering only a standard bonus. For the most part they have limited time increased welcome offers. Tip: If you see the HSBC card with a 20,000 point bonus you are most likely seeing it during a two week break as HSBC typically likes to have a little bit of a break between limited time offers and history has shown that the break is usually around two weeks long.
That brings us the current limited time welcome bonus offers for these cards! As of April 2022 the HSBC card as an increased welcome bonus of up to 80,000 points* plus an annual fee rebate in the fist year. They are offering 20,000 points when you are approved for the card and an additional 40,000 points when you spend $6,000 in the first 180 days plus an annual fee waiver in the first year as noted above. Finally an additional 20,000 points is awarded on your first card anniversary to bring it to 80,000 points. This offer is in place until October 31, 2022. In the end those 80,000 points are worth $400 when redeemed for travel.
The TD First Class Visa Infinite card currently comes with its best ever increased welcome bonus of up to 100,000 points. You'll earn 20,000 points when make your first purchase on the card and 80,000 more points when you spend $1,500 in the first 90 days of having the card. This is one of the lower spend requirements amongst the big bonuses in the market right now. The welcome offer also includes the aforementioned along with the annual fee rebate on the primary card and additional cards in the first year. This offer is in place until May 29, 2022. In the end those 100,000 points are worth $400 when redeemed for any travel or $500 if you redeem for travel via ExpediaForTD.
The cards are closely matched up in this first category but we have to give it to the TD card for having an overall lower annual fee, lower income requirements and primarily for it's current welcome bonus as it is much easier to achieve not to mention it also provides those first year rebates on additional cards.
Rates

The HSBC World Elite Mastercard has slightly lower interest rates when compared to the TD First Class Visa Infinite card for both purchases and cash advances and by slight we mean 0.09%. The big differentiator in this category however is HSBC not charging foreign transaction fees for purchases made in currencies other than the Canadian dollar. That provides a 2.5% savings over the Td card. By offering No Foreign Transaction fees and slightly better interest rates this category goes to the HSBC card.
Bonus Features & Benefits

On the features and benefits side there are big differences in these cards. Basically the TD First Class Visa Infinite Card does not provide any additional features or benefits like annual credits, lounge access and so on.
The HSBC World Elite Mastercard does provide an annual $100 travel enhancement credit that can be used towards travel related charges like seat selection fees, baggage fees, lounge access passes and more. The card also comes with a lounge access benefit. The benefit recently changed providers, from LoungeKey to DragonPass and is now known as Mastercard Travel Pass provided by DragonPass. This is an annual membership program that basically saves you the US$99 it would cost when buying a similar membership The membership then provides discounted access to lounges which is currently set at US$32 fee per person to enter a lounge.
Finally, the HSBC card also provides global Wi-Fi access via Boingo which includes free Wi-Fi access on select airlines including WestJet.
Picking a winner in this category is easy. It goes to HSBC since it provides additional benefits and features while the TD card does not.