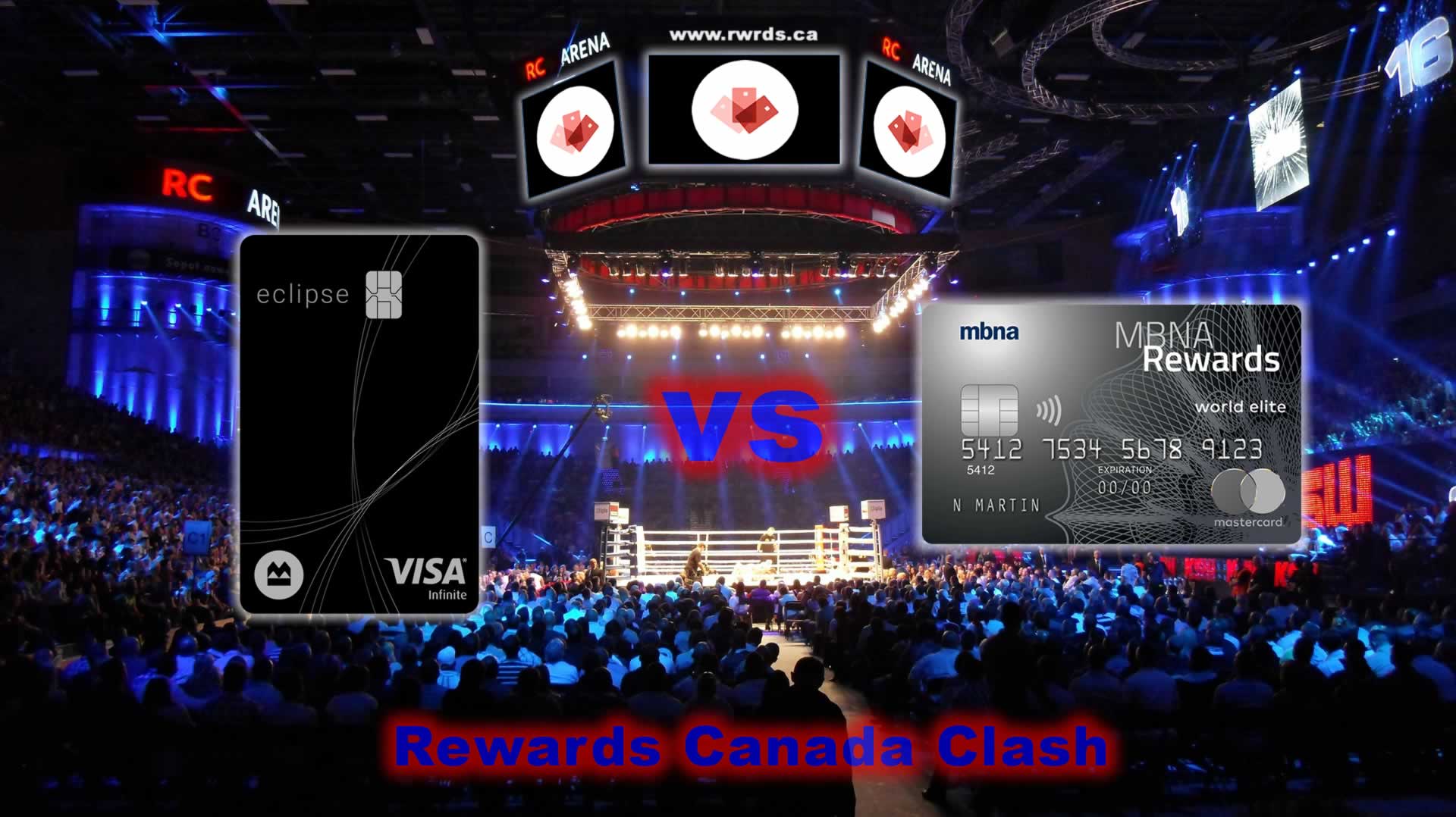 Welcome to another Rewards Canada Clash! This time in our Clash of the Credit Cards we have two more 5x points cards go against each other! Those cards are the BMO eclipse Visa Infinite* Card and the MBNA Rewards World Elite® Mastercard®

In this match up we look at over half a dozen criteria to compare the cards against one another along with a head to head detailed table comparison.
Annual Fees

Both the BMO eclipse Visa Infinite* Card and the MBNA Rewards World Elite® Mastercard® have a $120 annual fee for the primary card. Supplementary or additional cards are $50 each on the eclipse card while the MBNA card charges $50 for the first additional card and $0 on any additional cards after that. At the time of first posting this clash (July 2022) the Eclipse card comes with a first year annual waiver which is something we have not seen on the MBNA card. As the annual fee waiver on the BMO card is something we consider as part of the welcome bonus we don't give it weight in this round thus this category is a draw since the cards charge the same fees on the primary and first additional card.

Welcome Bonus
For the standard sign up bonus there are some slight differences between the cards. The standard bonus on the eclipse card is 25,000 points when you spend $3,000 on the card in the first three months of having it. The standard welcome bonus on the MBNA Card is 30,000 points after you make $2,000 in purchases and sign up for paperless e-statements in first 90 days. Those are your standard sign up bonuses.
Currently the BMO card has an increased welcome bonus offer that provides 30,000 points when you spend $3,000 in the first three months along with the annual fee waiver in the first year as noted above. Then you can earn additional 2,500 points for each subsequent month in which you make at least $2,000 in purchases on your card, for 12 months (months 4-15) for a total potential bonus of 60,000 points. That's a lot of spending required to get the entire bonus - $27,000 to be exact versus MBNA only needing $2,000. And if you miss spending $2,000 in any of the 12 months you don't get the bonus points for that month.
Even though the BMO eclipse's bonus works out to double the amount of points of what the MBNA card awards they aren't that far apart. The BMO card's 60,000 points are worth $400 towards travel while MBNA's are worth $300. Due to the much lower spend required ($25,000 less!) and getting $300 in value in first three months versus BMO's $200 in that same time period we actually give this category to the MBNA card.
Rates

The MBNA card has slightly lower interest rates when compared to the BMO eclipse card for purchases while it is the opposite for cash advances. With such close rates this category is a draw.
Bonus Features & Benefits

Both cards don't offer a lot of bonus features or benefits like some other cards - well actually the MBNA doesn't have any and the BMO card has one. The BMO eclipse Visa Infinite Card includes an annual $50 lifestyle credit. Simply put, they give you $50 each year as a statement credit for having the card.
The MBNA card being a World Elite Mastercard automatically benefits from airport lounge access membership with Mastercard Travel Pass provided by DragonPass and also provides free global Wi-Fi with Boingo (this includes Wi-Fi on WestJet flights)
As much as we are about travel benefits here at Rewards Canada we give this category to BMO as the $50 credit is guaranteed!
Points Earning & Redemption
Points earning on the two cards are very similar but also very different. That's due to the redemption value of the points which we'll discuss here as well! Both cards have multiple earn rates and are promoted for their 5x points earning on select categories. The BMO eclipse Visa Infinite Card earns 5x points on groceries, dining, gas and transit while the MBNA Rewards World Elite Mastercard earns 5x points on restaurant, grocery, digital media, membership, and household utility purchases. The BMO card places an annual cap of $50,000 on the 5x points earning while the MBNA card sees a higher $50,000 cap per category which covers $250,000 in total potential spending. . All other spending on both cards sees an earn rate of one point per dollar spent. BMO cardholders will earn an extra 10% points if they add an additional card while the MBNA card also offers a 10% bonus on all spend up to 15,000 points however it is awarded as a birthday bonus with no need to add an additional card.
So here you have two cards that very similar in categories except where BMO has Gas and Transit MBNA elected to go digital media, memberships and household utilities. Either way those are some great categories to be earning 5 points per dollar at and you could think this is a toss up - it's not. You have to look at what those points are worth and that is where the cards differ and that's why I recommend reading the following article of ours:
Recommended reading: When earning 5x points isn't the same as earning 5x points - a loyalty lesson
Both of these cards strong points are supposed to be their redemption for travel rewards. The BMO eclipse card is pretty simple in that you can book any travel with any provider and redeem your points at a rate of 150 points for a $1 credit. This was recent change making it super flexible for buying your travel with whomever you want but that's a redemption rate of 0.667 cents per point. This means those 5x points you earned are actually worth 3.33 cents. Compare this to the MBNA Card - for travel you do have to redeem points via any MBNA Rewards to get the best value so you have less flexibility in that regard (still we'd call it a decent mid-level flexibility) but the redemption rate is 100 for a $1 credit. That makes the 5x points you earned worth 5 cents each.
Here's the thing though, you could technically go out and buy any travel you want on the MBNA card and use the cash back redemption (see below) and still come ahead of the BMO card! Now you can see how these two 5x points cards actually differ. Then the BMO card only earns the equivalent of 0.667 cents per point for the 1 point non-category bonus spending versus the MBNA Card's 1 cent per point. That's a pretty big difference! I won't even factor in the 10% bonus here as MBNA's is way more easily achieved since the BMO card requires you to have an additional card to earn that bonus.
Recommended reading: More BMO credit card changes - travel redemption rate devaluation affects new eclipse Visa cards and BMO Rewards Mastercards
Both cards also offer cash back redemption options. The BMO eclipse card has an option where you can redeem 200 points for $1 credit which works out to a 0.5% to 2.5% return on your spending. The MBNA card's statement credit option is 120 points to $1 which works out to a 0.83% to 4.15% return (That's still better than the BMO card's travel rate!)
There is one other avenue for BMO however for cash back and that is redeeming points to have cash deposited into a BMO savings account. That rate matches the new travel rate of 150 points to $1. This last option works out to a 0.667 to 3.33% return. The MBNA card also one other option that is quasi-cash back and that is for gift cards. The MBNA Rewards program has some of the best redemption rates for gift cards. For example if you redeem for e-gift cards from The Gap, Banana Republic, Saks off 5th or The Bay - they actually provide better value than even the travel redemption rate!
Recommended reading: MBNA Rewards World Elite® Mastercard® Review
In the most important category of all, there is no doubt in our minds who takes it and that is the MBNA Rewards World Elite Mastercard!

Insurance
The BMO card has a pretty basic insurance coverage package which reminds me of what MBNA used to offer however the latter in their update to the card last year added more insurance coverage. The MBNA card has all the same insurance coverage as the BMO card but also provides flight delay, baggage delay, and lost or stolen baggage coverage. The MBNA card's out of province emergency medical coverage provides 6 more days of cover over BMO while BMO offers 48 days of car rental coverage versus MBNA's 31 days. This category easily goes to the MBNA Rewards World Elite Mastercard.
Conclusion
Here we have two cards that are known as 5x points earners - one that is a true 5x points card and one that is not. I'll be honest I had not given the MBNA card much consideration or attention since it was updated last year but really is a very strong rewards card - especially when compared to the BMO eclipse Visa Infinite Card. With more value from its points for both travel and cash back, a better 10% bonus, higher annual caps on the category bonuses plus a better insurance package the MBNA Rewards World Elite Mastercard is the clear winner here by beating the BMO card in most categories and comparisons. If you are someone who spends a lot on gas or transit the BMO card may be the better way to go but that's really it for the BMO card and that's not much when you look at the big picture of this clash.
Key factors in the MBNA Rewards World Elite Mastercard's win:
Higher annual caps on the 5x points earning rates
More value in the points when redeeming for travel or cash back
An easier to achieve 10% bonus points benefit
Better insurance benefits