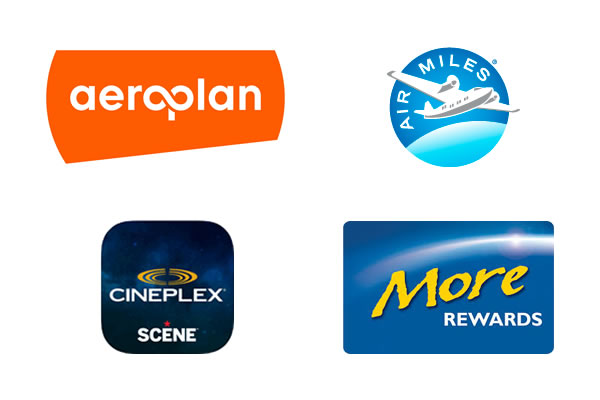 There are so many credit card options in Canada that it can get really confusing for the consumer. At Rewards Canada we do our best to help guide you to the right card for you with our Guide to choosing a travel rewards credit card and features like our Top Travel Rewards Credit Card rankings. We tell you to join multiple loyalty programs and earn more miles or points by tying in a credit card that co-brands with that program. In Canada we have some very large loyalty programs that fall under the coalition program banner and all Canadians should join at least one of these programs if not all of them. What is a coalition program? It is a program where you have lots of ways to earn points or miles and lots of ways to burn them. That means many partners to earn points or miles at and a large varied reward catalog where you can use those points or miles. For many Canadians joining a coalition program makes a lot of sense since you can earn miles or points pretty much everyday. Although we didn't invent the coalition program, Canada sure did develop them in to what they are today globally thanks to AIR MILES and Aeroplan. AIR MILES made the coalition program and loyalty programs in general main stage for Canadians and made them part of our everyday lives. No longer was it a world for frequent travellers or high spenders, loyalty was now the game for all merchants and all consumers.

With the growth of AIR MILES, Aeroplan saw an opportunity as well to compete and shifted from being the frequent flyer program of Air Canada to a coalition program for Canadians. The two have gone head to head now for many years and now we are seeing even more competition on that front with two more programs aspiring to be large coalition programs. Those programs are Cineplex's SCENE program and Overwaitea Food Group's More Rewards. Once limited to movies, SCENE has now added partners like Sport Chek and many restaurants from the Cara group as places where you can both earn and redeem points and aspires to be a big player in the market. More Rewards, once limited to Overwaitea's grocery stores has added a great credit card and nationwide partners like Petro-Canada and Panago Pizza and like SCENE are aspiring to become a bigger player in the market.

Anyone or all of these programs should be on your radar for earning points and miles. If you are shopping at a retailer that offers any one of them why shouldn't you be earning those points or miles? However you can earn even more points and miles in that program (or more than one) by tying in a co-brand credit card for the program! Aeroplan and AIR MILES have multiple options, SCENE and More Rewards have only one option really but if those programs are your main loyalty program you should definitely take a look at them.
With that said, we'll now list off the best co-brand credit card option for each program and that should be in everyone's wallet, well at least for the program that you make as your primary program.

Make sure you also check out and bookmark our bonus mile/point pages for all four programs so that you can earn even more!
Aeroplan

TD Aeroplan Visa Infinite Card
• Receive a Welcome Bonus of 15,000 Aeroplan Miles with your first Purchase
• 10,000 Aeroplan Miles when you keep your Account open, active and in good standing for 90 days after Account approval
• 5,000 Aeroplan Miles when you add an Authorized User to your Account by June 14, 2017 (Authorized User must call and activate their Card by July 31, 2017)

• Earn 1.5 miles for every $1 spent on eligible gas, grocery, drugstore and aircanada.com Purchases made with your Card.
• Earn 1 mile for every $1 you spend on all other Purchases on your Card.
• Earn miles twice when you pay with your TD Aeroplan Visa Infinite Card and present your Aeroplan Membership Card at over 150 Aeroplan partner brands and with 100 online retailers
• Your Aeroplan miles will not expire as long as you are a TD Aeroplan Credit Cardholder
• Enjoy an extensive suite of travel insurances for peace of mind on your next getaway.

AIR MILES

BMO AIR MILES World Elite Mastercard
• Welcome Offer: Get up to 3,000 AIR MILES Bonus Miles* plus a Companion Flight Rebate* Limited Time: $120 annual fee waived in the first year*
• Exclusive 25% Flight Discount on all AIR MILES flights in North America with no blackout periods
• 1 AIR MILES reward mile for every $10 that you spend on your credit card
• WEB ONLY OFFER - Not available by phone or in branch




More Rewards

Scotiabank® More Rewards®* Visa* Card
• Earn 5,000 Bonus More Rewards Points on approval and 10,000 Bonus More Rewards Points on first purchase if you apply by March 31, 2017
• Earn 6 More Rewards points for every $1 spent on purchases at participating More Rewards locations including Save-On-foods, PriceSmart Foods, Overwaitea Foods, Cooper's Foods and Urban Fare stores and participating More Rewards partners such as Petro Canada and Panago.
• Earn 4 points for every $1 on other purchases everywhere else
• Redeem your More Rewards points for travel, groceries, gift cards, merchandise and more
• No annual fee and no earning or redemption caps.




SCENE


SCENE® VISA* card
• 2,000 bonus SCENE points - that's two free movies
• Earn one SCENE point for every dollar you spend
• Earn five SCENE points for every dollar you spend at participating Cineplex Entertainment theatre or online at cineplex.com
• Redeem points for free movies at Cineplex Entertainment theatres, music and other entertainment rewards
• No annual fee
• 20% AVIS rental car discount





Talk to us!
Do you have any other tips for using Canada's 4 coalition programs? Do you collect with them and use some of these cards? Tell us in the comments section below or join the conversation on Facebook and Twitter!

Rewards Canada can be found on the following social media channels: