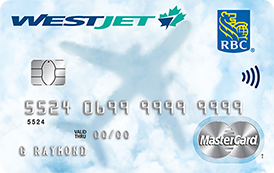 Enhanced in early 2016, theis a companion travellers dream. The card for Canada's second largest airline and its relatively young rewards program is definitely suited to a wide ranging amount of Canadians who can utilize its benefits.
Overview
The is the co-brand card for the WestJet Rewards frequent flyer program. The card issued by RBC has been around for several years now and has always been a decent travel rewards card option for WestJet travel. It is the ideal card for individuals who travel on WestJet regularly and for couples or families who travel on WestJet at least once per year.

Sign up Features
The comes with a very strong 250 WestJet dollar bonus which is awarded with your first purchase made on the card.

Costs
The comes with a $99 Annual fee which is lower than most of its competitors that offer a similar level of rewards and benefits. Supplementary cards run $49 which is the essentially the same as the majority of the Infinite/Platinum/Gold travel credit card offerings from other banks. The interest rate on the card is 19.99% which is also in line with most of the cards at this level. Income requirements for the card are $70,000 Personal or $120,000 Household.

Earning
Thehas two earn rates associated with it. If you use the card for WestJet or WestJet Vacations purchases you'll earn 2% of those values in WestJet dollars. All other eligible purchases made on the card earn 1.5% in WestJet dollars. That essentially makes this a 1.5% return card on the majority of your purchases save for those directly made with WestJet or WestJet vacations.
Redeeming
WestJet Rewards is a nice simple frequent flyer program to wrap your head around. One WestJet dollar is the equivalent to one Canadian dollar when you redeem for WestJet flights or vacation packages. Have 25 WestJet dollars? You can use that as 25 dollars towards any WestJet ticket to save you money no matter the cost of the ticket. If that ticket is $300 before taxes and you have 300 WestJet dollars you can redeem for the full amount meaning that ticket is essentially free as you still have to pay for taxes and fees. At this time WestJet dollars cannot be used towards taxes and fees. Perhaps this is something they will add in the future seeing that a big competitor of theirs now offers that option. If you have used flexible point programs like TD Visa's travel anywhere benefit or American Express' Use Points for Purchases before for travel than the WestJet program should be easy for you to use as it mimics these programs. Essentially WestJet is taking the best of two worlds, a frequent flyer program and a travel anywhere credit card program and combining them into one program.

Unlike competing programs here in Canada, WestJet Rewards only has a few a redemption options as we mentioned above, flights and vacation packages. But that is what an airline program is meant to be. Reward you for flights. Right now you can redeem for any WestJet flight including their code shares on partner airlines like American Airlines and Delta so long as it has a WestJet flight number and issued as a WestJet ticket. This means you can use your WestJet dollars to fly most places in North America, Sun destinations like Hawaii, Mexico, the Caribbean and Central America as well as on WestJet's flights to Europe.
Features and Benefits
Thed has some great features and benefits that are particularly useful to those who travel on WestJet. The first well known benefit is the first checked bag free option. When you hold the WestJet RBC World Elite Mastercard, you and up to 8 guest travelling on the same reservation can each check your first bag for free. That is a $25 saving per person per flight. And you don't even have to purchase the tickets on your WestJet RBC World Mastercard! So long as you are a cardholder which will be identified by your WestJet Rewards number you can take advantage of this benefit.

The second and also the biggest benefit that this card also comes with is a very strong companion voucher ticket offer that is available annually. Prior to March 2016 this offer was limited to Canada and the Continental U.S. but that was expanded to be able to use on any WestJet operated flight. The way it works is that when you purchase one ticket with WestJet you can get a companion ticket for as a little as $99. Here are the annual companion ticket options (prices don't include taxes, fees and charges):

Canada and the Continental U.S. for $99
Hawaii, Mexico, Central America and the Caribbean for $299
Europe for $399
What does this mean? Well it means it can save a crap load of money when you travel as the beauty of the voucher is that it works on any fare class at anytime with no blackouts. So you could book a more expensive Plus Fare to London and get your companion in Plus as well for only $399!

For example take middle of July busy season flights to London Gatwick from Calgary:
the Plus Fare is $2,074 before taxes and fees. That means the companion fare at $399 will save you $1,675!! Not a bad deal for an annual fee of $99. Don't forget that you can also use any and all of your WestJet dollars towards the first person's fare to save even more money!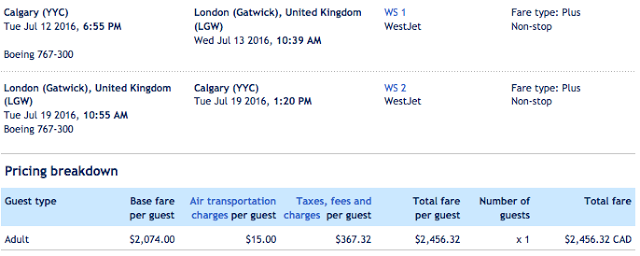 Finally the card also has a strong insurance package that places it in the middle of the road with its competitors. It includes emergency medical insurance (15 days for those 64 and under; 3 days for 65+), travel accident insurance, trip interruption insurance, hotel and rental car insurance. Plus it also has extended warranty and purchase protection. Some key insurances it is missing compared with competing cards are baggage insurance and trip cancellation insurance.

What is good about this card
There are four major items that are good about this card. The first is that amazing companion voucher. Used the right way it can save you tons of money on a WestJet trip every year. Secondly is the first checked bag benefit at a savings of $25 a pop. I have travelled at times with a group of 6 people on WestJet, so right there on a round trip flight that would save $300 if buying the lowest fare class. Third is the sign up bonus. $250 with only one purchase? That is a handsome return! Finally the fourth item that makes this card appealing is the annual fee, its only $99. That's $21 to $51 lower than many of this card's direct competitors and in that first year you get the $250 and whatever other savings you get from the companion voucher and free bag benefit. You'll easily make the $99 back a few times over!

What is not so good about this card
There are just a few things that are not so good about this card. First is the earn rate, at 1.5% on the majority of purchases there are cards out there that compete with this one that will give you 2% back or even more and those cards don't limit you to redeeming on WestJet only. The 2% back on WestJet purchases is decent but you can get that on the American Express Gold Rewards Cards as well and then have many more redemption options to use that 2% reward you earned.

The second issue we have with the card is more so with the WestJet Rewards program and not the card itself but being a co-brand card these go hand in hand! That issue is your limited redemption options in terms of where you can fly. This card has been awarded the best travel card for Canadians by other websites and publications but we have difficulty with that designation as it can't get you to every corner of the globe like other cards nor can it get you into business class or first class seats.... yet. Seeing that you can only redeem on WestJet coded flights you are limited to redeeming for economy or Plus flights within Canada, to the U.S., to Sun destinations and their three (at time of publishing) cities in Europe. You can't fly to Australia, Asia, Africa or many other destinations with WestJet Rewards. Now we say 'yet' because WestJet's partnerships with other airlines are expanding. For example they teamed with Qantas for reciprocal earning but when the announcement came out they also said that redemption will come in 2017. When that happens you'll be able to use WestJet dollars to fly on Qantas and chances are even in Business or First Class.

Conclusion
Should you get this card? As is always the case it depends on your travel habits! If you travel on WestJet then in most cases the card will make sense but not always. If you are a solo traveller who only flies WestJet once or twice per year you are better off getting a credit card that offers a higher return such as the mbna Rewards World Elite Mastercard as you'll earn more miles on your purchases that you can still redeem on WestJet flights. Being a solo traveller you won't make use of the companion voucher so you are better off with that higher earn elsewhere. However if you travel at least once a year with two or more people or as a single traveller frequently with checked baggage on WestJet then the card is a no-brainer as you can make use of the companion voucher and the first checked bag free benefits to save you a ton of cash. On the flip side if you travel to places that WestJet doesn't serve or their partners like Qantas don't serve the card doesn't make much sense. That being said, at a minium if you know you are going to fly WestJet at least once, and you can even be that solo traveller we mention earlier you may want to get the card just to save on that one flight. How? Why? Well for the $99 annual fee you get the 250 WestJet dollar sign up bonus. This means you can save $151 on that one WestJet flight and then cancel the card. Don't tell them that we told you to do this though! ;-)

Overall this card makes great sense for a lot of Canadians who foresee themselves travelling on WestJet at least once per year with a companion or a few times per year individually. The benefits the card comes with are really second to none as no other card has a companion voucher offer like this and very few have a checked bag benefit. When you get this card it isn't so much the WestJet dollars you earn on your everyday spending even though they will add up it is about those two huge benefits it comes with.

Related Links:
WestJet RBC World Elite Mastercard on rbc.com
Rewards Canada's All Travel Rewards Credit Card Comparison including the WestJet RBC World Elite Mastercard
Rewards Canada's Airline Only Credit Card Comparison including the WestJet RBC World Elite Mastercard

Other cards to consider if you are looking at this card:
American Express Gold Rewards Card
BMO World Elite Mastercard
mbna Rewards World Elite Mastercard
RBC Avion Visa Infinite
Scotiabank Gold American Express Card
TD Aeroplan Visa Infinite Card
TD First Class Travel Visa Infinite Card


Talk to us!
Do you agree or disagree with us? Tell us what you think about the WestJet RBC World Elite Mastercard! Tell us in the comments section below or join the conversation on Facebook and Twitter!

Rewards Canada can be found on the following social media channels: