With a little over a month left to the big day for gift giving the push is on to start your Christmas shopping for friends, family and maybe even yourself! Whether it is shopping for gifts or for food and drink to entertain there are many ways to maximize the miles and points you earn holiday shopping. Ultimately you can make those reward dreams come closer by following one or more of our tips.
1. Shop via online shopping malls to earn miles & points plus take advantage of their bonuses!

A report from Loyalty Magazine states that  94% of all global consumers now shop online at some level and 35% of these online shoppers are making at least one purchase per week and our guess is a lot of those shoppers don't know they can be earning more miles and points on those online purchases! The great thing about shopping online is you can double dip on so many of those purchases. You can earn miles or points on the credit card used for the purchase and many frequent flyer and frequent guest programs have online shopping portals whereby you can earn miles for shopping at hundreds of retailers online. For Canadians the best are Aeroplan's eStore, AIR MILES airmilesshops.ca, RBC Rewards eMall, More Rewards Online Shopping, ebates.ca and Great Canadian Rebates. That being said if you are planning on shopping at U.S. retailers online you can also add in programs like Alaska Airlines, United MileagePlus, American AAdvantage and many many more! To take be able to earn miles and points for shopping online be sure to visit your loyalty program of choice website and head to the online shopping mall, login and shop away!

Online virtual shopping malls to earn more miles, points or cash back:
Many of the online malls run bonuses during the holiday season and you can find them all listed right here in this chart. (Be sure to check back here often as this is frequently updated during the holiday season)

Aeroplan eStore

5X

Aeroplan Miles when you shop at various retaliers via the Aeroplan eStore Full details
Until Feb 17, 19

AIR MILES

Earn Bonus AIR MILES REWARDS Miles when you shop online via the Mileage Plan Shopping portal.Full details.


Various end dates set by retailer
Alaska Airlines Mileage Plan

Earn Bonus Mileage Plan Miles when you shop online via the Mileage Plan Shopping portal.Full details.


Various end dates set by retailer
American AAdvantage

Earn Bonus AAdvantage Miles when you shop online via the AAdvantage Shopping portal. Full details.


Various end dates set by retailer
British Airways Executive Club
Earn various Bonus Avios when you shop online via the British Airways Shopping portal. Full details

Various end dates set by retailer

Cathay Pacific Asia Miles
N/A

N/A
Delta SkyMiles
Earn Bonus SkyMiles when you shop online via the SkyMiles Shopping portal. Full details

Various end dates set by retailer

ebates

Earn various bonus Cash Back when you shop online via the ebates.ca portal. Full details

Various end dates set by retailer

Norwegian Reward
N/A

N/A

United MileagePlus
400 Bonus MileagePlus miles when you spend $200 more with MileagePlus Shopping. Full details
Until Feb 17, 19
Travelling to Europe before Christmas? You can take advantage of bonuses for shopping at Chic Outlet Shopping Villages in 9 European cities:
| | | |
| --- | --- | --- |
| No offers at this time | -- | -- |
In the past year RBC Rewards has done away with their online shopping portal however they often run special where you can earn more RBC Rewards points for shopping at select retailers. You can find that list of retailers here.

Want to find out what U.S. retailers are participating in an online points or miles mall? Check out evreward.com and search your favourite stores to see where you can earn points or miles. Then for shopping at online retailers from the U.S. or overseas you could and should utilize a credit that offers No Foreign Transaction fees like the Scotia Passport Visa Infinite card or Home Trust Preferred Visa card. You can learn more about No Foreign Transaction fee cards here.
2. Use your mileage/point earning credit card & your loyalty cards to Double or Triple Dip
Double dipping is the term coined for earning miles twice in one purchase or transaction. This basically involves your rewards earning credit card being used for a purchase where you also earn miles in the same program as the credit card. Buying one of those funky Kuradori kitchen tools from Home Hardware as a gift? Using your TD Aeroplan Visa or American Express and then swiping your Aeroplan card ensures you are double dipping.

Triple dipping involves the above but then adding in any bonuses available. Look for email, coupons or other promotions offering even more miles. With the above example, Aeroplan members can usually earn bonus miles on Home Hardware purchases during the holiday season. So the first dip is the base miles earned on the purchase, the second is the miles earned on your credit card and the third is the bonus miles from the promotion.

Double and Triple dipping does not have to involve the same program. You can always use a credit card that earns in one program while collecting the actual miles from another program for your flights, hotels, shopping or anything else you can earn miles on.


3. Giving gift cards? Buy gift cards at credit card multiplier locations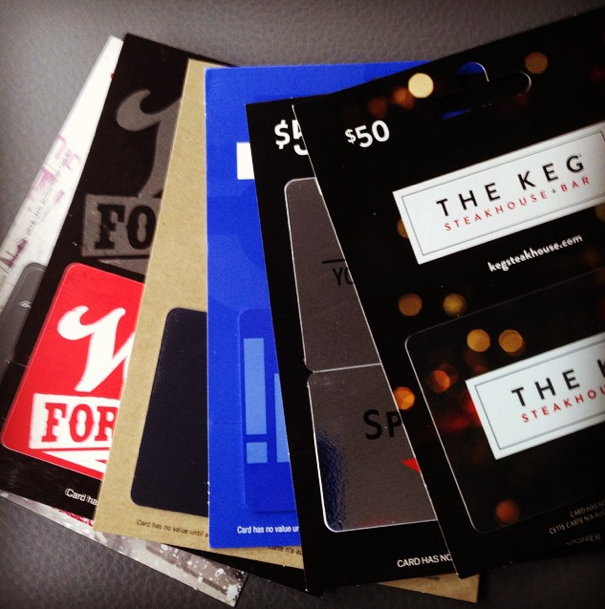 Are you a gift card giver at Christmas or you don't know what presents to give this year so you've settled on a gift card? If you can, and it depends on the retailer, don't buy the gift card straight from them as on most credit cards will only afford you the base miles or points. Buy them at a place where you can take advantage of your category multiplier bonus. For example if I wanted to give my dad a Best Buy gift card I would only earn 1 Membership Rewards points on my American Express Cobalt Card if I bought the card at Best Buy but if I bought it at Sobeys, Safeway or any other grocery store I would earn 5 Membership Rewards points.


Here are examples some the credit cards and their category bonuses that you could use this for this tip (per dollar spent):

American Express Cobalt Card: 5x Points/$ on Dining/Food Purchases (Rewards Canada's #1 Pick for gift card buying/giving)
American Express Gold Rewards Card: 2x Points/$ at Grocery and Drug Stores, also at Gas Stations
American Express Air Miles Reserve Credit Card: 1 Mile/$10 at eligible gas, grocery and drugstores
BMO AIR MILES World Elite Mastercard: 1 Mile/$10 on all spending
CIBC Aerogold Visas: 1.5 Miles/$ at grocery stores, gas stations or drug stores
CIBC Aventura Visas: 1.5 Points/$ at grocery stores, gas stations or drug store
CIBC Dividend Visa Infinite: 4% Cash Back on grocery store or gas stations purchases
Scotiabank Gold American Express or Platinum: 4 Points/$ on gas stations and grocery stores
Scotia Momentum VISA Infinite card: 4% Cash Back on grocery store or gas stations purchases
Scotia More Rewards Visa: 6 More Rewards points per dollar spent on the card at Save-On-Foods, Overwaitea, Petro-Canada and other participating partners
TD Aeroplan Visas: 1.5 Miles at grocery stores, gas stations or drug stores

To learn more about these cards visit ourTravel Rewards Credit Card Comparison
4. Buying gifts at retailers without credit card multipliers? Use the gift card trick to earn more miles!
This one is similar to above but involves a little more time and effort. This tip is for those of you who know what gifts you are buying for your kids, family, relatives and friends. The reason why it will take more time is that it requires multiple stops and purchases but if you have the time and want the extra miles then go for it! A good example of this is that you know that your child wants a new Nintendo Switch for Christmas. You could go buy it directly from Best Buy or Amazon and earn your base miles on your credit card but by going to a grocery store, drug store or even a gas station that sells gift cards you go buy yourself the Best Buy gift cards, earn the 1.5 or 2x or 5x miles/points on the purchase and then use the gift cards when you get to Best Buy. There is only one downside to this method other than the extra time required and that is you will not be able to take advantage of the purchase protection, price protection or extended warranty offered by many of the reward credit cards. (Maybe it would be better if I used Old Navy as an example instead of Best Buy since you don't really require any of those benefits on Old Navy purchases?)

5. Use bonus offers to your advantage when buying groceries for the holiday season

This one ties into the Double or Triple Dip outlined in the first tip. Always check your emails for bonus coupons or offers or even when you first enter a store. Doing your grocery shopping and expecting to buy lots of food since your hosting Christmas and have a dozen people coming over? Always look at the flyer stand when you first enter Safeway, Sobeys or whatever grocery store as long as they are part of a loyalty program. We have found that Sobeys tends to be hit and miss at letting people know about bonus Air Miles offers via email so I always check the flyer stand to see if there is a bonus coupon and more times then not there is. Safeway is better at letting people know by email and sometimes it is only via email that the best offers come. For example, the 2013 Christmas season had the biggest bonus we had ever seen for shopping at Safeway, 500 Bonus Air Miles for a $200 spend. Here's crossing our fingers that offer returns this year!

6. Always remember to swipe your Loyalty Card and/or use your miles/points earning credit card
Remember to always collect your points and miles when you shop. Always think ahead and bring your loyalty card to swipe/scan when you shop. Don't want to carry around that much plastic? Most programs now have smart phone apps that also double as your loyalty card. This is a good way to always have your card on hand, especially for forgetful people.

Whenever you can, use your miles/points earning credit card to pay for your purchases. As long as you are financially responsible there is no reason you should be using cash or debit for your purchases. It should always be on a rewards credit card so that you earn your coveted miles and points. It's doesn't matter if it is $1.00 or $1,000, put it on your credit card. Not financially responsible? As in you only pay the minimum required amount each month on your card, then don't use your card. The interest you pay is not worth the extra miles or points