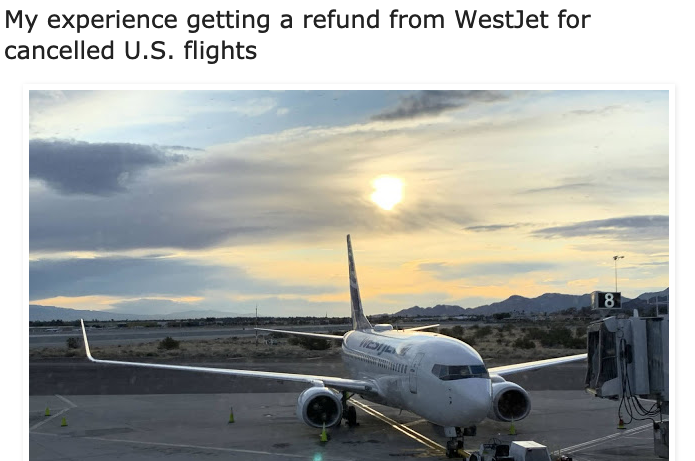 Episode 70 - August 10, 2020
COVID-19 and the airline refund situation in Canada
In this episode we discuss the biggest topic in travel that has arisen due to the COVID-19 Pandemic and that's the issue of Canadian travellers getting or not getting refunds for flights that were cancelled by Canadian airlines. We delve into the topic primarily by giving real world examples from our readers and listeners and how they have handled getting or not getting refunds, their success or lack thereof with credit card charge backs and more. Give it a listen today!
or download/subscribe via:
Links relating to this week's topics:
Useful links provided by our readers:
Sample letter to use to write your MP:
Dear [NAME OF MP]
It has been years since I have felt the need to write to my MP or MPP with my concerns about government policy. I am normally able to accept that there will be some things I can agree with and some things I don't. I am writing today to tell you how upset I am at your government's lack of action on demanding Canadian airlines refund their passengers for services not provided.
I have supported you at the ballot box and even been to a rally during an election campaign but you will no longer have my support if your government continues to allow Canadian airlines to steal money from Canadians and offer useless in vouchers in their place. I am now forced to go through my credit card company and likely the courts to get my money back for flights that were cancelled by the airlines. It is obvious by the outrageous prices for future flights that the vouchers are essentially worthless and quite frankly illegal as the airlines provided me with nothing for the money I gave them.
The minister of transportation has clearly sided with the airlines and their billions of dollars in the bank against Canadians and potential voters. The airlines should use bankruptcy protection to allow themselves to restructure as airlines do all the time. I would never invest in an airline for this reason, but I do think that it is the shareholders not unwilling Canadians who should be paying for this. The minister seems concerned about their being an airline industry coming out of this crisis. Of course there will be. Let them restructure and create an industry that is suitable for a pandemic and post pandemic time.
I have no idea why your government seems to be against the consumer. You will likely be facing a difficult election next year as Canadians have the time to assess the governments successes and failures of the current crisis. There will be thousands of voters holding onto to useless vouchers putting their X beside another party because the Liberals chose to ignore them and their hard earned money that is sitting with airlines rather than helping them to survive this difficult pandemic.
Past Episodes
Talk to us!
Do you have any suggestions or questions for our podcast series? Tell us in the comments section below or join the conversation onFacebookand Twitter!

Google Play and the Google Play logo are trademarks of Google Inc.
LATEST TOPICS & NEWS
REWARDS CANADA'S TOP FEATURES
SHARE THIS FEATURE
Rewards Canada can be found on the following social media channels:







Disclaimers:
Our goal at RewardsCanada.ca is to present readers with reliable financial advice and product choices that will help you achieve your financial goals.
Rewards Canada receives compensation from some companies issuing financial products, like credit cards and bank accounts, that appear on this site.
Unless a post is clearly marked "Sponsored", however, products mentioned in editorial articles and reviews are based on the author's subjective assessment of their value to readers, not compensation. For full details and current product information click the Apply now link / learn more link.