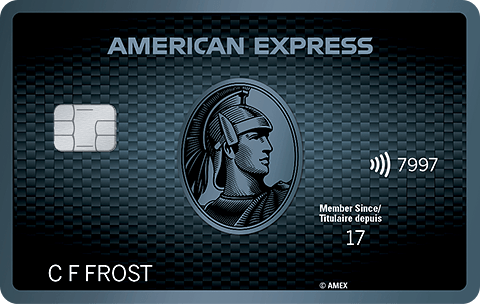 One of our readers asked us a question via the comments on our post Two months in and the American Express Cobalt is living up to its name to see if there is a published list of where you can maximize spending on the Cobalt card via the 5x Multiplier locations (10x during the month of December 2017)

We replied that there is not a published list but would be willing to put one together with the help of our readers. You can help by commenting below to let us know what category a merchant falls under based on your spending! We split the chart below in the three earnings categories so that you can see what points you can expect to get with the card. Please note that merchants may change at any time so while a merchant may be listed in one category when you read this page it is entirely possible that they switch categories before we are able to update it.

You can also check American Express Canada's Shop Small website - it lists all their independent merchants where you can use your American Express cards at. It doesn't tell you what category they fall under but in most cases the restaurants, bars and grocery stores should fall under the Eats & Drink category.
American Express Cobalt Card resources on Rewards Canada:
Card details:
• In your first year as a new Cobalt Cardmember, you can earn 2,500 Membership Rewards® points for each monthly billing period in which you spend $500 in net purchases on your Card. This could add up to 30,000 points in a year.
• Earn 5 points for every $1 spent on Card purchases at eligible restaurants, bars, grocery stores and food delivery in Canada
• Earn 2 points for every $1 spent on eligible transit & gas purchases in Canada and eligible travel purchases. That's 2X the points on purchases that get you from point A to B
• Earn 1 point for every $1 in Card purchases everywhere else. We won't tell you where to spend, we'll just reward you on your Card purchases
• Get advance access to tickets to some of the hottest concerts, shows and events through Front Of The Line® by American Express Invites® and advance screenings to blockbuster movies. Plus, more great perks.
• American Express is not responsible for maintaining or monitoring the accuracy of information on this website. For full details, current product information and Terms and Conditions, click the Apply now link.
• Conditions Apply

Please Note:
In addition to commenting below to let us know about mulitpliers that don't show up American Express Canada has asked the following of all cardmembers:
It's best for the Cardmember to call customer service for bonusing related issues. We need the Cardmembers data to be able to source the transaction in the back end to determine if the multiplier worked.... without Cardmember data, it's hard to determine what would have happened.
This way American Express can make sure everything is working properly and if not they can get it fixed.
Confirmed Multiplier Locations

5x


2x


1x

A&W
ABC Restaurants
Ali Baba Pizza (Victoria)
American Cheesesteak (Vancouver)
Applebees
Asado (Montreal)
Atelier (Ottawa)
Babylon's Cafe (Vancouver)
Bar Le Confessionnal (Montreal)
Barcelos
Baton Rouge (Quebec)
BC Place Stadium
Boston Pizza
Bownesian Grocer (Calgary)
Brewsters
Brioche Dorée
Browns Social House
Buffet Yangming (Ottawa)
Burger King
Buy Low (Vancouver)
Cactus Club
Calgary Co-Op
Calgary Co-Op Wines
The Canadian Brewhouse
Cedars Deli (Calgary)
Ceilis Irish Pub (Calgary)
Chachis
Cheesecake Factory
Chick Fil A (Calgary)
Chicken Chief (Winnipeg)
Chipotle Mexican Grill
Chop Steakhouse
Clive Burger (Calgary)
Cobs Bread
Colonnade Pizza & Restaurant (Ottawa)
Community Natural Foods (Calgary)
Couche Tard
Dalina Coffee (Vancouver)
Dennys
Dirt Belly (Calgary)
Dominos Pizza
Earls
East Side Marios
Edo Japan
Everything Wine (BC)
Famoso Neapolitan Pizzeria
Farm Boy
Fisherman's Terrace (Richmond)
Food Basics
Giant Tiger
Good Earth Cafe
GNC
Harvey's
Hestia (Toronot & Montreal)
JJ Bean Coffee
Joeys Restaurants
Jugo Juice
Just Eat
The Keg
KFC
Kinjo Sushi (Calgary)
The Kitchen by Wolfgang Puck (YYC)
Korean Grill House (Richmond Hill)
Kurumucho Japanese Taco (Vancouver)
La Taqueria Buy Low (Vancouver)
Last Straw Ale House (Calgary)
Liquor Depot (BC)
M&M Foods
Ma Dang Goul Korean (Vancouver)
Macs/Circle K
Mad Radish
Mad Rose Pub (Calgary)
Marché 27 (Montreal)
Market on Yates (Victoria)
Marutama Ramen (Vancouver)
McDonalds


Mercola.com


Metro
Milestones
Moxies
Mucho Burrito
Nesters' Market
Ninth Street Espresso (NYC)
Olive Garden
Olly Fresco's
Opa
Original Joe's
Paramount Fine Foods
Pfanntastic Pannenkoek House (Calgary)
Phnom Penh (Vancouver)
Pho boi restaurant (Burnaby)
Phoenix Bar and Grill (Calgary)
Planet Organic Market
Popeyes Louisiana Kitchen
Purdys Chocolate
Red Lobster
Restaurant Marconi (Montréal)
Rocky Mountain Chocolate
Rogers arena food stands (Vancouver Canucks)
Ricky's
Ruth's Chris
Safeway (Gas stations & Liquor Stores included)
Salt and Pepper Restaurant (Calgary)
Save-On Foods
Scaddabush
Second Cup
7-11
Shizenya (Vancouver)
Skip the Dishes
Skokis Waffle (Banff)
Sobeys (includes Sobeys Liquor)
Starbucks (including app reloads)
State & Main
Sura Korean (Vancouver)
Sushi Itoga (Vancouver)
Sushi Shop
SUWU (Montreal)
Swiss Chalet
Symposium
Thai Sa On Restaurant Calgary
Thrifty Foods
Tim Hortons (including app reloads)
TK Ranch (Alberta)
Toku Japanese (Richmond)
Uber
Uber EATS
Uncle Tetsu's Japanese Angel Cafe (Toronto)
Urban Fare
The Vintage Chophouse (Calgary)
Wendys
White Rose Kitchen (Calgary)
White Spot
Willow Park Wine & Spirits (Calgary)
WVRST (Toronto)

Air Canada
AirBNB
Altitudes Bistro on Grouse Mountain
Budget Rent a Car
Car2Go
City of Calgary Landfills
Esso
M&M Limousine
Niagara Falls Casino
Petro-Canada
Presto
7-11 (Pay at the pump)
Safeway Gas Bar
Shell
Teo Taxi (Montreal)
TTC
United Airlines
Via Rail
Zipcar

407ETR
Aerocar Limousine Service
Amazon.ca
BC Ferries
Bed, Bath & Beyond
Borderfree
Calgary Parking Authority
Canadian Government Offices
Canadian Tire
Cineplex (including food)
Citipark
Crowfoot Liquor Store (Calgary)
Dollarama
Doordash
Farm Boy (Trainyards Ottawa)
Instacart (Grocery delivery)
London Drugs
Nespresso (Online)
Panera Bread (Ottawa)
Rexall
Ritual
SAQ, Société des alcools du Québec
Secondlife (Montreal)
Shanghai One (Ottawa)
Shoppers Drug Mart
Unicity Taxi (Winnipeg)
Wal-Mart

U.S. Locations
83 Degrees (Carlsbad, CA)
AJ's
Amsterdam Ale House (NYC)
AppleBees
Atomic Creamery (Newport Beach)
Back Bar (Cambridge)
Beach Plum Kitchen (Carlsbad, CA)
Beachcomber Cafe (Newport Beach)
Betty's Beach Cafe (Maui)
Bon Me (Boston)
Breakfast Republic (California)
Broken Yolk (California)
Buffalo Wild Wings
Bucca Di Beppo
Carls Jr.
Cartwrights (Arizona)
Chipotle Mexican Grill
Cheesecake Factory
Coca-Cola Company
Compartes Chocolate (Los Angeles)
Corvette Diner (San Diego)
Cuchi Cuchi (Cambridge, Mass)
Doughnuttery (NYC)
Dukes
Fillmore Bar & Restuarant (San Francisco)
Five Guys Burgers
Fleetwood's on Front Street (Maui)
Forge Baking Company
Foundry on Elm (Cambridge)
Free Range Cafe (Newport Beach)
Fry's (Arizona)
Fuddruckers
Great Maple (California)
In-N-Out Burger
Itaewon Gastropub (NYC)
Jimbos Naturally
Kimos (Maui)
La Colombe (NYC)
Lahaina Coolers (Maui)
Little Caesars Arena Food Concessions
Los Angeles Airport Restaurants
Maison Kayser (NYC)
Manny Chophouse (Florida)
McDonalds
The Mission (Arizona)
Monkeypod
New Oasis Brazilian (Medford)
Panera Bread
P.F. Changs
Ruby's Diner
Ruby Thai Kitchen
Safeway
Sammy's Beach Cafe (OGG)
Sarabeths Bakery (NYC)
Shoprite
Sol Cocina
Star Noodle (Maui)
Subway
Super Stop N Shop
Taco Bell
The Vig (Arizona)
Tiki Juice Bar Disneyland
Times Supermarket (Hawaii)
Tin Leaf (Carlsbad, CA)
Tonto Grill (Arizona)
Trader Joe's
Wendy's
Whole Foods
Woody's Diner (California)
Yardhouse

U.S. Locations
Chevron
Exxon
Freehand hotel (NYC)
Marriott Hotels
MTA (NYC Subway)
National Car Rental
Residence Inn by Marriott
Sunoco
Towneplace Suites by Marriott
Uber
Uber Eats
United Airlines
Valero
U.S. Locations
Boston Winter Village
Buy Rite liquors
CVS Pharmacy
The Fragrance Outlet
M&M'S World (NYC)
Sea World (incl. food purchases)
Starbucks (App Reload)
Total Wine & More

Worldwide Locations
AUSTRALIA
Coles
Jamie's Italian
Hard Rock
McDonalds
Starbucks
Hungry Jacks (Sydney)
TGI Fridays
Fratelli Fresh (Sydney)

CHINA
Starbucks

GIBRALTAR
Morrisons
Pizza Express

HONG KONG
Great Food Hall (Located in Admiralty, under the Conrad and near the British Consulate, unsure of other locations) (Hong Kong)
Hard Rock Cafe (Hong Kong)
Marks and Spencer Food (Hong Kong)
Pizza Express
Spaghetti House
Starbucks

JAPAN
Starbucks

SPAIN
Burger King (Spain)
Euroski Supermarket (Spain)
Asda Supermarket (UK)

UK
Bills
Chef and Brewer Restaurants (UK)
Coast to Coast (UK)
Costa Coffee (UK)
GiraffeWagamama (UK)
Jamie's Italian
Morrisons
Pizza Express (Gibraltar, Hong Kong)
Sainsburys Supermarket (UK)
Starbucks (China, UK)
Tesco Supermarket (UK)
TGI Fridays (UK)
Waitrose Supermarket (UK)

Worldwide Locations
BP Gas (UK, Spain)
Conrad Hotel (Hong Kong)
Jet Gas (UK)
Morrisons Gas (Gibraltar
Repsol Gas (Spain)
The Rock Hotel (Gibraltar)
Shell Gas (UK)
Sixt Car Rental

Worldwide Locations
Marks and Spencers Food (UK)
SUICA card top-ups using Apple Pay for JR Trains (Japan)

Talk to us!
We need your help to populate the charts! Simply comment and let us know who the merchant was, where the merchant was located and what the multiplier was and we'll add it to the charts and keep it going as a master list! Tell us in the comments section below or join the conversation on Facebook and Twitter!

Rewards Canada can be found on the following social media channels: